Overwatch 2's Halloween Terror 2022, the sequel's first seasonal event, has launched, introducing Junkenstein's Revenge: Wrath of the Bride. The free-to-play model has introduced Challenges for players to complete and now includes limited time Challenges available for the Seasonal Event. Here is every Halloween Terror 2022 Challenge and Reward.
Overwatch 2 – Halloween Terror 2022 Seasonal Challenges and Rewards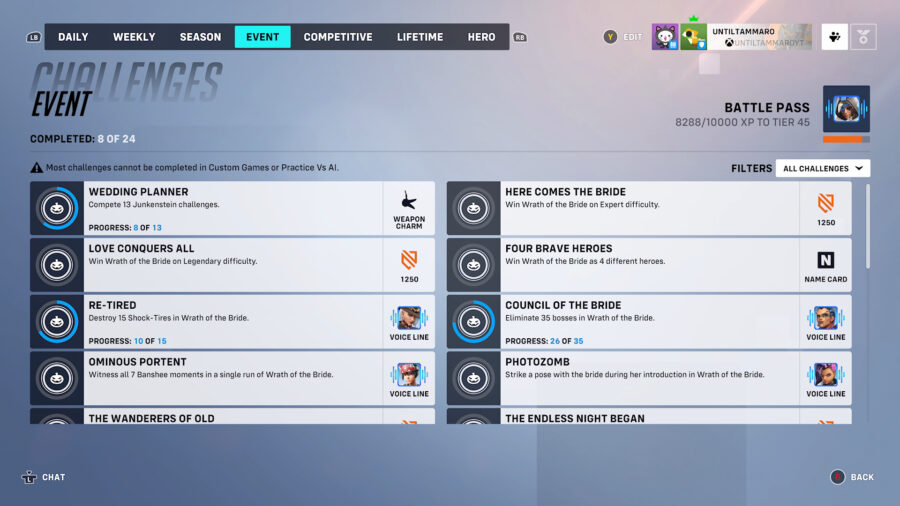 There are a total of 24 Seasonal Challenges to complete for Halloween Terror 2022. These all offer varying free rewards from Battle Pass XP to a number of different types of cosmetics. Remember, this event ends November 8th, meaning it is entirely possible that these rewards will become unobtainable.
Overwatch 2 Halloween Terror 2022 Challenges & Rewards

Challenge

Reward

Wedding Planner – Complete 13 Junkenstein Challenges.

Jack-O'-Lantern Weapon Charm

Wrath of the Bride – Win Wrath of the Bride on any difficulty.

"Our Tale Begins" – Reinhardt Voice Line

Taking The Plunge – Win Wrath of the Bride on Hard difficulty.

Zomnic Graffiti – Spray

Here Comes the Bride – Win Wrath of the Bride on Expert difficulty.

1,250 Battle Pass XP

Love Conquers All – Win Wrath of the Bride Legendary difficulty.

1,250 Battle Pass XP

Fury of the Heroes – Win Wrath of the Bride with a score of 10,000 or higher.

Hasta La Muerte – Spray

Four Brave Heroes – Win Wrath of the Bride as 4 different heroes.

Nightfall Over Adlersbrunn Name Card

No Spark – Win Wrath of the Bride without letting the Lord of the Castle take any damage.

1,000 Battle Pass XP

The Automaton, Transformed – Eliminate the Experiment while it is in tank form on Hard difficulty or above in Wrath of the Bride.

1,000 Battle Pass XP

Re-Tired – Destro 15 Shock-Tires in Wrath of the Bride.

"Zomnics Under The Moon" – Ashe Voice Line

Council of the Bride – Eliminate 35 bosses in Wrath of the Bride.

"Bodies To bag" – Junker Queen Voice Line

Ominous Portent – Witness all 7 Banshee moments in a single run of Wrath of the Bride.

"Tarot Reading" – Kiriko Voice Line

Photozomb – Strike a pose with the bride during her introduction in Wrath of the Bride.

"Never Cross the Bridge" – Sombra Voice Line

Knock, Knock… – Disturb the guest in the Tavern in Wrath of the Bride.

"Scry Some More" – Kiriko Voice Line

Witch's Brew – Uncover the fate of a terror past in a hidden corner of Adlersbrunn in Wrath of the Bride.

"It's Always The Widow" – Sojourn Voice Line

Lantern Lit – Crouch at the lantern for 6 seconds while the Ghost is active in Wrath of the Bride.

1,000 Battle Pass XP

The Wanderers of Old – Win Junkenstein's Revenge on any difficulty.

1,000 Battle Pass XP

The Endless Night Began – Complete Wave 12 in Junkenstein Endless.

500 Battle Pass XP

Unfinished Business – Win Junkenstein Challenge Mission: Vengeful Ghost.

500 Battle Pass XP

Spooky, Speedy – Win Junkenstein Challenge Mission: Frenzied Stampede.

500 Battle Pass XP

Terrifying Trio – Win Junkenstein Challenge Mission: Three They Were.

500 Battle Pass XP

Get Ready For A Shock – Win Junkenstein Challenge Mission: Shocking Surprise.

500 Battle Pass XP

Volatile and Vile – Win Junkenstein Challenge Mission: Volatile Zomnics.

500 Battle Pass XP

Costume Party – Win Junkenstein Challenge Mission: Mystery Swap.

500 Battle Pass XP