It's all well and good looking the part with Splatoon 3's gear – and you damn well should – but what good is it if your abilities are cancelling each other out, or you're sinking XP into something with, god forbid, locked ability slots?
And while the gameplay is as superb as ever, I'd argue they don't do the greatest job of onboarding players with the whole gear system. Read on for an overview of how gear works, how brands affect abilities, Star Power, and more.
How does gear work in Splatoon 3?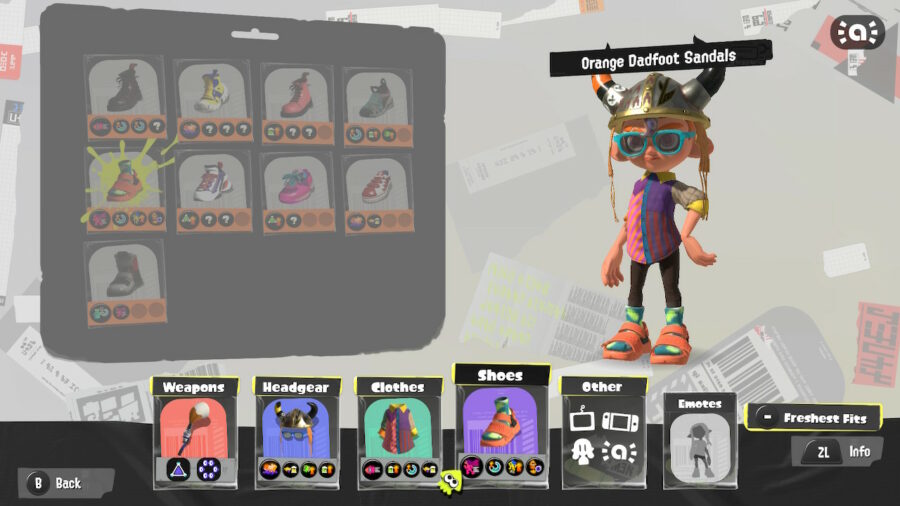 Aside from allowing you to express your aesthetic preferences, gear forms a vital part of the loadout you take into competitive play. Each piece of gear has up to four abilities, consisting a main ability slot, and 3 sub ability slots, which can require unlocking. You can unlock more sub-ability slots by increasing the gear's Star Power (more on that later).
The abilities themselves are unlocked with XP, which is earned through playing online matches in the lobby. The sub-abilities you unlock will be random, though chances are stacked by merit of the gear's brand – more on that later too. Once you've unlocked all the abilities for a piece of gear, XP will earn you Ability Chunks, which can be used to choose what abilities you want on any given piece of gear. Keeping up so far?
Where do you get gear in Splatoon 3?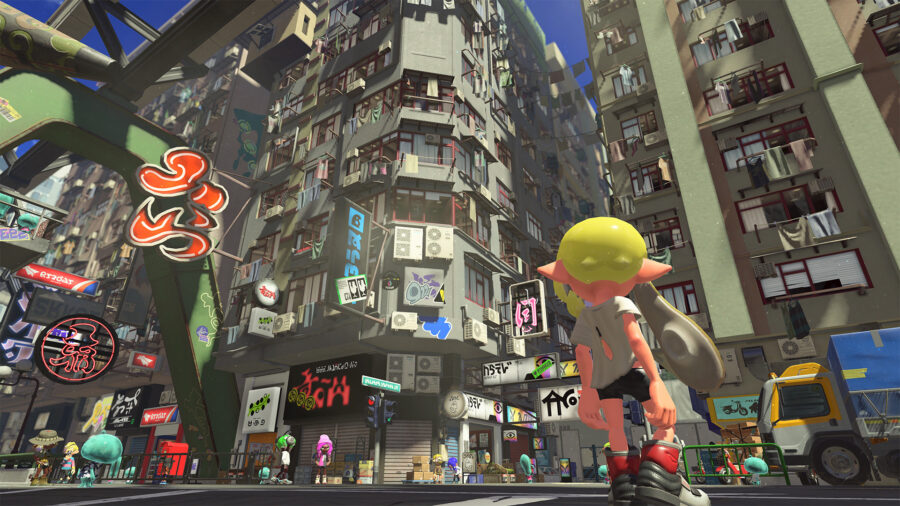 It may seem like a daft question, but you can pick up gear from a number of sources. The first you'll encounter are the shops, which unlock at level 4. The stock refreshes here at midnight every day, so try to get into a habit of checking them out whenever you play.
You can unlock specific pieces of gear through playing the single player and Salmon Run modes – the latter being the source of the Bream-Brim Cap, which aside from looking the part (all oil-spilly and psychedelic) is proving to be fairly popular among the playerbase.
There's also the Splatnet Shop on the Nintendo Switch Online mobile app, which also refreshes daily, as well as giving you a heads-up on what brands will be featured in the next daily drop. If you place an order here, you'll have to collect it from the drip dealer himself, the one and only…
Murch!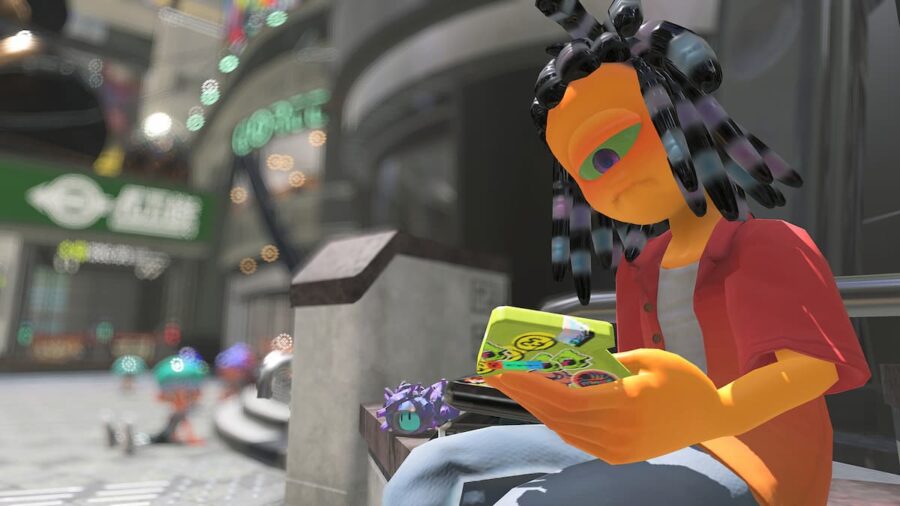 And what exactly is a Murch? He's possibly the most important character in Splatsville, hanging around just outside the entrance to the lobby. As said above, he's the intermediary for orders from the Splatnet shop, as well as procuring you gear from other players you can see in Splatsville. Once he's offered you this service. you just have to interact with a player in the hub, and select "Order Gear" on whatever of theirs is taking your fancy.
Beyond this though, Murch offers a number of ways to improve your existing gear. He can:
Scrub slots – for 20k in gold, Murch can remove any unlocked secondary abilities and give you an Ability Chunk in return. 

Reroll slots – for the price of a Super Sea Snail, Murch will reroll all secondary abilities on any piece of gear which has them all already unlocked. 

Boost Star Power – which we'll get into below.
Murch is also able to edit a piece of gears abilities wholesale, providing you have the Ability Chunks required. It's not cheap, but it does mean that whatever vibe you're going for can be achieved with whatever playstyle suits you. This will set you back 45 Chunks for a main ability, and 10 for a sub ability, unless you wanted to double (or triple) up, which will cost 20 for two, or 30 for three.
What is star power and how does it work?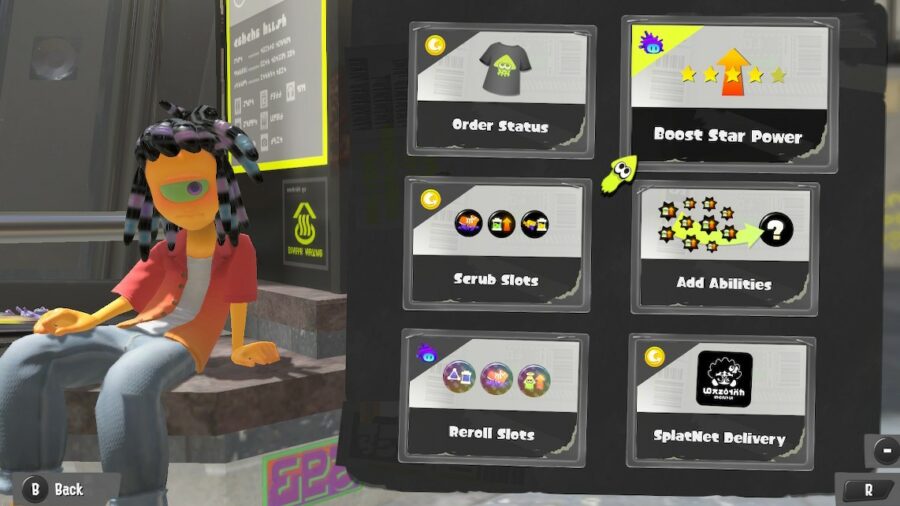 Simply put, increasing a piece of gear's star power will either unlock an extra ability sub-slot (to a max of 3) or, if it already has 3 slots unlocked, will give you a small XP boost for the item when in use. You can increase the star power of a piece of gear by finding it in the store again on successive days, after the stock has refreshed, or by giving Super Sea Snails to Murch.
If you find a specific piece of gear you want to take through to the endgame then by all means keep pumping the star power level, as you'll be earning Ability Chunks as overflow XP rewards quicker. Brand loyalty is rewarded here too, as you'll earn a badge for each brand you amass 30 and 100 stars in.
Levelling star power can get expensive quite quickly though, so in the early game you're better off saving your money than opting for an upgrade once you have all 3 slots unlocked – particularly if you aren't yet 100% sure on your build and role in competitive play.
Splatoon 3 Gear Brands and Abilities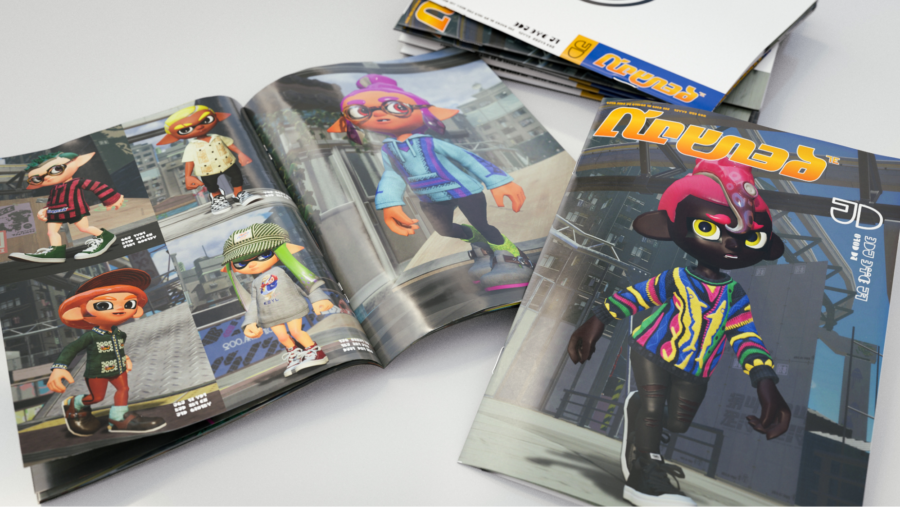 Each brand has its advantages and disadvantages depending on your playstyle, in the form of favoured and unfavoured abilities. These affect the odds at which each bit of kit will roll abilities when levelled up, with favoured giving a 5x boost over other gear, and unfavoured a 1/2x handicap. The table below can help you keep an eye out for brands that offer what you're after:
| | | | | |
| --- | --- | --- | --- | --- |
| Brand name | Vibe | Favoured ability | Unfavoured ability | No. of pieces |
| Annaki  | One of them punks are ya?  | Ink Saver (Sub) | Special Saver | 10 |
| Barazushi | Outdoorsy bits. I'd legit wear those Desert Chukkas tbf.  | Intensify Action | Sub Power Up | 12 |
| Cuttlegear  | These bits you'll get from amiibos and campaign unlocks. No spoilers here but there's some drip to be had.  | N/A | N/A | 10 |
| Emberz | A surreal attempt at streetwear. The Button-Clown Shirt is a particular highlight.  | Intensify Action | Special Charge Up | 12 |
| Enperry | Mostly sporty, but they do sell a triple-decker pair of sunglasses, for the optically well-endowed. | Sub Power Up | Ink Resistance Up | 10 |
| Firefin | Notable for the sandals and socks combo on offer – in two colours, no less. | Ink Saver (Sub) | Ink Recovery Up | 8 |
| Forge | Headgear specialists, home of the Party Hard Hat. | Special Power Up | Ink Saver (Sub) | 14 |
| Grizzco | These bits are unlocked through Salmon Run mode. It's how you get the aforementioned oil slick looking hat that everyone's wearing. | N/A | N/A | 4 |
| Inkline | Going for that fashionable outdoorsy look rocked by unfashionable indoorsy people, like myself.  | Sub Resistance Up | Intensify Action | 14 |
| Krak-On | Clearly the best name in this list. Festival vibes. | Swim Speed Up | Sub Resistance Up | 16 |
| Rockenberg | Knock-off Doc Martens here, if you're that way inclined. | Run Speed Up | Swim Speed Up | 14 |
| Skalop | There's a genuine, bonafide m'lady hat here among their usual offering of snapbacks and tie-dye t's.  | Quick Respawn | Special Saver | 10 |
| Splash Mob | Fairly normcore offering, save for the bowler that looks straight out of A Clockwork Orange. | Ink Saver (Main) | Run Speed Up | 9 |
| SquidForce | Still one of them punks are ya? At your age?  | Ink Resistance Up | Ink Saver (Main) | 16 |
| Takoroka | Mainly sportswear, and an Ash Ketchum baseball cap.  | Special Charge Up | Special Power Up | 14 |
| Tentatek | Purveyors of post-Yeezy trainers.  | Ink Recovery Up | Quick Super Jump | 13 |
| Toni Kensa | Get the catwalk look going here. Walk slowly into battle, turn around, and leave.  | Ink Saver (Main) | Sub Power Up | 12 |
| Zekko | Finally, a half-decent Hawaiian shirt. Silk bomber jackets look the business too.  | Special Saver | Special Charge Up | 9 |
| Zink | Hi-tops, get yer hi-tops 'ere!  | Quick Super Jump | Quick Respawn | 16 |
For some more detail on the abilities themselves, you can read our abilities tier list here.
Check out the rest of our Splatoon 3 guides here, and enjoy stunting on your foes while positively DRIPPING… y'know, like the paint… and the clothes thing young people say… yes I know I've said it three times in this article already… ah, whatever.