I once read on some kitchen wall art that there is balance in all things, and much like the pair of scales nearby, this too is true for Overwatch 2's Moira. Her whole shtick is duality, and so despite being classed a support hero, she's just as capable on the offensive. 
Moira has a long history in Overwatch lore too, as a mad scientist figure working on altering genetics, with Reaper being the result of one of these experiments. She pursued some pretty lofty goals here, despite the ethical questions raised by her peers. Unperturbed, she joined the Blackwatch, Overwatch's hush-hush covert ops segment, to work on implements of war. 
Let's get into her abilities, skins, tips, and how Moira has changed for Overwatch 2.
Moira's Abilities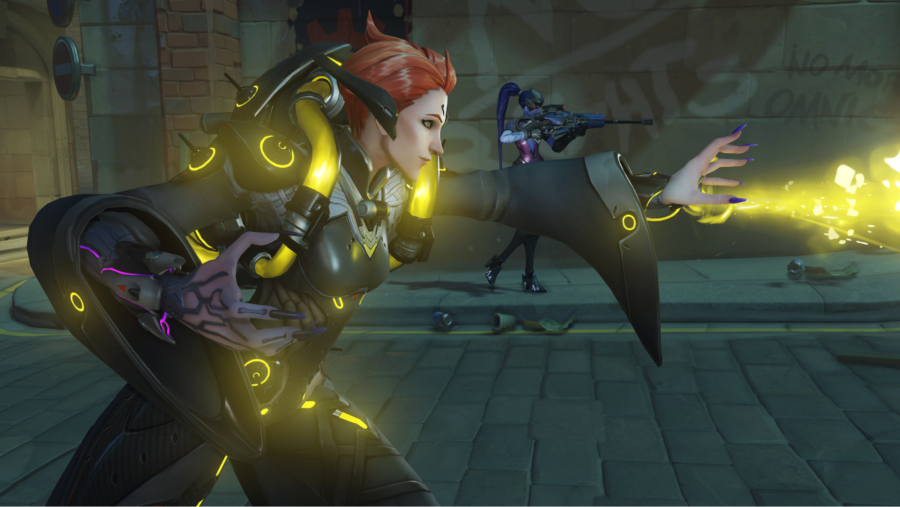 Biotic Grasp (Primary Fire): Use the Biotic Energy to heal all of your allies in front within 15 meters for 70 HP a second. Energy is generated by the secondary fire of Biotic Grasp, meaning you have to effectively turn damage dealt into health for your team. It does replenish itself slowly, however, at a rate of just under 4 units per second while not in use. 
Biotic Grasp (Secondary Fire): A homing beam that targets the nearest enemy, damaging for 48 per second. Generates the Biotic Energy needed for your primary fire, at a rate of around 25 units per second (factoring in the above 4) and heals you slightly while dealing out damage to enemies. 
Biotic Orb (Ability): Biotic Orb has two forms – one for damage, and one for healing. They both handle the same, firing out in your chosen direction, bouncing off nearby surfaces, and interacting with nearby players. It lasts for either seven seconds, or until it reaches its limit; for healing, it generates 65 per second with a max of 300, and damages for 50 per second with a max of 200. Biotic Orb has a cooldown of eight seconds. 
Fade (Ability): Moira can become invulnerable and invisible for a second here, which is ideal for getting out of a tight spot. Fade also ramps up your speed dramatically for its duration, allowing you to cover a fair bit of distance. With a cooldown of only six seconds too, this makes you very hard to pin down. 
Coalescence (Ultimate): The big one – fire a huge beam of energy for eight seconds over 30 metres, damaging foes for 70 per second and healing your team for 140 per second. Coalescence also pierces enemy barriers, gives you a 50% movement speed buff, and heals you for 50 per second too.  
Role: Support (Passive): Just like the rest of Overwatch 2's support heroes, Moira will now automatically heal for 10hp a second after going unharmed for a second. Very handy for Moira, as you can duck back after dealing out some damage, and recover while you heal up your teammates. 
How has Moira Changed for Overwatch 2?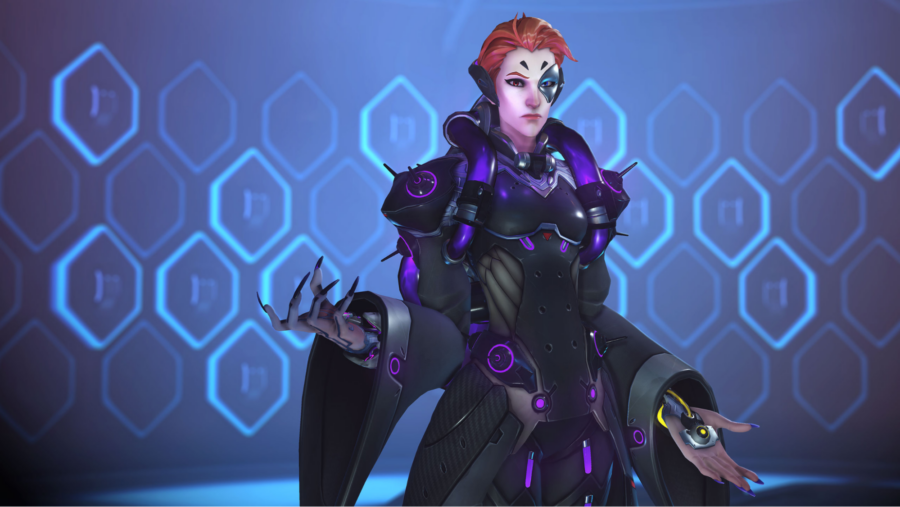 For players who saw the modified Moira in the beta earlier in the year, you'll be relieved to know that all those feedback forms you filled in worked – Necrotic Orb is dead. This was originally going to serve as a rework for Biotic Orb, and split its offensive and regenerative forms into two separate skills, each with their own cooldown timers and new secondary effects. By all accounts though, it well and truly sucked. 
So, with the exception of the new Role: Support passive having been added to her roster, it looks like business as usual for Moira stans, with no other notable changes yet. 
Moira Strategy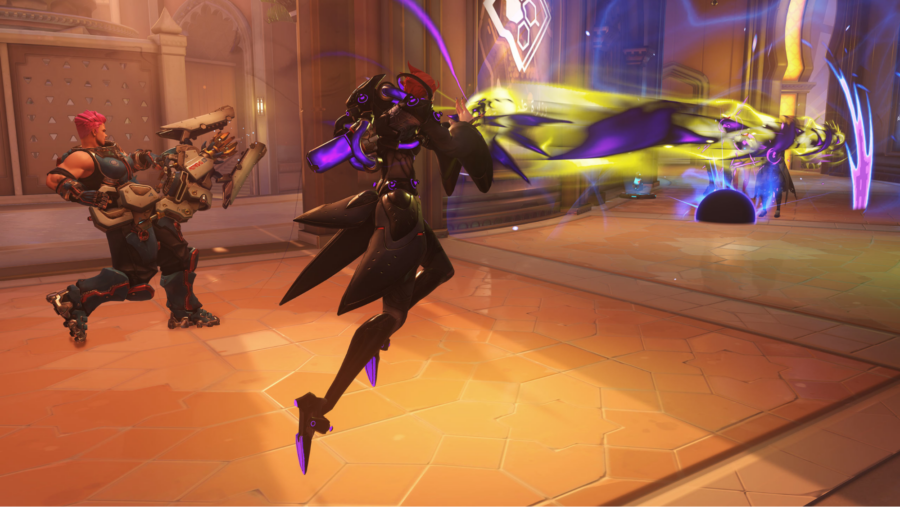 For a support hero, Moira has a lot of damage potential. And to be an effective healer, you're going to need to use it, as dishing out the hurt to the opposing team refills your Biotic Energy much quicker, which is the resource you use to heal your allies. 
She doesn't slack on the healing front, though. Biotic Grasp has a wide range and a high healing rate, and paired with a Biotic Orb you can buff multiple members of your team for up to 140 per second. This can be an incredibly effective barrier against pretty much all incoming damage, discounting ultimates, and can allow a tight-knit squad to push up with little recourse when escorting a payload or reclaiming a control point. Coalescence is also very effective for scenarios like these – when there's a lot of players in a tight space, position yourself near the back of your squad and just let 'er rip, both healing your squad and shredding the opps. It's honestly one of my favourite ults in the game. 
When you're out for blood (and Biotic Energy), the damage version of Biotic Orb paired with the Grasp can also be pretty devastating against bunched up enemies. While the secondary fire only hits one enemy at a time, paired with a Biotic Orb it can hit for just under 100 a second. Timed well, you can pick off a group in turn fairly quickly. Don't try it alone though, as Moira's a bit of a glass cannon, with only 200 HP. 
Biotic Grasp's damaging beam also locks on to enemies pretty effectively, making quick work of more nimble opposition like Genji. He can try to jump around you all he likes – just keep an eye on him and let the beam do the work for you. He can't deflect your beam, either. 
One way that Moira falls down however is range, and this is particularly felt against airborne enemies. Pharah is proving a popular choice at launch, and her rockets can shred Moira without much recourse. Use your Fade ability and get away if you see her take to the skies.
Moira Skins in Overwatch 2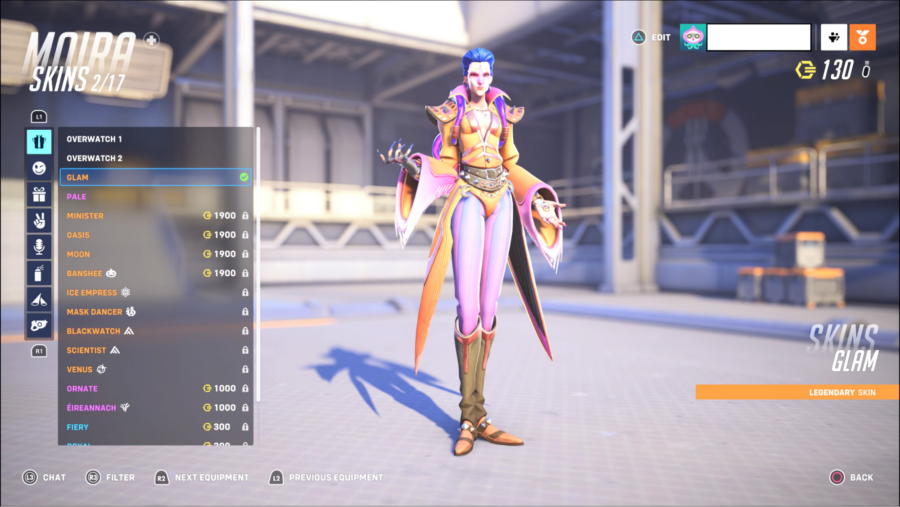 There's currently 19 skins listed for Moira on the Hero Gallery in Overwatch 2. The best by some margin, in my humble opinion, is Glam – proper Bowie vibes. Who doesn't want that? 
Name 

Information 

Overwatch 1

Common skin

Free, unlocked by default

Overwatch 2

Common skin

Free, unlocked by default

Minister 

Legendary skin

1,900 Overwatch Coins

Oasis

Legendary skin

1,900 Overwatch Coins

Glam

Legendary skin

1,900 Overwatch Coins

Moon

Legendary skin

1,900 Overwatch Coins

Banshee

Legendary skin

1,900 Overwatch Coins

Seasonal 

Ice Empress

Legendary skin

1,900 Overwatch Coins

Seasonal 

Mask Dancer

Legendary skin

1,900 Overwatch Coins

Seasonal 

Blackwatch

Legendary skin

1,900 Overwatch Coins

Seasonal 

Scientist

Legendary skin

1,900 Overwatch Coins

Seasonal 

Venus 

Legendary skin

1,900 Overwatch Coins

Seasonal 

Ornate

Epic skin

1,000 Overwatch Coins

Pale 

Epic skin

1,000 Overwatch Coins

Èireannach 

Epic skin

1,000 Overwatch Coins

Seasonal

Fiery

Rare skin

300 Overwatch Coins

Royal 

Rare skin

300 Overwatch Coins

Selkie

Rare skin

300 Overwatch Coins

Whiskey 

Rare skin

300 Overwatch Coins