Mei, Overwatch 2's arctic explorer, is a damage hero all about ice. Mei's weapons and abilities have one primary goal: slowing the enemy down and eliminating them. Mei's Endothermic Blaster freezes her enemies, while her abilities are designed to block enemy counterattacks and contest objectives for as long as possible. Mei is a relatively simple character to use as long as you understand her limits and when best to play as her.
Mei has 250 health points, but her self-healing ability enhances that health even more.
Overwatch 2 Mei Guide – Weapons
Endothermic Blaster (Primary Fire)
The primary fire for Mei's blaster (RT/R2 on a gamepad) will spray a beam of ice at enemies. This deals ~90 damage per second and reduces enemy movement speed by 50%. The primary fire uses about 20/150 ammo per second.
Since this ice spray is a beam, it can't deal headshot damage, but it will ignore abilities like D.Va's defense matrix or Genji's deflect.
Mei's primary fire is great for dealing with quick heroes that are hard to keep in one place, like Genji or Lucio. However, almost any hero will be severely vulnerable while freezing. 
Endothermic Blaster (Secondary Fire)
Mei's secondary fire will shoot a long-ranged icicle at enemies. This projectile deals ~75 damage per hit and ~125 for a critical headshot hit. This spike uses up 10/150 ammo per shot and takes 0.5 seconds to fire. 
The blaster's primary and secondary fire are a great match. After you hit a foe with the primary fire, they will still be slowed for a few milliseconds, giving you enough time to charge up an icicle and quickly land a headshot. 
The Endothermic Blaster's secondary fire is also great at dealing with faraway foes like Pharah or Hanzo, though you should note that the projectile has a downwards trajectory as it flies through the air.
Overwatch 2 Mei Guide – Abilities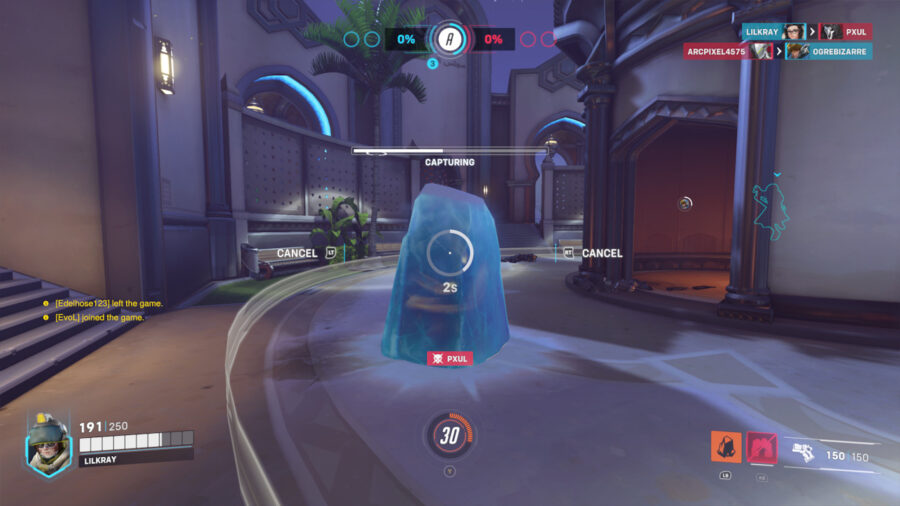 Cryo-Freeze
Cryo-Freeze traps Mei in an icy cocoon, blocking her from any incoming damage and restoring her health and ammo. Once activated, Mei can stay in Cryo-Freeze for 4 seconds and cancel the ability at any time. Cryo-Freeze can heal up to 200 damage and has a 12-second cooldown. 
Obviously, this ability is best used when you're low on health, and your support is preoccupied. But it also has some more annoying uses. Cryo-Freeze is great when you need to contest the point; let's say you're in overtime and waiting for your team to respawn. Cryo-Freeze can be a last-second help in close games.
Ice Wall
This ability allows Mei to grow a large, breakable Ice Wall. Each pillar in the wall takes 250 damage to destroy. Ice Wall stays in place until it's destroyed or after 5 seconds and has a cooldown of 12 seconds.
Ice Wall is a great defensive tool if you're trying to block damage, keep enemies away from objectives, or if you're trying to separate enemies from their team. Ice Wall can also be used underneath you and your teammates, letting you reach inaccessible areas.
Passive Ability – Role: Damage
Role: Damage boosts Mei's movement and reload speed after eliminating an enemy. Every damage hero in Overwatch 2 has this passive ability. 
Overwatch 2 Mei Guide – Ultimate Ability: Blizzard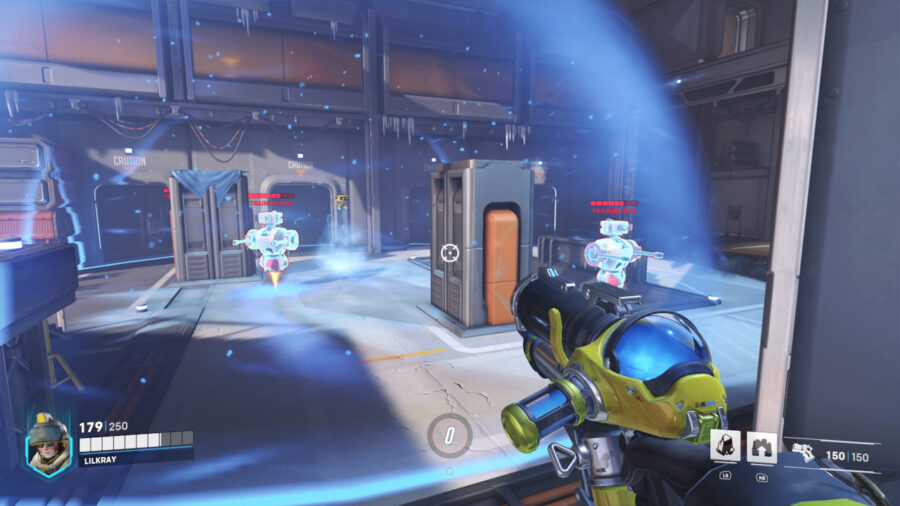 Mei's Ultimate Ability has her launch her cute drone into the air, creating a blizzard that freezes the enemy in a wide area. Blizzard lasts for just over 4 seconds and has a 10-meter radius. Enemies caught in the zone will take 20 damage per second and be slowed; enemies stuck too long will be completely frozen for 1 second. 
Since Blizzard is an area-of-effect ability, it should be used when the enemy team is close together and vulnerable to such attacks. You should try to activate it when you have backup since the freezing effects only last a few seconds – you need to maximize your damage output in this time. Use Mei's secondary fire to land headshots and quickly gain eliminations. 
Mei's Ultimate is also pretty good at pushing back enemies. If your foes are pushing through a tight chokepoint, like the one in Hollywood, Blizzard is a tool for clearing the area. Even if enemies aren't completely frozen by the cold, they will temporarily pull back and give your team enough time to regroup and heal. 
Blizzard has an Ultimate cost of 1610. Ultimate charge depends on how much damage or healing you deal, so landing 1610 damage will fully charge Mei's Ultimate. In addition, all characters automatically generate a small amount of ultimate charge.
Overwatch 2 Mei Changes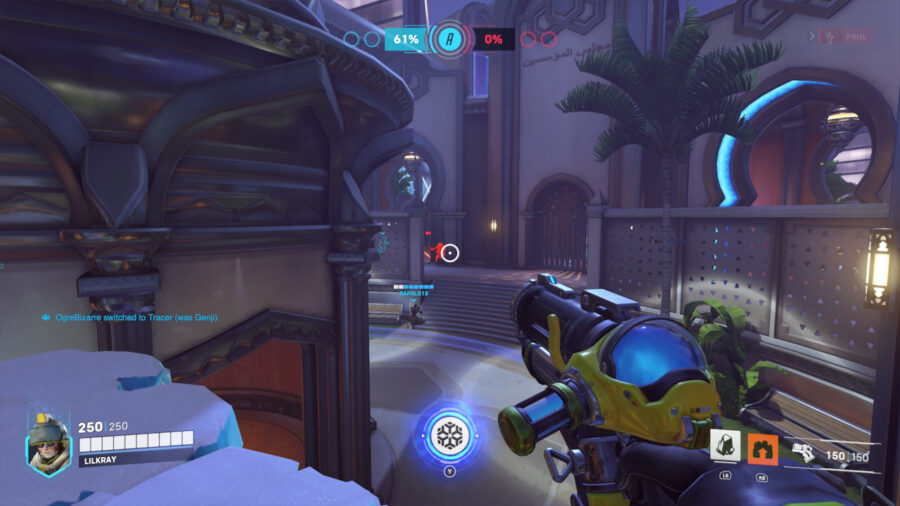 None of Mei's core abilities have been removed or reworked, but the changes to Mei in Overwatch 2 are pretty significant. Her inability to freeze enemies completely makes Mei less distinct from other damage heroes. Even though her primary fire has a damage boost, the rest of her changes nerf her abilities on the battlefield. 
Mei's primary fire no longer freezes enemies in place, it only slows their movement speeds. Her primary fire's damage has increased from 55 damage per second to 100 damage per second.

Mei's Ultimate Blizzard cost has increased by 15%

Role: Damage is a new passive ability for Mei.

Ice Wall has each pillar's health reduced from 400 to 250.
Overwatch 2 Mei Guide – Strategy & Team Composition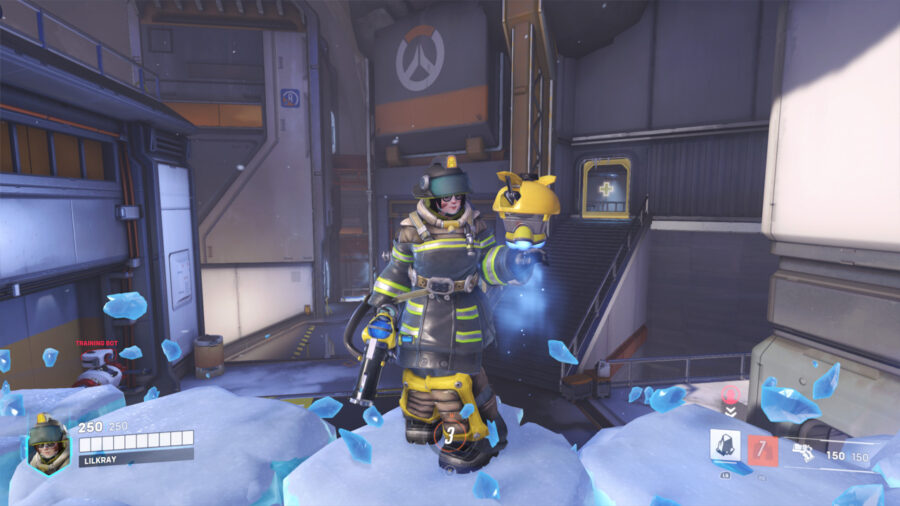 Mastering Mei's playstyle is tough since she's outclassed in many situations. In 1v1 situations, Mei's self-healing and freezing abilities make her quite useful; engaging in long-ranged fights isn't recommended, however. Mei doesn't do enough damage to be able to solo kill a Roadhog or a Reinhardt, but Mei is effective against most damage and support heroes.
Genji is particularly vulnerable to Mei, as he excels in fast movement and close-range combat. Both can be nullified by Mei's Endothermic Blaster. If Genji tries to escape using his abilities, try to block him with your Ice Wall.
Mei's most useful abilities are her Ice Wall and her Ultimate. You should use Mei's Ice Wall offensively and defensively. In most 5v5 matches, the enemy team will have their tanks at the front, their damage behind, and their support heroes at the back. A well-placed Ice Wall will be able to separate an enemy tank from their team while blocking damage from their DPS heroes. Separating their team often will lead to many 5v1 situations and allow you to pick off enemies when they're vulnerable. Also, if an enemy is trying to disengage from a fight and back off, use an Ice Wall behind them and finish them.
Mei's Ultimate has many use cases. As previously mentioned, players can use it to generate eliminations and push back enemies, but it also has a relationship with other Ultimates. For example, if an enemy Zenyatta or Lucio activates their Ultimate, they're gearing up to dive into the objective. Mei's Blizzard will slow down the enemy and buy your team a few seconds. By the time Blizzard finishes, so will the enemy team's Ultimate, allowing you to counter with a supportive Ultimate of your own.
Overwatch 2 Mei Skins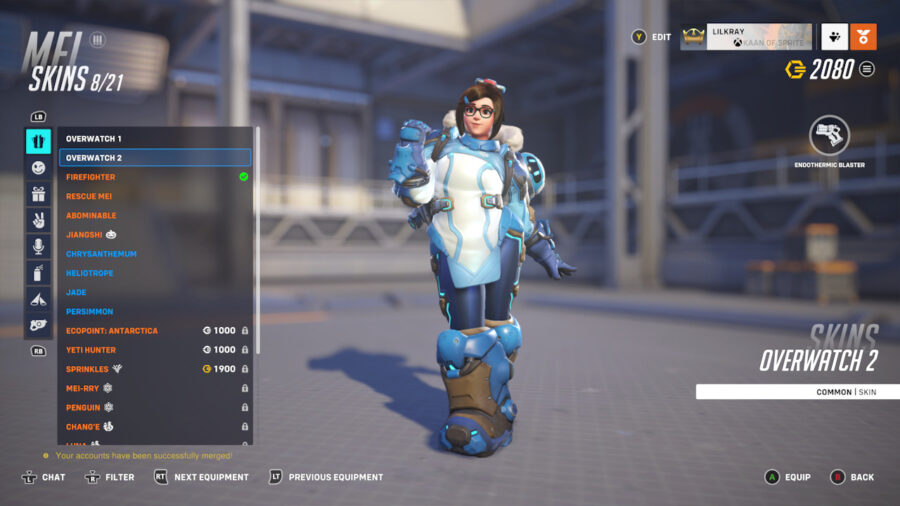 Mei has 23 different skins in Overwatch 2. Players can transfer skins unlocked in the original Overwatch by merging their accounts. Otherwise, you can unlock new skins by completing the Battle Pass or by purchasing skins in the in-game Shop.
Skins
Details

Overwatch 1

Common Skin

Automatically unlocked

Overwatch 2

Common Skin

Automatically unlocked

Chrysanthmum

Rare skin

Sometimes available in the Shop

Heliotrope

Rare skin

Sometimes available in the Shop

Jade

Rare skin

Sometimes available in the Shop

Persimmon

Rare skin

Sometimes available in the Shop

Earthen

Epic Skin

Sometimes available in the Shop

250 Legacy Credits

1000 Overwatch Coins

Snow Plum

Epic Skin

Sometimes available in the Shop

250 Legacy Credits

1000 Overwatch Coins

Pumpkin

Epic Skin

Sometimes available in the Shop

1000 Overwatch Coins

Firefighter

Legendary Skin

Sometimes available in the Shop

Rescue Mei

Legendary Skin

Sometimes available in the Shop

Abominable

Legendary Skin

Sometimes available in the Shop

Jiangshi

Legendary Skin

Sometimes available in the Shop

Ecopoint: Antarctica

Legendary Skin

Sometimes available in the Shop

1000 Legacy Credits

1900 Overwatch Coins

Yeti Hunter

Legendary Skin

Sometimes available in the Shop

1000 Legacy Credits

1900 Overwatch Coins

Sprinkles

Legendary Skin

Sometimes available in the Shop

1900 Overwatch Coins

Mei-rry

Legendary Skin

Sometimes available in the Shop

Penguin

Legendary Skin

Sometimes available in the Shop

Chang'e

Legendary Skin

Sometimes available in the Shop

Luna

Legendary Skin

Sometimes available in the Shop

Pajamei

Legendary Skin

Sometimes available in the Shop

Beekeeper

Legendary Skin

Sometimes available in the Shop

Honeydew

Legendary Skin

Sometimes available in the Shop