D.Va is a pro gamer who uses a bulky mech suit, so she's living the life most of us dream of. Overwatch 2's DVa is a unique character in since she essentially has two lives. First, there's her health pool while she's in the suit. Once that's destroyed, D.Va will be a nimble, pistol-using fighter waiting for her mech to charge again. D.Va is relatively easy to understand. Still, in the right hands, she can be lethal with her ability to isolate and bully enemies. 
D.Va is a formidable tank hero. In the mech suit, D.Va has a health pool of 650. However, outside of the mech, D.Va is vulnerable, with only 150 health points.
Overwatch 2 D.Va Guide – Weapons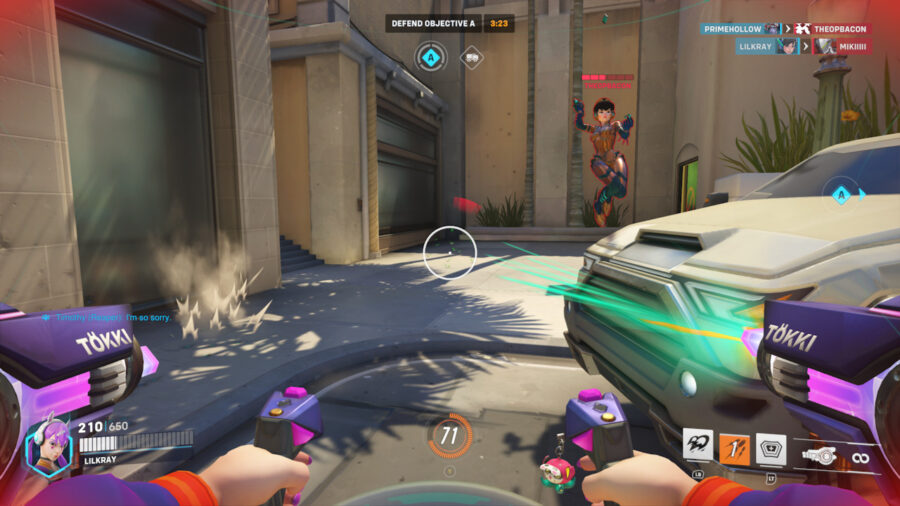 Fusion Cannons
While in the mech, D.Va comes equipped with two automatic cannons that fire short-ranged bullets. The fusion cannons can deal ~150 damage per second and have infinite ammo. The fusion cannons also deal critical damage on headshots, so a close-ranged D.Va can be a massive problem for low-health targets like Zenyatta. 
D.Va's movement speed will slow down while she's firing; however, she can keep firing while using her booster ability. 
Light Gun
Once D.Va's mech suit is destroyed, she'll eject from it and begin using her light gun. Her only form of defense will be her handgun. The light gun deals 14 damage per projectile and fires 7 bullets per second, meaning an unsuited D.Va can deal 98 damage per second. The light gun holds 20 ammo per clip.
D.Va is largely vulnerable in this state, so keep your distance from enemies and try to land as many shots as possible before your mech charges again.
Overwatch 2 DVa Guide – Abilities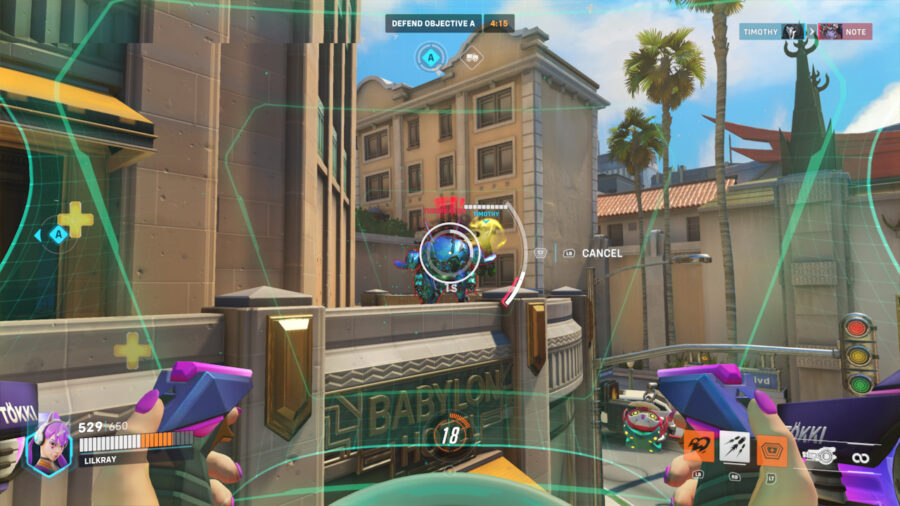 Boosters
D.Va's boosters are an essential part of her moveset. These thrusters allow D.Va to speed forward and fly through the air for 2 seconds. If you bash into an enemy while boosting, D.Va will deal 25 damage and has a knockback effect. The ability has a cooldown of 4 seconds. 
D.Va's boosters can be used in a variety of ways. Using the thrusters with her fusion cannons, D.Va can isolate and push back a lone Widowmaker, Hanzo, or Zenyatta and essentially solo kill them. The boosters can be used to dive into enemy formations, disorientate them and disrupt their positioning. Of course, the boosters can also be used to run from dangerous situations while alone. 
Defense Matrix
D.Va's defense matrix is her primary way of mitigating damage as a tank hero. Defense matrix will cast a projection in front of D.Va that will soak up and remove enemy bullets and projectiles, regardless of how much damage they do. D.Va can only have her defense matrix up for a maximum of 3 seconds and it takes 6 seconds to fully charge.
The only damage that D.Va can't mitigate with this ability are beam attacks like Zarya's primary fire. D.Va's defense matrix can be used at the same time as her micro missile ability. 
D.Va's defense matrix can entirely block Ultimate Abilities from Soldier 76 and Pharah and is best used sporadically since it takes a while to fully charge in relation to how long it lasts.
Micro Missiles
D.Va's micro missiles will fire explosive rockets in a straight line, dealing damage on impact and splash damage to close-by enemies. This ability fires 18 missiles, dealing 7-11 damage per hit. Micro missiles are long-range, so they can be used to deal marginal damage against enemies far away.
Micro missiles are best used offensively when pushing the enemy and diving in with the boosters. 
Overwatch 2 D.Va Guide – Passive Abilities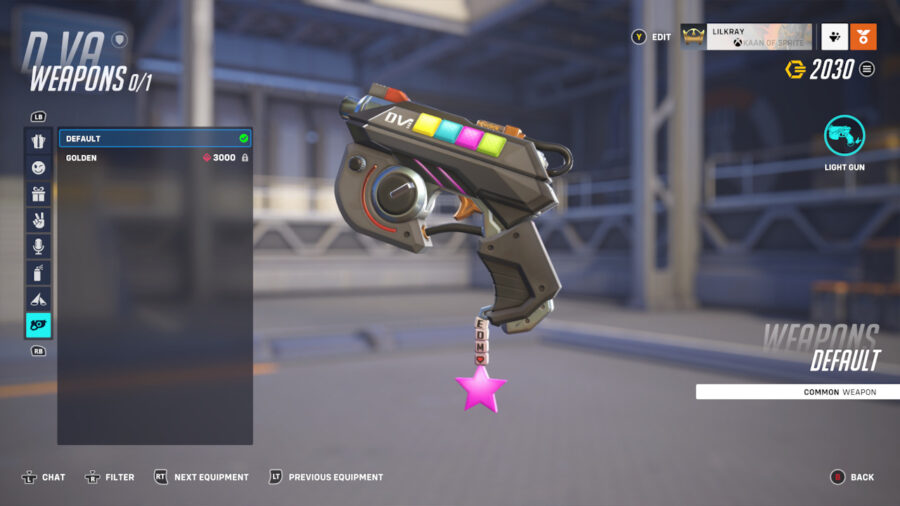 Eject!
D.Va's unique passive ability is that she will eject from her mech automatically when it is destroyed. You'll lose all access to D.Va's main abilities while out of the suit and only have access to the light gun.
Role: Tank
This is a passive ability that all tanks in Overwatch 2 have. This ability reduces the effect of knockback abilities.
Overwatch 2 D.Va Guide – Ultimate Abilities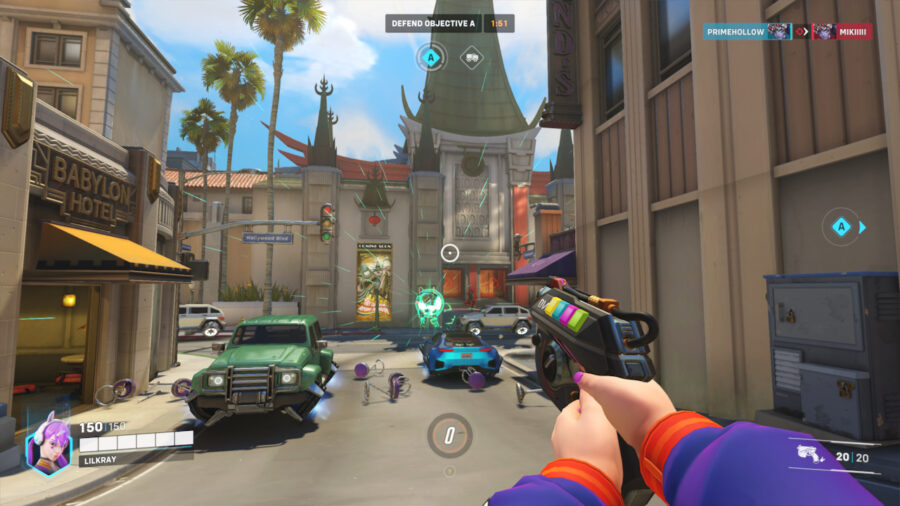 D.Va is rare since she has two Ultimate Abilities, but players can use only one of them offensively.
Ultimate Ability: Self-Destruct
D.Va's self-destruct can be charged and used while she's inside the mech. This ability will have D.Va eject from her mech suit and automatically kill any enemies within its explosion radius. Self-destruct will deal 100-1000 damage depending on how close enemies are.
Self-destruct will take three seconds from casting until it explodes. Her Ultimate can also be used with her booster to send D.Va's exploding mech flying through the air. Self-destruct can also be activated when your mech suit runs out of health. 
Self-destruct can be a game-changing ability if used correctly since it can wipe out entire teams. It's best used on objectives like a moving payload to remove a few enemies and disperse them from the objective. Even if self-destruct doesn't kill many enemies, it will send them running, allowing your team to chase after them and deal damage while they're distracted. 
Self-destruct is a great ability to use alongside other Ultimates. In an open queue game, D.Va can match her Ultimate with Zarya's or Reinhardt's to eliminate enemies while they can't escape. Mei's Blizzard can also be used for the same effect.
Self-destruct has an ultimate charge of 1500, so it charges relatively quickly. Use it as often as possible since it's a fairly easy way to eliminate a few enemies. 
Ultimate Ability: Call Mech
D.Va's Ultimate, while she's out of the mech, just lets her call it again. It only has an ultimate charge of ~300. Keep a distance from foes while you deal damage, and your mech will charge very quickly. Your main priority is to stay alive, but you can deal a decent amount of damage while out of the suit. The suit can also deal 250 damage if it lands on an enemy target. 
Overwatch 2 DVa Changes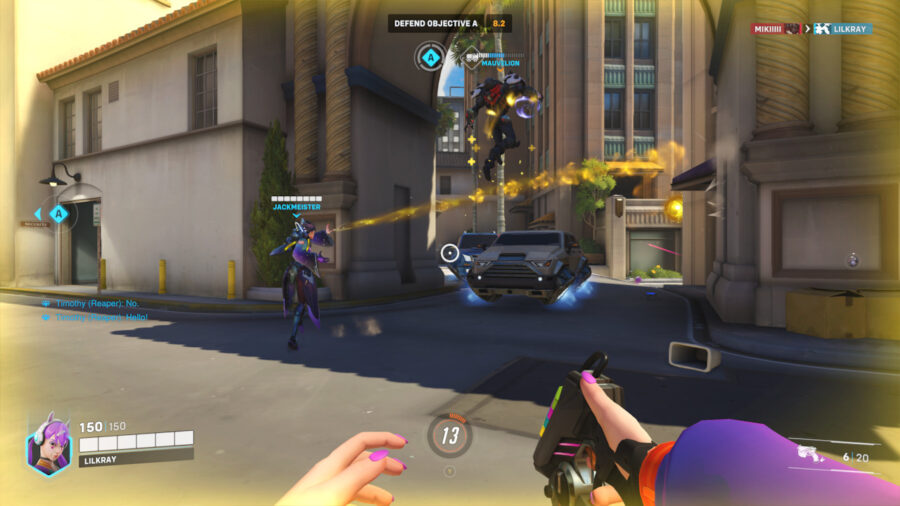 D.Va is one of the original tanks in Overwatch, and she hasn't changed much in the transition to Overwatch 2. Here are all the changes to D.Va in Overwatch 2:
D.Va's mech suit now has a health pool of 650, up from 600.

The booster ability now deals 25 damage instead of 10.

D.Va now receives the Role: Tank passive ability that all tanks do. 

D.Va's defense matrix has more charge, allowing her to soak up more damage. 
Overwatch 2 DVa Guide – Strategy & Team Composition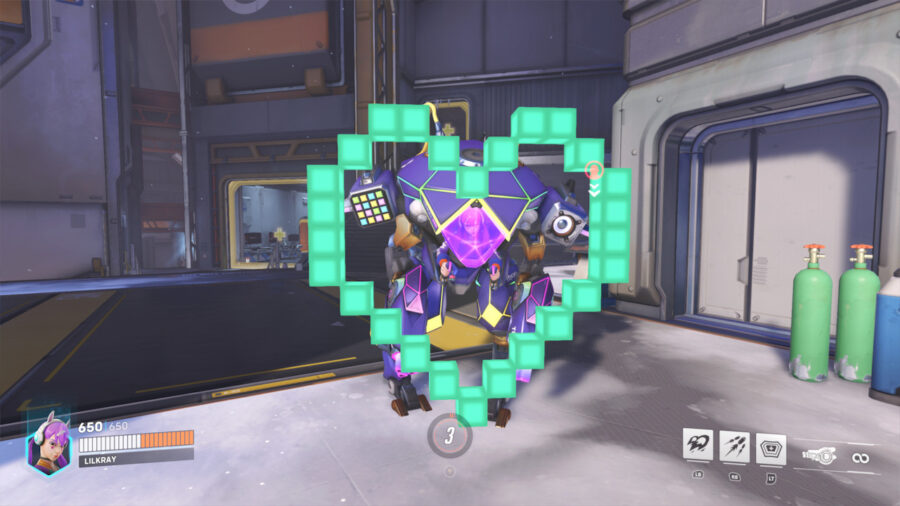 Since D.Va is now a solo tank in competitive play, it's her responsibility to block damage more than ever. In addition, D.Va's high health and great mobility mean that she should lead the team into objectives and team fights. The key is to combine all of D.Va's different abilities and use them simultaneously. For example, defense matrix and boosters should be used together when diving into a fight; this will mitigate damage until you're close enough to deal lethal damage.
During team fights, D.Va is great at breaking up the enemy and applying pressure onto targets. Supports like Mercy and Zenyatta won't last long once you boost into them with your missiles activated. 
D.Va is a great match with a close-knit, fast-moving team. A Lucio is an ideal support character for a D.Va-centric team as he provides the speed and gradual healing needed for group dives. This would be a formidable cluster of heroes if you also have a Genji on the team. Mercy is a solid support pick for D.Va as well. D.Va's slow speed while firing will mean she's in constant need of fast healing, which Mercy can provide. Mercy's resurrection ability will be particularly annoying for the enemy after they spent time eliminating both of D.Va's forms.
Overwatch 2 DVa Skins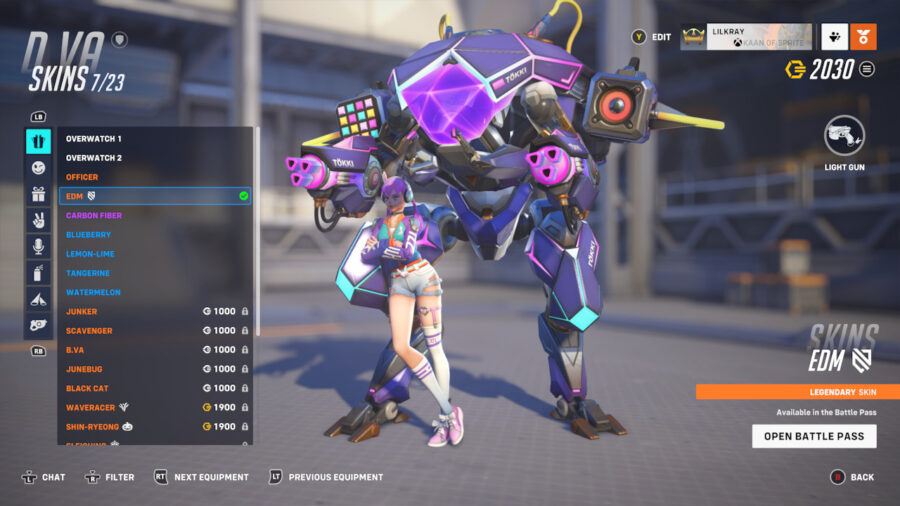 D.Va has 23 unique skins in Overwatch 2 that change her and her mech's appearance. You can unlock skins through the battle pass or purchase them in the in-game Shop.
Skins
Details

Overwatch 1

Common Skin

Automatically unlocked

Overwatch 2

Common Skin

Automatically unlocked

Blueberry

Rare Skin

Sometimes available in the Shop

Lemon-Lime

Rare Skin

Sometimes available in the Shop

Tangerine

Rare Skin

Sometimes available in the Shop

Watermelon

Rare Skin

Sometimes available in the Shop

Carbon FIber

Epic Skin

Sometimes available in the Shop

White Rabbit

Epic Skin

Sometimes available in the Shop

250 Legacy Credits

1000 Overwatch Coins

Tageukgi

Epic Skin

Sometimes available in the Shop

1000 Overwatch Coins

Midnight

Epic Skin

Sometimes available in the Shop

Officer

Legendary Skin

Sometimes available in the Shop

EDM

Legendary Skin

Sometimes available in the Shop

Junker

Legendary Skin

Sometimes available in the Shop

1000 Legacy Credits

1900 Overwatch Coins

Scavenger

Legendary Skin

Sometimes available in the Shop

1000 Legacy Credits

1900 Overwatch Coins

B.VA

Legendary Skin

Sometimes available in the Shop

1000 Legacy Credits

1900 Overwatch Coins

Junebug

Legendary Skin

Sometimes available in the Shop

1000 Legacy Credits

1900 Overwatch Coins

Black Cat

Legendary Skin

Sometimes available in the Shop

1000 Legacy Credits

1900 Overwatch Coins

Waveracer

Legendary Skin

Sometimes available in the Shop

1900 Overwatch Coins

Shin-Ryeong

Legendary Skin

Sometimes available in the Shop

1900 Overwatch Coins

Sleighing

Legendary Skin

Sometimes available in the Shop

Palanquin

Legendary Skin

Sometimes available in the Shop

Academy

Legendary Skin

Sometimes available in the Shop

Cruiser

Legendary Skin

Sometimes available in the Shop

Varsity

Legendary Skin

Sometimes available in the Shop

White Cat

Legendary Skin

Sometimes available in the Shop