Dead Island 2 is finally here in all of its zombie-slaying glory after a nearly nine-year wait. While it has plenty of interesting game mechanics, one of the most unique is the debut of a voice control system. This is how to use Alexa Game Control in Dead Island 2.
What is Alexa Game Control?
If you're a fan of using your own voice to influence elements in a game, you're going to love this feature. Alexa Game Control is a new Amazon-connected service that allows you to use voice commands to perform actions or interact with zombies. Although it's restricted to set interchangeable phrases, there is a lot of variety to help it from feeling too scripted.
All you'll need are an Amazon account and a microphone, with the game recommending a headset. It is not necessary to have an Amazon Echo or any other Alexa Built-in device since it's already integrated into the game itself.
How to Use Alexa Game Control in Dead Island 2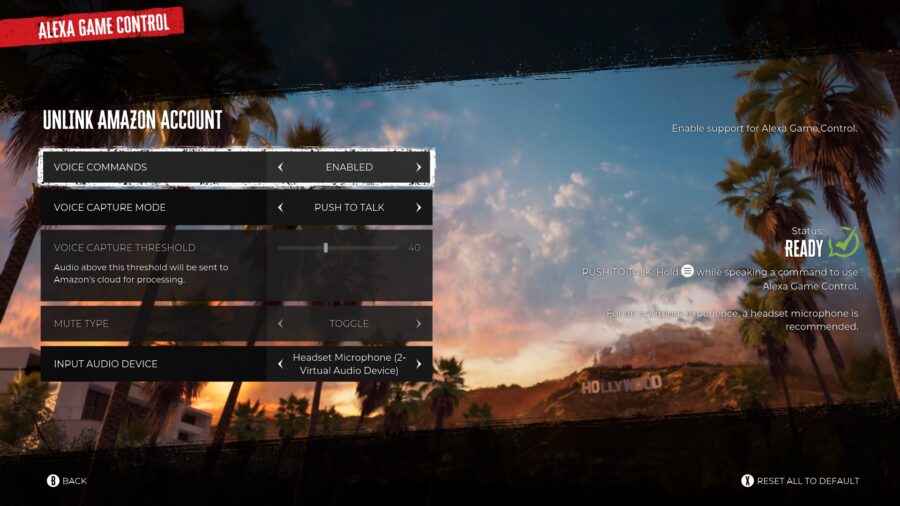 Aside from the main menu, you'll first be prompted to activate Alexa Game Control early on in Bel-Air. If you happen to miss it or exit out from this tutorial message, you can reach it again by heading to the Options menu and scrolling down to Alexa Game Control.
A screen for linking an Amazon account should show up, offering a six-letter code to use through a link or a QR code to use with a mobile phone. Do either one to successfully link your Amazon account with Alexa Game Control in Dead Island 2.
The Alexa Game Control settings screen will then appear. Make sure that the status reads "Ready" on the right and then go through and change the settings to your liking.
You'll be able to start using it as soon as you load into a save file. If you noticed a red circle with a triangle and an exclamation mark in the bottom left corner before, you'll now see that it's been replaced with a dark circle. It'll blink blue when it hears input and can pop up some text to let you know if it correctly heard your commands.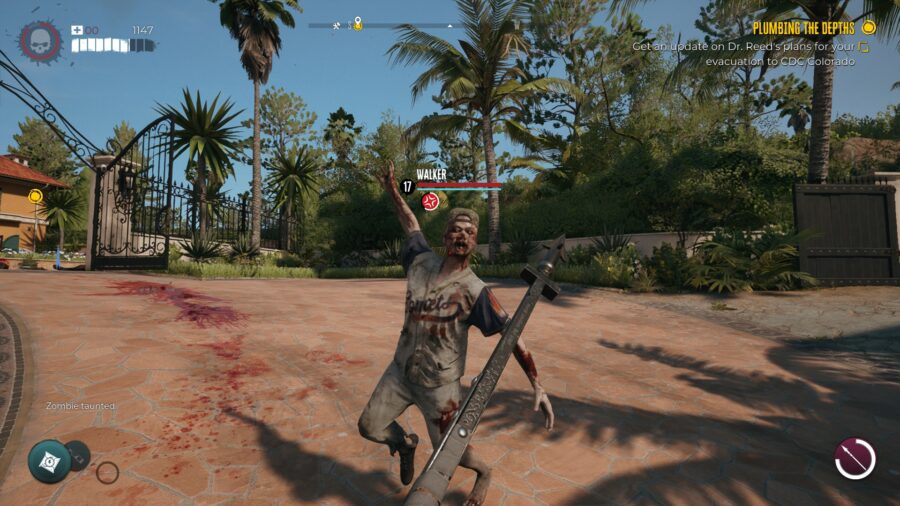 We're not going to list all of the supported phrases, but you can read through them all on the Tutorials page under Voice Controls. Here is the basis of what you can interact with through Alexa Game Control:
Setting/Clearing Waypoints

Taunting Enemies

Switching Weapons

Triggering Emotes

Activating/Exiting Fury Mode
While it is a bit of a novelty feature, it does have its uses. Being able to set a waypoint at the nearest fusebox or zone exit without having to open and move the map is convenient. Taunting enemies is a great way to isolate them, which can be very advantageous depending on which slayer you chose. Some might want to stick with solely traditional controls instead of shouting "Fury Mode!" or "Come get some big guy," but at the very least it's fun to mess around with.
How to Use Alexa Game Control on PlayStation
This unique feature isn't available on every platform and those who own Dead Island 2 on a PlayStation console are getting the short end of the stick here. As of this writing, Alexa Game Control is only available on the PC and Xbox versions of the game. If they ever do implement it on PlayStation consoles, the setup process should be pretty similar.
That covers everything you need to know about how to use Alexa Game Control in Dead Island 2. Feel free to check out our other Dead Island 2 guides, including how to unlock & use fast travel and the best Dead Island 2 character to choose.