Cross-progression was one of the most frequently requested features in Apex Legends until developers added it in the most recent Season 19 Ignite update. In case you're living under a rock, cross-progression is a feature that lets you transfer your progress and rewards from one platform to another.
For example, if you have been playing Apex Legends mostly on PC, you can use cross-progression to access your account on both PC and Xbox without losing progress. Although the feature was officially launched on October 31, 2023, it seems like many players are having a hard time enabling cross-progression in the game. So here's all you need to know about this issue if you also find yourself in the same situation.
How to Fix Apex Legends Cross Progression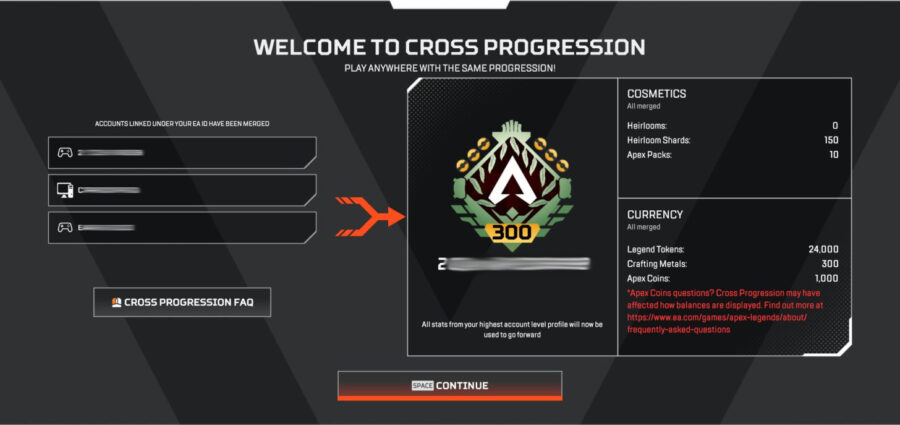 As per the official announcement, the cross-progression feature is being rolled out in waves to Apex Legends. So, if cross-progression isn't working for you, you just need to wait patiently until you get access to the feature.
When cross-progression is enabled for you, you will see a prompt for confirmation like the one below. To start the migration process, simply click on the "Continue" button. The most important thing for players to do right now is to link all of their accounts to their EA ID. This is the account that will combine all Apex Legends accounts.
How Does Cross-Progression Work in Apex Legends?
With cross-progression, you can play Apex Legends on any platform and keep your account, progress, and cosmetics. Just log in to the same EA Account on the platform of your choice. However, it's important to note that your Apex Legends progress is linked to your EA Account and cannot be transferred to another account.
If you are new to Apex Legends, create an account with the EA Account you want to use for the game. If you are an existing player, use the EA Account that you have used for Apex Legends before.
If you have played on multiple platforms before, your accounts may be merged into one cross-progression account. This means that you will keep your achievement badges, but some of the numbers on them may change. If you have only played on one platform before, your account will automatically become a cross-progression account.
Please note: To prevent exploitation, any secondary Apex Legends accounts created after Oct 26th for the same EA account will not be eligible to be merged.
That's all you need to know about the new Apex Legends feature! While you're here, check out our guide on how to play Apex private matches!