I first visited Shrekfest in 2018 out of morbid curiosity. My friends and I had our interests piqued by the strange, hyperspecific theming of the event: What could it possibly be? Do people dress up in cosplay? Are you bullshitting me?
Sure enough, there was no deeper meaning behind any of this. Shrekfest is simply a celebration of all things Shrek: the movies, the music, the characters, and more. It's satire come to life, and people showed up from all around the world to be there for it.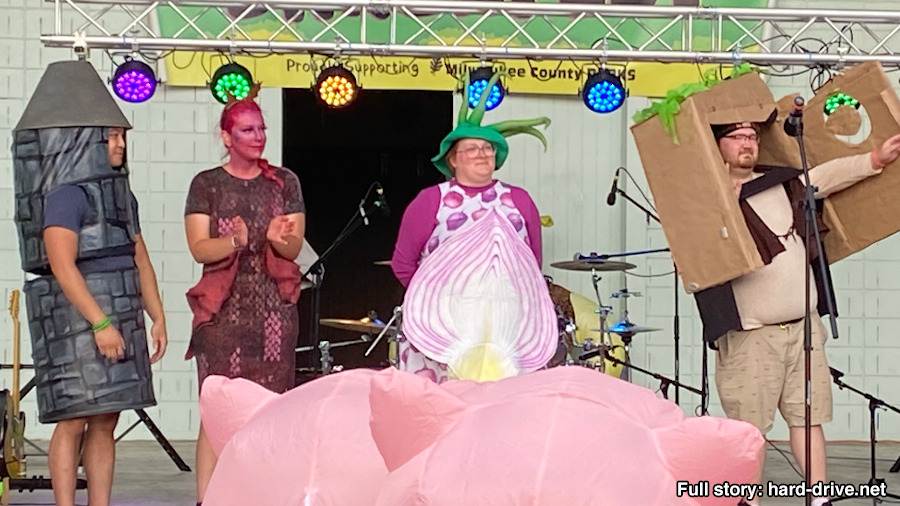 This past weekend, we made the trek to Milwaukee, Wisconsin for another Shrekfest outing after not having gone for five years. There was a noticeable growth in the scope and size of the event, and the demographics had changed quite a bit too. Previously, Shrekfest was mostly inhabited by legions of irony-poisoned internet dwellers. However, word of mouth had spread over the years, and a lot more families with young children (read: normal people) were now in attendance as well, but none of that unique weirdness was lost in the expansion. There were food trucks, merchandise tables, local bands, and even an artists' alley where you could purchase artwork of Shrek and Shadow the Hedgehog kissing each other.
It's truly become a phenomenon like nothing else.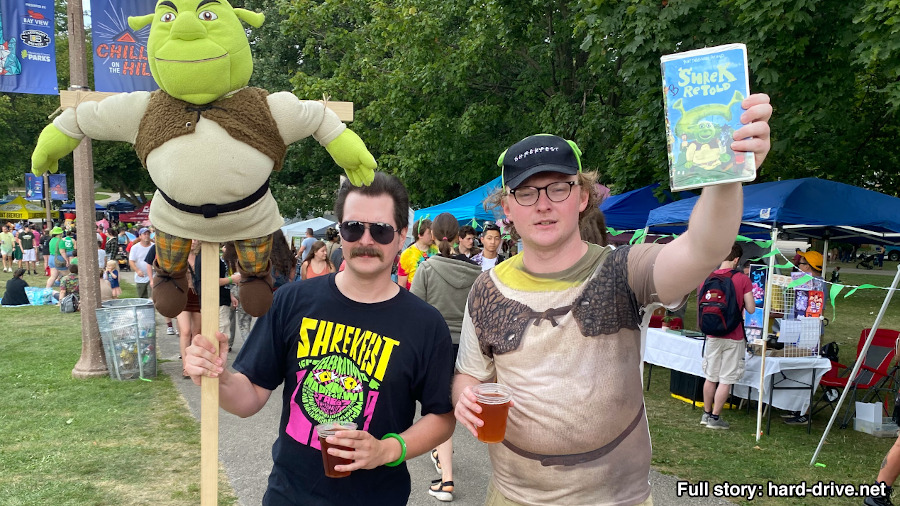 Shrekfest is an annual event held by 3GI Industries, who are a collective of creatives most notable for making Shrek Retold, a bold yet faithful recreation of the original Shrek movie, filmed and animated in various styles by hundreds of collaborators including Sick Animation, David Liebe Hart, Chris Chan, and many more. Matter of fact, there was even a premiere screening the next day for the highly-anticipated Shrek 2 Retold, which is set to be released to the general public in early 2024.
I spoke to event frontman Grant Duffrin, who I'd since become friends with over the years and have collaborated with on several projects, including the aforementioned Shrek 2 Retold. When I told him I would be writing an article about the event for Hard Drive's Minus World, I stressed that it would "not be satire," however he was quick to correct me in saying this was actually perfect because "Shrekfest is a living satire."
"Thanks Grant," I told him. "I might use that."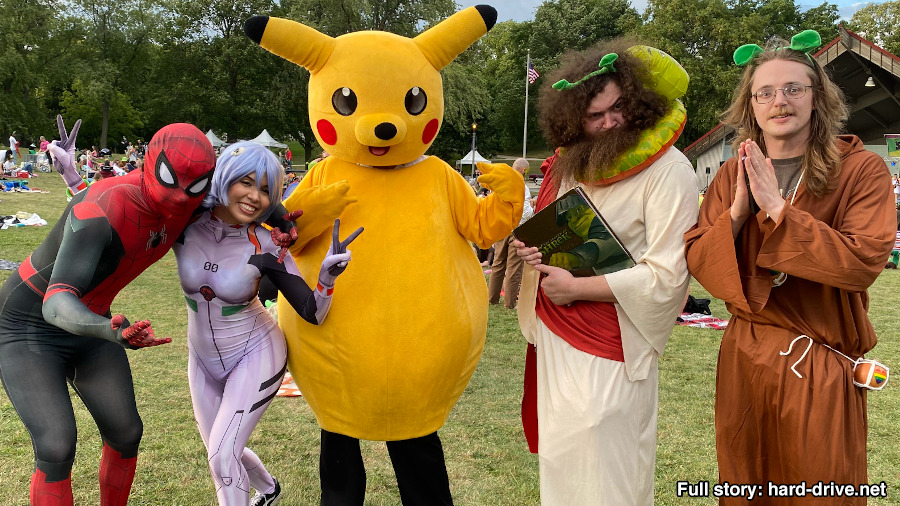 "It's the tenth Shrekfest," explained Duffrin, excited for the legendary milestone after its humble beginnings as an online-only event. "It feels like a family reunion, if you want to know the vibe of it. Everyone feels like family, it just feels like you can go up and talk to anybody, 'cause everyone shares a love of Shrek. It's just a laid back, non-judgemental atmosphere."
The event was nine hours long, and included showings from several local bands who played iconic songs from the movie, like that one about an All-Star – the name escapes me right now. There was also a costume contest, which had a surprisingly massive turnout. Honestly, about half of the people there were dressed up in cosplay of some kind, ranging from Shrek, Donkey, and Puss in Boots, to more abstract concepts such as the tower that Fiona was kept up in, or even Shrek's outhouse from the beginning of the franchise's inaugural film. But the real star of the show, however, was the onion eating contest.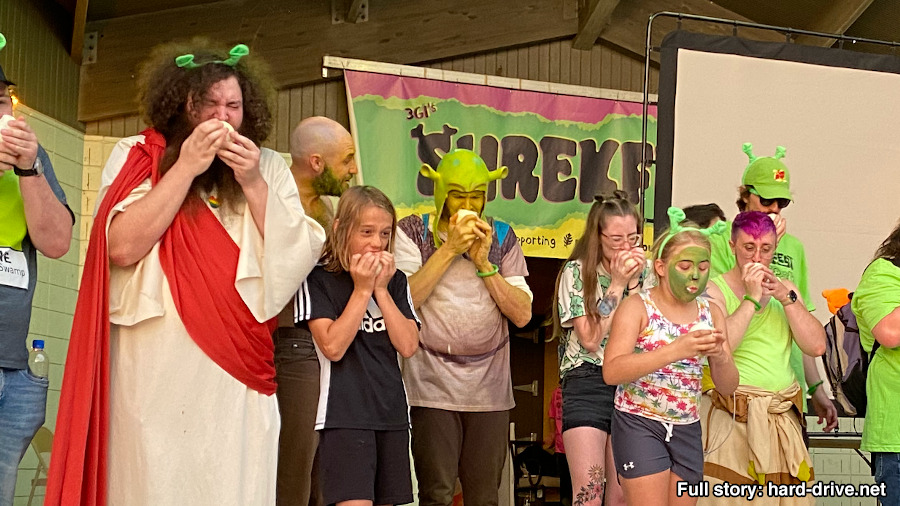 Dozens of foolish yet brave eventgoers signed up for this onion eating contest. The first to eat an entire raw onion onstage in front of hundreds of onlookers would receive the grand prize: a large drinking stein with "Shrekfest" proudly printed on the side. Oh, and the respect and admiration of countless peers, too. I stood up in the front row to take pictures of the event, and I have to tell you the truth: it really felt like I was being tear gassed as the aroma of numerous onions being crunched into was carried downwind and wafted over the crowd. I'm not crying, you are. Wait, we all are.
When a man dressed simply as Shrek himself won the contest, he was hoisted upon the shoulders of the crowd, given his prize, and paraded around for nearly ten whole minutes. The excitement was contagious, as people guzzled down beers and cheered, in awe at the fact that someone would actually do that to themselves. But you know what? It's all in good fun. And it's all in the spirit of the event, and of all things Shrek.
As the sun slowly set, and people quietly gathered around for a screening of the original Shrek film that started it all, it was hard not to be impressed by everything. These kinds of grassroots events where people can just be themselves, get weird, and enjoy their hobbies with like-minded individuals are truly precious commodities in this day and age. I hope that events like this and MGSCON will continue to thrive. And if there ends up being a Shrek 5, which, god willing there will be, I hope that 3GI can be involved in some way. They have carried the love for this cultural touchstone far past its logical endpoint, and further into true absurdity all with a burning passion that can only be compared to one's gut after consuming an entire raw onion in a single sitting.