WASHINGTON — President Joe Biden and first lady Dr. Jill Biden's two-year-old German shepherd, Commander, does not support petting as players have come to expect. This was confirmed earlier today via a series of tweets by popular Twitter/X account, @CanYouPetTheDog.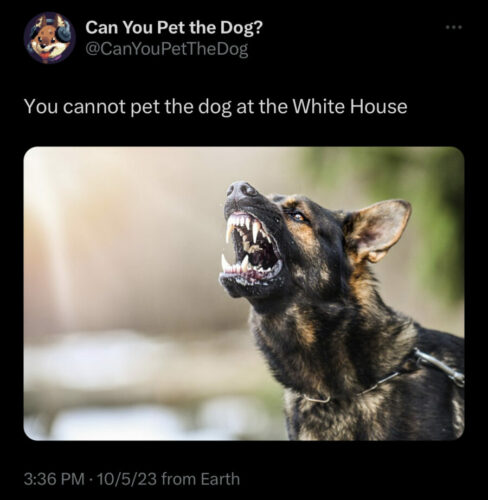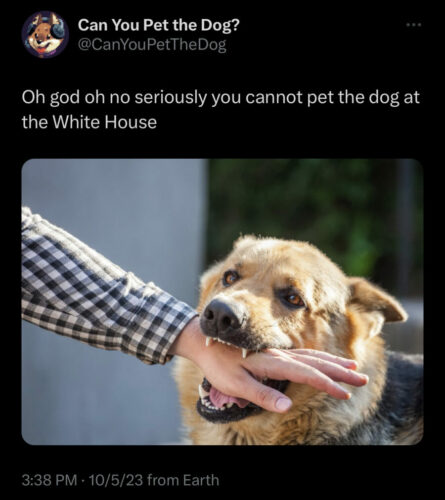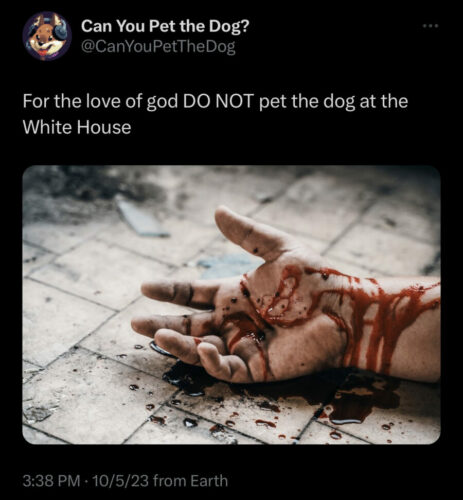 Tristan Cooper, the creator behind the novelty account, has been admitted to the MedStar Washington Hospital Center and is reportedly in critical condition. Hospital staff are advising the public to not engage with Commander.
"Any players who find themselves in the White House biome may be enticed to run up and pet the dog," stated Dr. Ruth Hensley of MedStar. "This is ill advised. While most would expect a short animation to play of petting the animal, approaching will instead give the German shepherd the temporary condition of Hostile — initiating combat. Attacks landed on anyone within range will cause massive amounts of Bleed Damage."
Unfortunately, Commander has been involved in more biting incidents than this recent attack on Cooper.
"The President and First Lady care deeply about the safety of those who work at or visit the White House. Commander's outlashes are an unforeseen bug," Elizabeth Alexander, communications director for the first lady, said in a statement. "The White house development team is working diligently to patch this behavior so frequenters may feel safe once again."
In related news, the installation of a new waterfall on the White House garden is underway. Multiple sources have confirmed the development team has no intention of hiding anything behind it.