EA's new monster-hunting title Wild Hearts brings a smorgasbord of beasts to fell solo or online with other players, promising dozens of hours worth of tracking, slaying, and crafting for you and your pals. However, we live in a time when there are more choices than ever for places to play, meaning that some or all of your friends may find themselves taking down monsters on a different platform than you. That's where the joys of crossplay come into effect. Find out if Wild Hearts is cross platform and how it works below!
Does Wild Hearts Have Crossplay?
Wild Hearts is available for PlayStation 5, Xbox Series X, and PC, so you and your friends may be scattered across multiple platforms – but you can rest easy knowing that Wild Hearts has crossplay. This will allow you to link up easily with those playing on a different console or PC without any hiccups at all. Everything related to the crossplay feature happens on the backend, meaning it takes no extra steps from you to enjoy playing with others regardless of which platform you're using.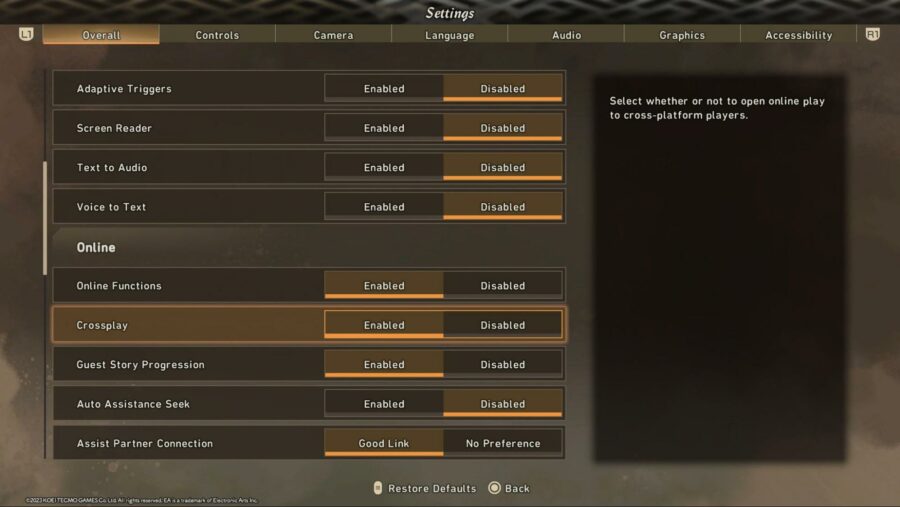 Even better, crossplay is enabled by default to make it simple for you to get started playing online with as many folks as possible. If for some reason you'd like to disable it, though, you can do so by heading to Settings > Overall and then scrolling down to the Online section to toggle the setting on and off. You can also turn online play off altogether should you prefer to play entirely on your own with no interruptions or prompts for cooperative engagement.
Looking for guides on other recent EA games? Check out our Dead Space Remake guides on how to unlock the secret ending and a location guide for Dead Space crew rigs.