The newest Star Wars game, Star Wars Jedi Survivor, has its release time just around the corner. Players won't have to wait much longer to continue the journey started in Fallen Order. Following the continued saga of original character Cal Kestis, Star Wars Jedi Survivor is set to be one of the biggest games of 2023, for Star Wars fans and video game fans alike. If you want to be one of the first ones to experience the story for yourself, read on for details on the Star Wars Jedi: Survivor release time.
Star Wars Jedi: Survivor Release Time: Time Zone Release Map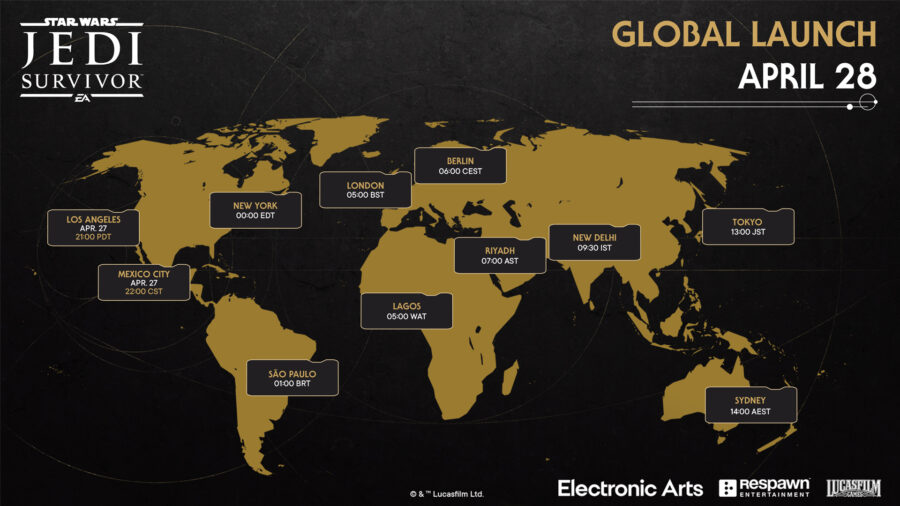 TheStar Wars Jedi: Survivor release time is at midnight in the eastern time zone (00:00 EDT), with other time zones getting it at the same time. This means that the game will release earlier in western time zones on April 27 to the west of this, and later on April 28 in eastern time zones. Here's a few more regional release times:
Los Angeles: April 27, 9:00 PM PDT
London: April 28, 5:00 AM BST
India: April 28, 9:30 AM IST
Tokyo: April 28, 1:00 PM JST
Can you preload Jedi Survivor?
Yes, you can now preload Jedi: Survivor! If you have pre-ordered the game on the digital storefronts on PlayStation, Xbox, or PC (Steam or the EA app specifically), you can now pre-load the game to be ready for the game's release time. Just be aware of the game's pretty beefy file size, weighing in at over 100 GB, with file size varying a bit depending on your platform. But, if you go through that big download early, you can play right at your region's release time. Enjoy your time exploring the Star Wars galaxy in this new adventure!