You'll no doubt have seen that you now have two levels in Splatoon 3; one being your player level, and the new catalog level. This serves as a sort of free battle pass equivalent, as you earn experience towards it by doing pretty much anything in the game save for the single player, and each tier you reach nets you something or other, which we get into below. 
And much like a battle pass, this first catalog in Splatoon 3 runs until 7pm EST on November 30, 2022, at which point there will presumably be 100 new rewards to grind out, and writers everywhere will sigh at the labor involved in updating you all on them. 
Once you do bump up a catalog level, all you need to do to claim your prize is hop over to Hotlantis, the general store run by Harmony, who is… less than enthusiastic about her role. Hotlantis opens up to you at player level 4. 
Another thing to note is that for every catalog level you gain during a Splatfest Sneak Peak – the week or so in which you can sign up for your Splatfest team before the event actually kicks off – you'll earn a conch shell, which you can use for a go on the Shell-Out Machine. As Ari says, gimme the loot. 
All Splatoon 3 Drizzle Season 2022 Catalog Rewards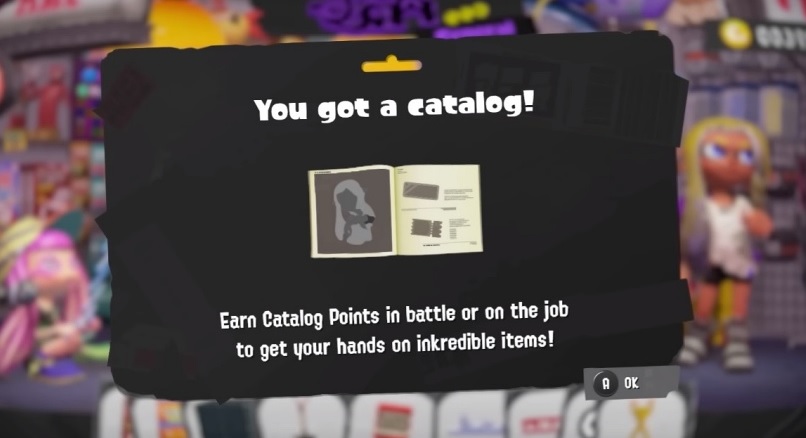 As for what the things in the below table actually are: decorations and stickers go in your locker. Titles are unfortunately a mystery until you unlock them, as are (most) banners, so you've been robbed of quips by Nintendo there. You give Food/Drink Tickets to the food and drink vendor in the lobby for food, and drink, and Tableturf Battle Cards are booster packs for that surprisingly fun little side game. Emotes are your poses at the start and end of a match – and Mystery Boxes house either 10k cash, Tickets, or Ability Chunks. Everything else is equippable gear. 
So with that out of the way, here you go – all the Catalog Rewards for Drizzle Season 2022, painstaking notated from the Nintendo Switch Online app, where you could have looked this all up yourself:
| | | | | |
| --- | --- | --- | --- | --- |
| 1: Banner | 21: Punk Pinks | 41: Skipjack Work Boots | 61: Cuttlefish Sandies | 81: Blue Shrimpsiders |
| 2: Title | 22: Sticker – rad old school diving helmet | 42: Food Ticket | 62: Decoration – cute little model of Smallfry, your exploding pal from the campaign | 82: Sticker – some Splatlandian letters in white |
| 3: Emote – cross your arms and look moody af.  | 23: Tableturf Battle Cards | 43: Tableturf Battle Cards | 63: Drink Ticket | 83: Drink Ticket |
| 4: Food Ticket | 24: Food Ticket | 44: Banner  | 64: Banner | 84: Tableturf Battle Cards |
| 5: Studio Headphones | 25: Mystery Box | 45: Decoration – an absolutely horrifying adult human male looking squidling | 65: Tableturf Battle Cards | 85: Title |
| 6: White Tee | 26: Banner  | 46: Sticker – some indecipherable words in green and white | 66: Sticker – an astronaut helmet, for the space cadets | 86: Sticker – a fish having an X-ray; hope they're alright x  |
| 7: Pink Trainers | 27: Decoration – target practise guy keychain | 47: Title | 67: Title | 87: Tableturf Battle Cards |
| 8: Tableturf Battle Cards | 28: Sticker – some tasty fish bones | 48: Drink Ticket | 68: Tableturf Battle Cards | 88: Food Ticket |
| 9: Sticker – little windows dialogue box looking guy | 29: Pilot Goggles | 49: Fresh Card Pack – some shinies in here maybe?  | 69: Classic Straw Boater | 89: Glassless Glasses |
| 10: Decoration – target practise squid thing that you shoot in the lobby | 30: Zink Layered LS | 50: Mystery Box | 70: Annaki Bracelet Tee | 90: Distressed Vest |
| 11: Food Ticket | 31: Purple Hi-Horses | 51: Emote – Rodin's The Thinker | 71: Red Hammertreads | 91: Ink Black Clam Dunks |
| 12: Tableturf Battle Cards | 32: Drink Ticket | 52: Sticker – another windows dialogue box dealio  | 72: Food Ticket | 92: Decoration – target practise guy with his head blown off keychain |
| 13: Banner | 33: Title | 53: Tableturf Battle Cards | 73: Title | 93: Title |
| 14: Sticker – red squidling head graffiti | 34: Tableturf Battle Cards | 54: Title | 74: Decoration – big red crab with a pure look of joy on his face  | 94: Sticker – some indecipherable words in blue and green |
| 15: Emote – hands on hips,  also fairly moody | 35: Emote – the moody crouch | 55: Sticker – some kinda head and headphones in red, I think? | 75: Mystery Box | 95: Drink Ticket |
| 16: Drink Ticket | 36: Sticker – some indecipherable words in purple and red | 56: Food Ticket | 76: Emote – a decidedly less moody fist in the air | 96: Title |
| 17: Tableturf Battle Cards | 37: Banner  | 57: Title | 77: Tableturf Battle Cards | 97: Banner – some morbid fish bone arrangement, which is not a secret for some reason |
| 18: Title | 38: Title | 58: Tableturf Battle Cards | 78: Banner | 98: Emote – dab on them folks!  |
| 19: Air Gills DX | 39: Retro BluFocals | 59: Beachcomber | 79: Retro Framers | 99: Mystery Box |
| 20: Tentatek Tandem | 40: Lime BlobMob Tee | 60: Sudadera Celeste | 80: Lime Battlecrab Shell | 100: Triple Deck Specs |