Want to get the lowdown on the Marvel's Spider-Man 2 PS5 trophies? We've got you covered with all you need to know about the trophy list for the hotly anticipated game.
After waiting for years, we finally have one of the first true PS5 exclusives. Featuring classic villain Venom and an antagonist that is perhaps lesser-known outside of comics, Kraven the Hunter, the game seems poised to really push the limits of the PlayStation 5. Here are all of the trophies you'll want to earn if you want to do everything you can for New York City
All Trophies in Spider-Man 2 PS5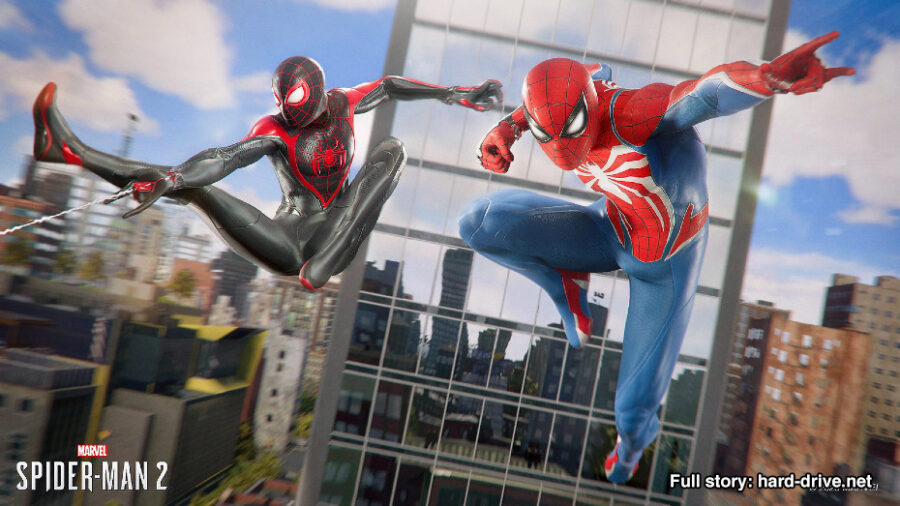 Here is the complete trophy list for the new Spider-Man game. Keep in mind that this list contains quest names, which don't spoil anything without context, but those wanting to go in completely blind might be better off waiting to read.
Dedicated: Collect all Trophies (Platinum)
Superior: 100% complete all districts (Gold)
Heal the World: Finish the main story (Gold)
Upgrade-based Trophies
To the Max: Purchase all Gadget upgrades (Silver)
Kitted Out: Purchase all available Suits (Silver)
Amazing: Reach max level (Silver)
Fully Loaded: Purchase all of Spider-Man's Suit Tech upgrades (Bronze)
Stylish: Equip a suit style (Bronze)
Story-based Spider-Man 2 Trophies
Behind the Masks: Complete "Grand Finale" (Silver)
Data Collector: Complete "Target Identified" (Silver)
Crimson Hour: Complete "It Was Meant for Me" (Silver)
Leave Us Alone: Complete "Don't Be Scared" (Silver)
The Great Hunt: Complete "Anything Can Be Broken" (Silver)
Medicine: Complete "It Chose You" (Silver)
Another Way: Complete "No Escape" (Bronze)
Brooklyn Pride: Complete "A Gift" (Bronze)
My Community: Complete "Hard Bop" (Bronze)
I Quit: Complete "This Isn't You" (Bronze)
You're Gonna Need Help: Complete "Surface Tension" (Bronze)
A New Suit: Acquire the Black Suit (Bronze)
Funky Wireless Protocols: Solve the mystery of the Spider-Bots' origin (Bronze)
A New Adventure: Help Howard (Bronze)
Open World Trophies
Exterminator: Complete all Symbiote Nests (Silver)
Grains of Sand: Piece together broken memories (Silver)
Seek and Destroy: Complete all Hunter Bases (Silver)
Friendly Neighborhood Spider-Man: Complete all FNSM requests (Silver)
Foundational: Complete all EMF Experiments (Silver)
Hang Ten: Perform 30 Air Tricks in a row without touching the ground (Bronze)
Home Run!: Round the bases at the Big Apple Ballers Stadium (Bronze)
Just Let Go: As Miles, find the science trophy Miles and Phin won together (Bronze)
You Know What to Do: As Peter, visit Aunt May's grave (Bronze)
Soar: Using only your Web Wings, glide from the Financial District to Astoria (Wind Tunnels are okay!)
Splat: Attempt and fail a trick before "landing" on the ground (Bronze)
Resourceful: Collect a total of 10,000 tech parts (Bronze)
Co-Signing: Complete all Tech Stashes (Bronze)
New York, New York: Complete all Photo Ops (Bronze)
Spider-Man 2 PS5 Combat Trophies
Surge: Use Symbiote Abilities 25 times during Symbiote Surge (Silver)
Evolved: Defeat 100 enemies with Evolved Venom abilities (Silver)
Armed and Dangerous: Defeat 100 enemies with Spider Arm abilities (Silver)
Slack Line: Stealth takedown 25 enemies in stealth from the Web Line (Bronze)
Overdrive: As Miles, use Reverse Flux to pull 6 or more enemies together simultaneously (Bronze)
Antidote: Defeat a Symbiote that is under the effect of Anti-Venom status (Bronze)
That's the complete trophy list for Spider-Man 2! Be sure to keep an eye on our game guides section when the game releases to get all of the info you'll need to know when swinging around NYC.