Looking for how to get your NBA 2K24 pre order bonus? We've got you covered with our helpful guide on how to get the bonus content for the latest entry in the basketball simulation franchise! Luckily, claiming this bonus is pretty easy, it just may take a bit of patience. Here's what you need to know to get the NBA 2K24 pre-order bonus.
How to Claim Your Pre-Order Bonus in NBA 2K24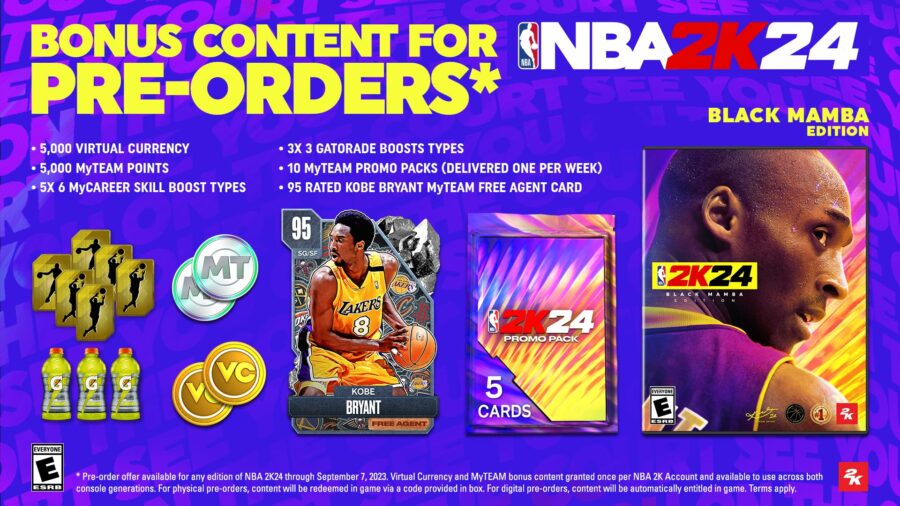 Arguably the main event of the pre-order bonus is the extra currency you get: 5000 of both VC and MT to use in whichever modes you choose. You'll also receive a few MyTeam packs, and MyCareer Skill & Gatorade boosts. Luckily, there isn't much to claiming these bonuses. Simply log in to MyTeam or MyCareer, and your prizes should be available! You may need to wait up to 24 hours if the currency doesn't appear, however.
For those who bought a physical edition of the game from a retailer, you may need to be a bit more proactive to get your bonus. Depending on your retailer, you could receive your code for these bonuses in a few different ways, including on your receipt or in your email. If you can't find it no matter where you look, consider contacting the customer service representative for your local retailer online.
What to Use the Pre-Order Bonus On
The answer to this depends greatly on what your preferred mode is. If you're a fan of MyCareer, you'll likely want to just use these boosts and this currency right away. Getting a jumpstart on your career will simply make the whole process more fun. 5000 VC won't go too far, but it's a good step in the right direction. If you've pre-purchased one of the pricier editions, this VC is increased, and will get you an even better headstart over the competition.
On the other hand, if you're more of a MyTeam player, it's worth holding onto your currency before spending right away. The economy of MyTeam is skewed toward relatively low-rated players in the beginning of the game's lifespan. Unless you're looking to keep up with the best of the best online, you may be better off just holding onto your MT until the auction house features a bit better deals for you to get your hands on.
That's all you need to claim your NBA 2K24 MyTeam & MyCareer pre-order bonuses! If you still haven't seen your bonus come in, try to be a bit patient and see if it appears. If you're playing more sports games, check out our guides hub for Madden 24!