After one of the highest-scoring games in recent NBA history, the 2K team has released a Moments Galaxy Opal 97-rated Donovan Mitchell card for free in MyTeam. He does require some work to get, so here are the requirements to get a free Galaxy Opal Donovan Mitchell and some tips to get him quickly. The quick rundown is that players need to recreate the stats he put up in that overtime win over the Chicago Bulls on January 2nd, 2023 with an NBA 2K23 Donovan Mitchell card of their own.
NBA 2K23: How to get a free 97 Overall Donovan Mitchell
To start, like any Moments card in MyTeam, there are some accomplishments you need to do in-game to get this special card. Like other Moments cards in the game, not only do you need to hit all accomplishments but with a version of the star. For example, with the Moments 96-rated Pink Diamond Joel Embiid card, you needed to hit all his accomplishments with a version of Embiid to complete them.
Here are the challenges you need to complete to earn a 97-rated Donovan Mitchell card in MyTeam.
Score 71 points in a single game with Donovan Mitchell

Get 11 assists in a single game with Donovan Mitchell

Get 8 rebounds in a single game with Donovan Mitchell

Score 24 points in the paint in a single game with Donovan Mitchell

Score 7 three-pointers and shoot 46% or better with three-pointers in a single game with Donovan Mitchell

Score 6 free throws and shoot 80% or better for free throw percentage in a single game with Donovan Mitchell

Play 49 minutes with any Donovan Mitchell over multiple games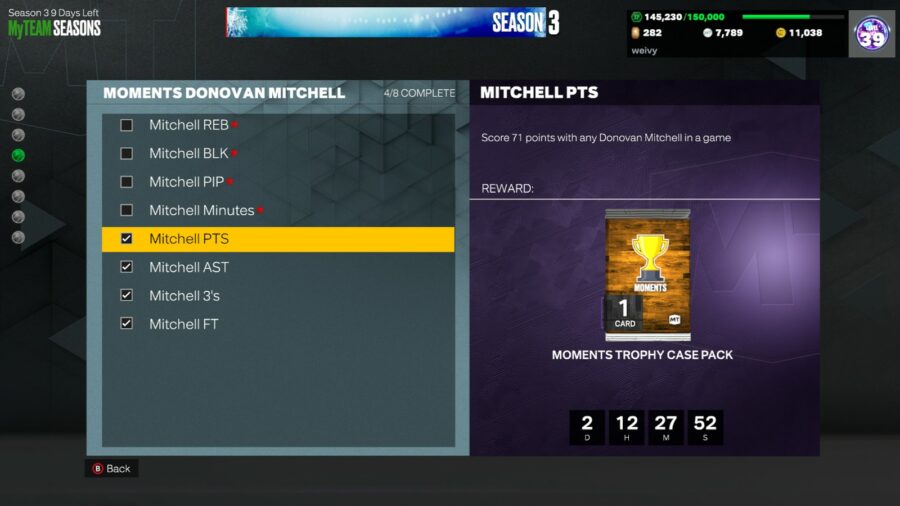 Each one of these challenges has a small reward, from trophies for the Trophy Case reward collection to in-game badges. But, after completing them all, you will have your free Galaxy Opal card.
How to Get Moments Donovan Mitchell Fast
Out of all the possible ways to complete these requirements for Donovan Mitchell, there is a specific group of challenges in-game to help complete this (as well as any other) set of requirements for cards or other unlockables in MyTeam.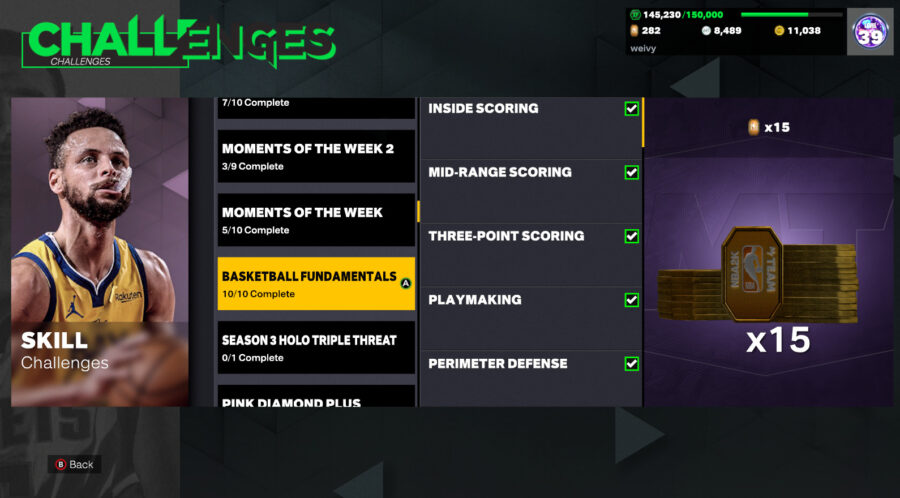 The 'Basketball Fundamentals' section has its challenges on Semi-Pro difficulty, the second-lowest difficulty for offline gameplay. Each subsection has specific requirements to complete the game, from five dunks to five three-pointers as a team. Plus, the opposition consists of the base cards of teams from across the league. So, it isn't hard to fit Mitchell in your team and just rain fire on your opponents to hit and soar past the stats he hit in real life.
Now, there are two available Donovan Mitchell cards outside of this 97-rated one to use. The first is a Takeover Reward card from Season 1, a limited-time 93-rated Diamond card. For fans who don't have that card, the easiest way is to get the base 83-rated version of Mitchell from the Token Rewards section. Simply collect tokens from MyTeam gameplay and redeem 15 of them for a Cavaliers starter card and choose Mitchell.
Then, simply try and get all the requirements completed with Mitchell over multiple games. Once that is done, you have a free Galaxy Opal shooting guard for your roster on 2K23 MyTeam. However, keep in mind, as all Moments cards are, this is a limited-time card. Players only have until January 6th, 2023 at approximately 11 A.M. EST to unlock this free 97-rated card, so start the grind soon!