Vanaheim's Crater region is chock-full of side quests, monster hunts, and of course, Nornir Chests, to upgrade Kratos' health and rage bars. This region opens up to you after completing the Creatures of Prophecy main questline, so if you haven't returned to Vanaheim yet to regroup with Freya, you'll have to do that first. After you do that, though, here's how to find and unlock The Jungle's Nornir Chest.
Where to Find The Jungle Nornir Chest
The Jungle is the southernmost region of the Crater area, and there's a Nornir Chest here, though it can't be accessed when Kratos first gets to this part of the map. To open up the whole map, you'll need to complete the Return of the River Favor questline. Once the water has returned to the area, hop in a boat and head to the Celestial Altar in the center of the Jungle map. 
In a clearing, across from the altar, you'll see the Nornir Chest, and the first of three rune wheels off to the right of the chest.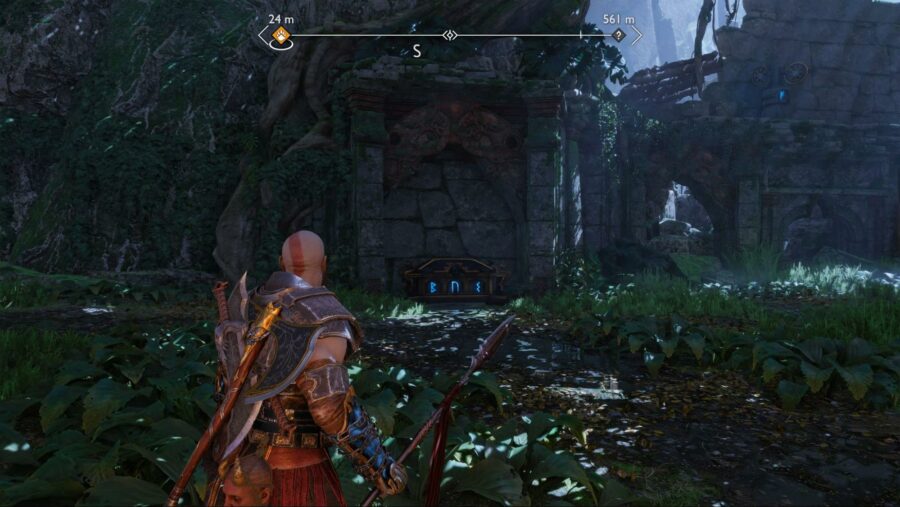 You can find and open this chest whether it's day or night, so you don't have to mess with the altar here. All the runes can be hit from this central clearing. 
God of War Ragnarok: The Jungle Nornir Chest Puzzle Solution
To open the chest, throw your Leviathan Axe at the golden paddles atop each rune wheel until the wheel shows one of the three runes on the chest. The first wheel is just to the right of the chest.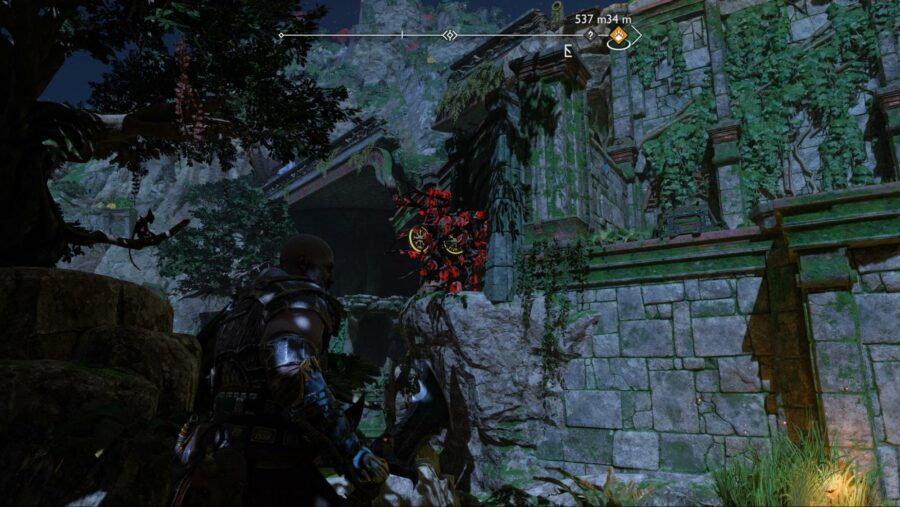 The second rune wheel is on the other side of the celestial altar from the chest, concealed in some red fungal vines. You've seen these before at this point in your journey, so you probably know the drill. Use your companion's sigil arrows on the vines until you can reach the rocks below the vines with an explosion from your blades. Then, throw the axe at the paddles until the second rune shows on the wheel.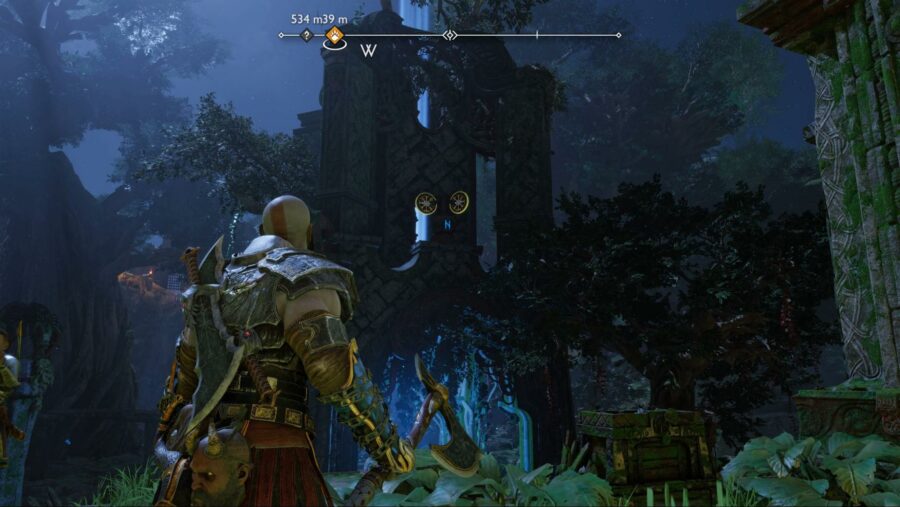 The third and final rune wheel is on the Celestial Altar's tower, on the right hand side about halfway up. You'll have a better view of it from the platform up on that side, or if you're coming down from the top of the castle ruins here after doing the Trail of the Dead dragon hunt quest.
Throw your axe at the paddles to line up the final rune, then you can claim your prize from the Nornir Chest! If you're on the hunt for other Nornir Chests in Vanaheim, check out our guide to the Goddess Falls Nornir Chest!