The Genshin Impact 3.4 Update is here and it's filled with a whole lot of new content, inlcuding Setekh Wenut, a new boss. Setekh Wenut is a brand new boss in the Sumeru desert  that drops an exclusive Ascension Material for the new character Alhaitham. We've got you covered with all the Setekh Wenut tips you need to know to beat this boss, including the ideal team composition and details on each boss attack.
Genshin Impact 3.4: Setekh Wenut Boss Location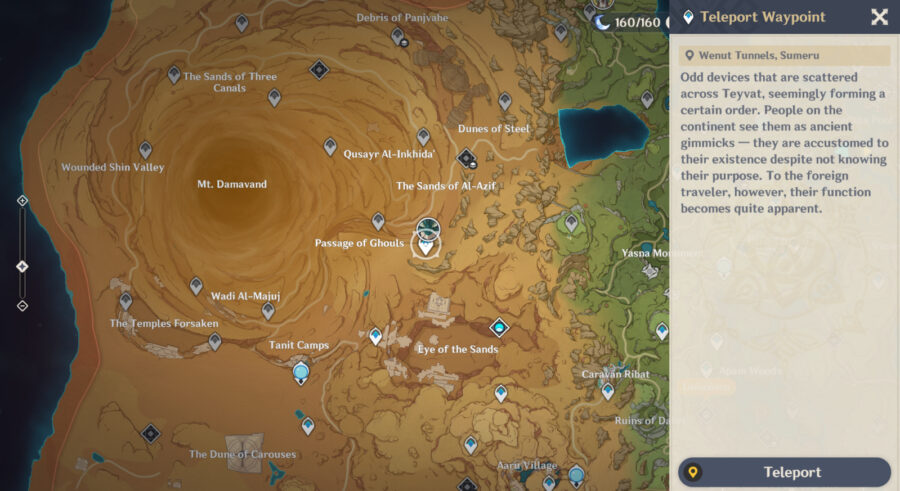 Thankfully, it's not too difficult to reach this boss' arena. If you've already explored the Sumeru desert area, the Wenut Tunnels waypoint will place you right in front of the entrance.
All you have to do is run forward and glide down. It's pretty deep in, but you should be able to reach the bottom without losing all your stamina.
Setekh Wenut Best Team Composition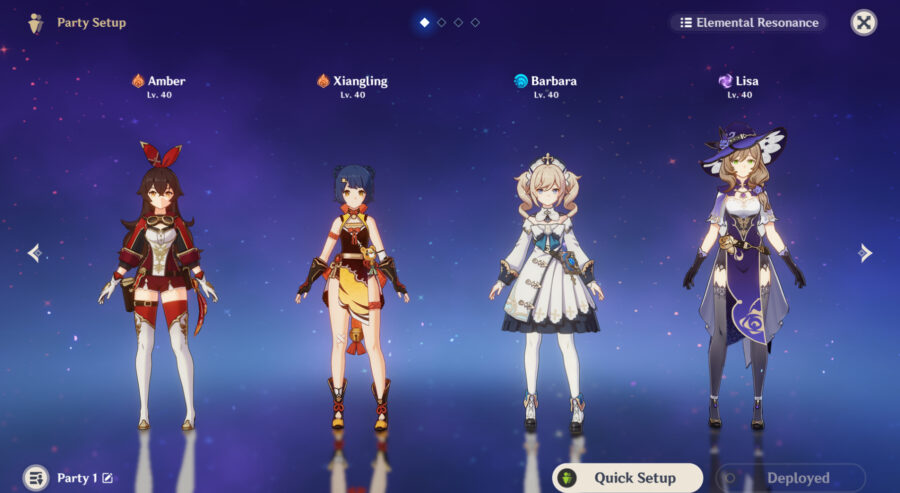 Before we go over the fight itself and each of the attacks, we can briefly talk about team composition. A unique mechanic in this fight requires a bow user whose element will react with Anemo energy. As long as they can charge up a Cryo, Electro, Hydro, or Pyro shot, they'll work fine. For those using a team of free characters, Amber fits this crucial role quite nicely.
The next important character you'll need is one who shares the same Elemental type as that Bow user. They'll have a chance to inflict a lot of damage with reduced resistance so it's best that they're the strongest damage dealer on the team. Any F2P players will be perfectly set with Xiangling filling in this role.
Both of those roles are essential and the remaining will be for support. Bringing along a healer or someone who can generate shields will be a great benefit in case you mistime a dodge, which you'll be certain to notice if you get hit by one of Setekh Wenut's attacks. Barbara and Noelle can support F2P players just fine here. 
That leaves us with the last role. What works best is a character whose element reacts well with the first two. Continuing with what works best for F2P players, someone who can cause elemental reactions with Pyro will fit. Using Kaeya's Cryo abilities to trigger Melt or even Barbara to trigger Vaporize make the most sense, but if you're worried about the timing leading to lower damage there's always the choice of triggering an Overloaded reaction with Lisa.
Setekh Wenut Attacks, Abilities, and Strategies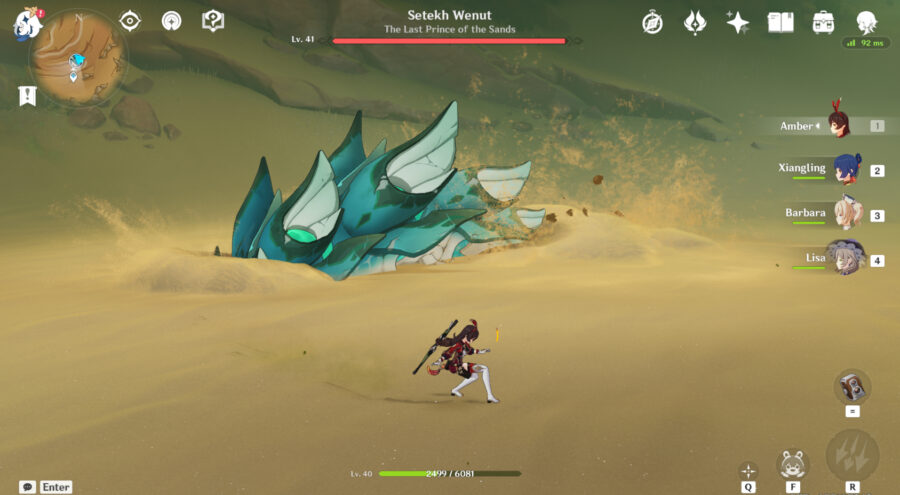 Setekh Wenut is a boss that's almost always on the move and out of sight. There simply isn't a lot of time to capitalize with powerful setups because of how mobile it is, how far away it can be, or due to how often you'll need to dodge. Each attack is detailed below along with how you can respond.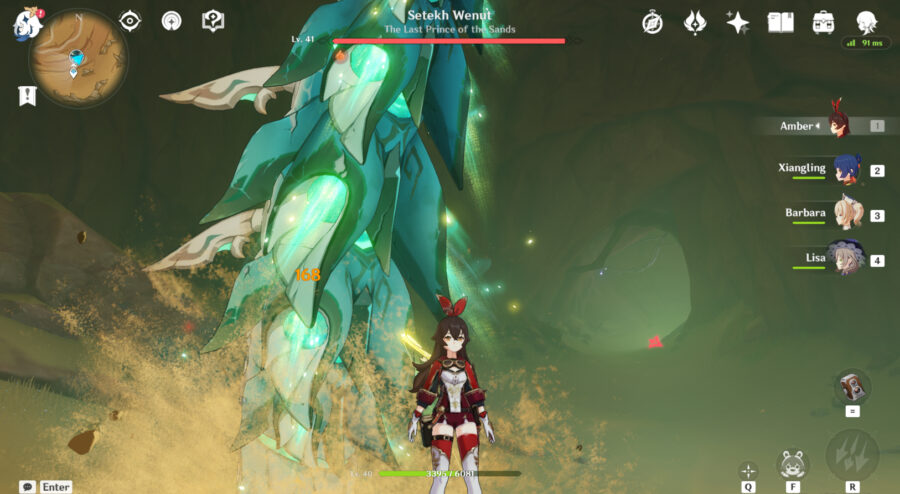 First up are two simple movement abilities which see it breaching out from under the sand and then diving back in. One compromises a very short distance while the other is a much more dramatic leap. Neither inflicts damage, so feel free to get in as many strong attacks as you can.
Moving on are two physical DMG attacks to look out for. One is an attack that comes up from directly beneath you, with Setekh Wenut shooting itself upwards and then sinking back into the sand. Anemo energy will surround the ground you're on to telegraph the attack and let you know to dodge. Attack as soon as possible.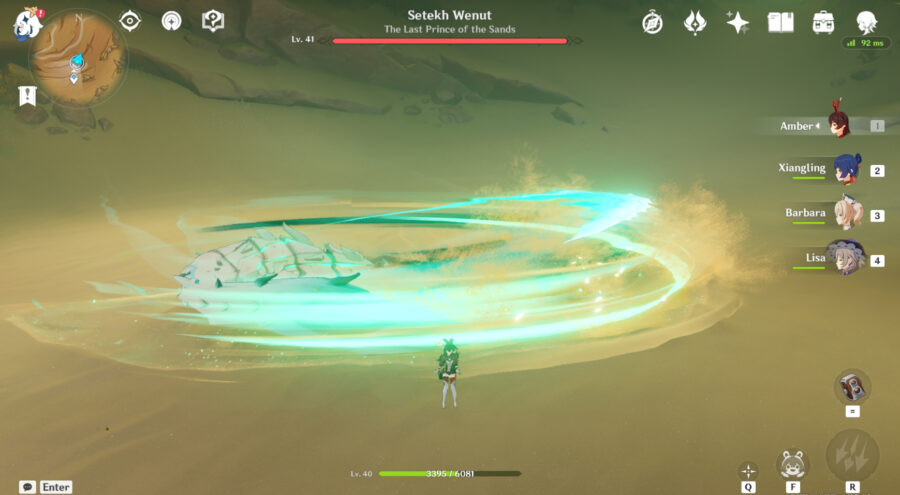 The other Physical DMG attack begins with the tail-end coming out of the sand and sweeping the area in front of it. Ranged attacks are best here, but don't forget to dodge.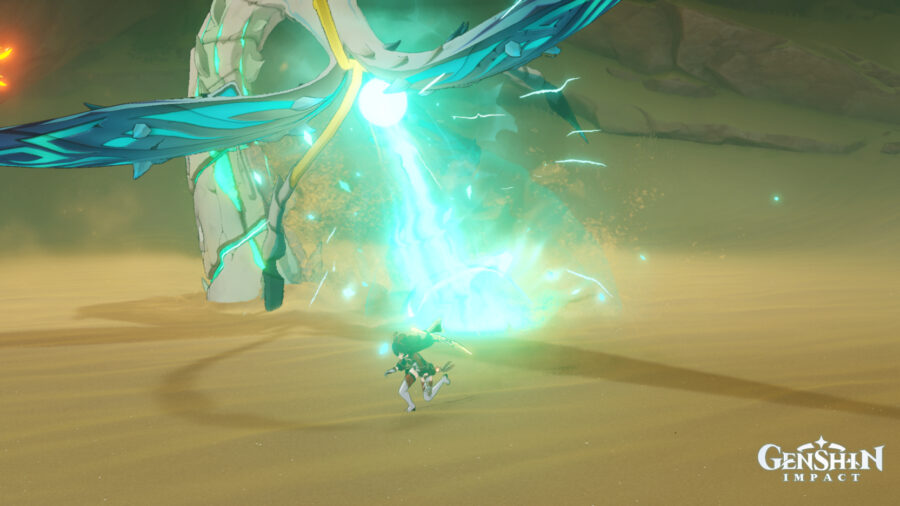 Next are four Anemo DMG attacks and the first three are similarly performed with the tail. Instead of sweeping the area, it's possible for it to swirl around and charge up a burst of projectiles to throw your way. You'll have a bit of time to sink some arrows in.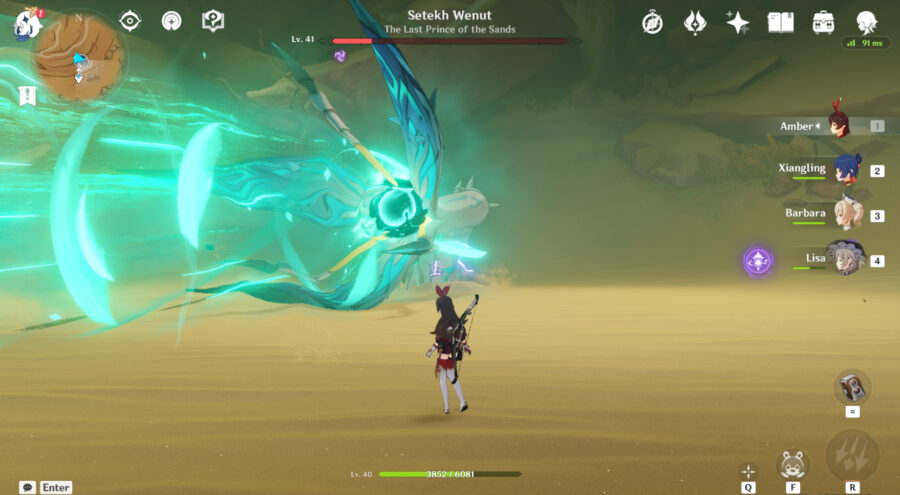 A lot more intimidating are the beam-based attacks. The first is a vertical beam and the second is a sweeping horizontal beam that covers half of the arena in front of it. Both are quick, but you can find time to attack right before and after the dodges. If you're quick enough you can reach it for a few whacks before it goes under.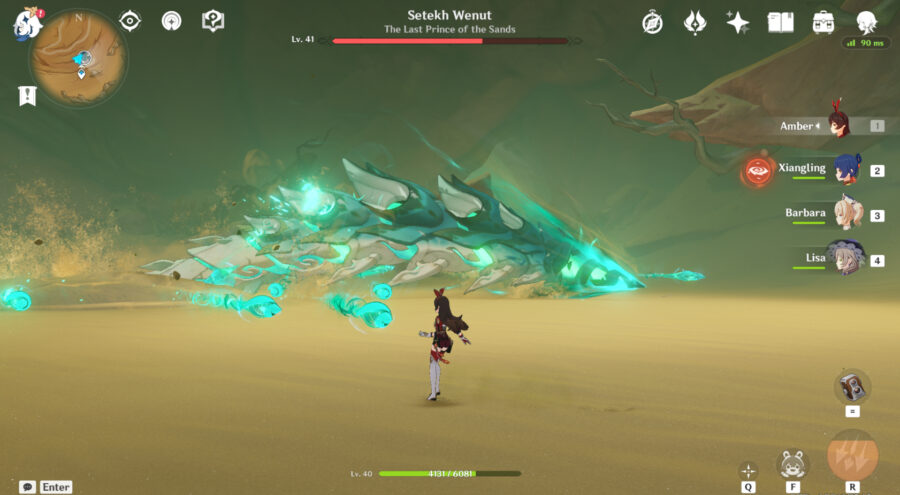 The final typical attack has it breach the sand and return to it like the initial move we talked about, only it's a bit faster and many homing projectiles shoot out from the body. This one is better spent dodging than trying to attack.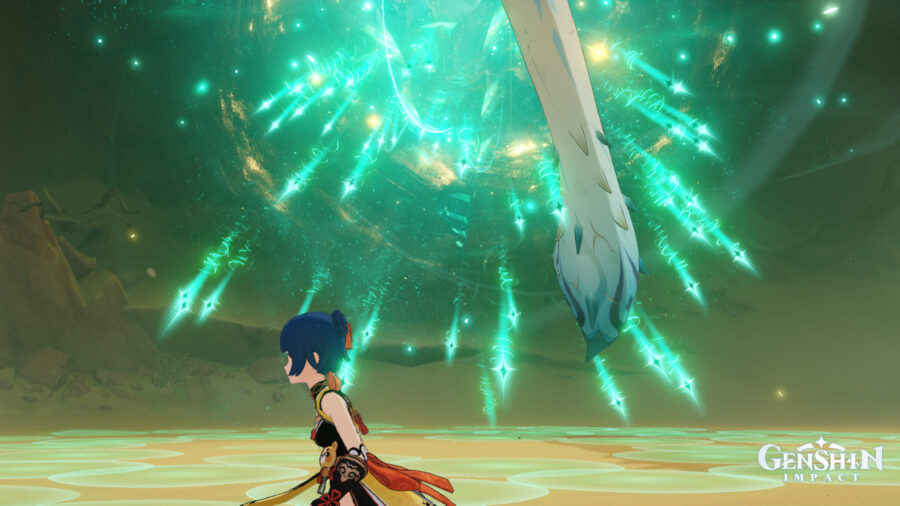 That leaves us with the final and most damaging attack. Setekh Wenut jumps out of the sand and floats in the air, generating five Anemo energy balls called Windbite Bullets. They are absorbed after a while and lead to a hail of powerful projectiles all over the arena. This is where the previously mentioned unique mechanic comes into play.
Triggering a Swirl reaction can destroy these Windbite Bullets. Switch to your Bow user and charge up a couple of shots. Once two have been destroyed, the boss will enter a paralyzed state for 10 seconds. 
Equally important to know is that in this state the boss has a lowered resistance to whichever elements triggered the Swirl reaction. Switch to your strongest damage dealer with the same element type and let them enjoy their moment to shine. Repeat this routine a bit more and you'll have it beat in no time.
Setekh Wenut Rewards and Item Drops – Genshin Impact 3.4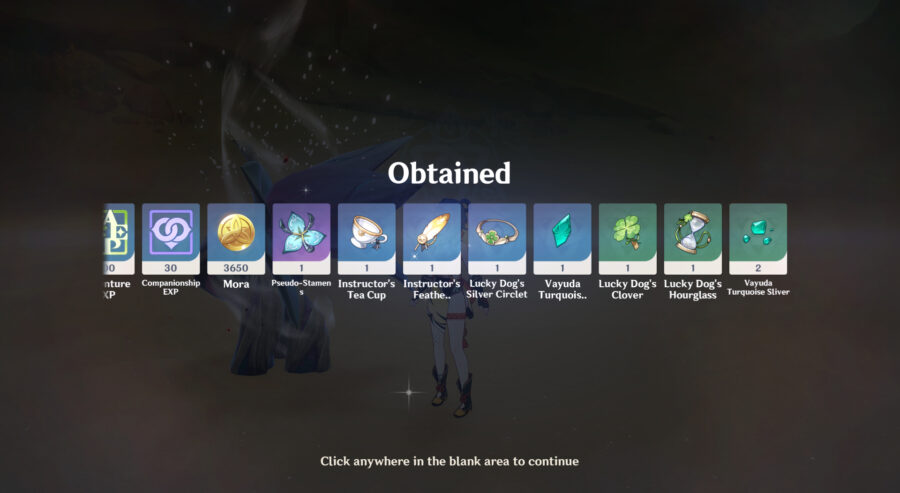 40x Original Resin is needed to claim the rewards from the Trounce Blossom that appears after defeating the boss. The exclusive drop worth grinding this fight for is Pseudo-Stamens, which can be used to ascend the recently introduced Alhaitham. Other drops include what's expected after a boss:
Character EXP

Adventure EXP

Companionship EXP

Mora

Vayuda Turquoise Ascension Gems

Psuedo-Stamens

Bard Set

Berserker Set

Instructor Set

Lucky Dog Set

Gladiator's Finale Set

Wanderer's Troup Set