Diablo 4 has teamed up with KFC, the fast-food chain, to offer exclusive in-game weapon skins & rewards to players who order KFC sandwiches online. The promotion started on May 30, 2023, and will last until July 2, 2023. Here is everything you need to know about claiming your Diablo 4 KFC cosmetics and what they are.
How to Claim Diablo 4 KFC Rewards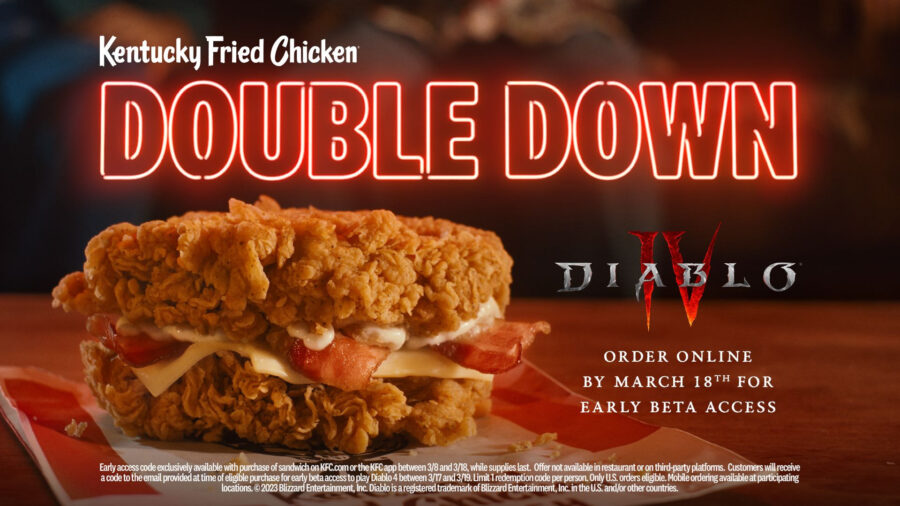 To claim your Diablo 4 x KFC rewards, you need to have a KFC account and a Battle.net account. If you don't have them already, you can create them for free on their respective websites or apps. Then, follow these steps:
Link your KFC account with your Battle.net account on the KFC landing page for the collaboration. You can find the link on the KFC website or app. This will give you one cosmetic item for free.

Buy KFC Sandwiches starting from $5 through the KFC website or app. You will get a code that will unlock another cosmetic item. You can choose from five exclusive weapon cosmetics.

Repeat step 2 until you have all five cosmetics or until the promotion ends on July 2, 2023.
Note that this promotion is valid only in the USA and only for online orders. In-store purchases do not qualify for the giveaways. Also, make sure to redeem your codes before they expire.
All of the KFC Weapon Cosmetics
The Diablo 4 x KFC rewards are five weapon cosmetics that are themed after KFC's products and brand. Here's a list of the rewards:
Vessel of the Eleven Totem

Thrumming Axle Staff

Dread Pheasant Slayer Bow

Hand of Gallus Polearm

Foul Reaper Two-handed Scythe
These weapon cosmetics can be used by any class in Diablo IV and do not affect the gameplay or stats of the weapons. They are purely cosmetic and can be switched on or off at any time.
That's all you need to know about the Diablo 4 KFC rewards! Check out our guide on the Diablo 4 release time & preload time to find out when you can play the game for yourself!