Call of Duty Modern Warfare 2 and Warzone 2.0's highly anticipated Season 2 has just launched with tons of new content and game updates. This includes a new limited time event, Path of the Ronin. There is no specific game mode for the event; however, Resurgence makes a return in Warzone 2.0 and two new sets of challenges for rewards will be available across Modern Warfare 2's multiplayer and Warzone 2.0's various modes. Here is how to complete every Path of the Ronin Challenge.
Call of Duty Path of the Ronin Event Details
This new event went live with the launch of Season 2. The event is set to end on March 14th 2023. Players can complete challenges across Modern Warfare 2 and Warzone 2.0 for specific rewards tied to the challenge type, with each challenge having a specific title like "Integrity" or "Compassion". These rewards range from a new skin for Operator Roze to a Calling Card, Weapon Charm, and even a Submachine Gun blueprint. Completing 7 of any of the Path of the Ronin Challenges will unlock a new Crossbow weapon.
How to Complete Path of the Ronin Warzone Challenges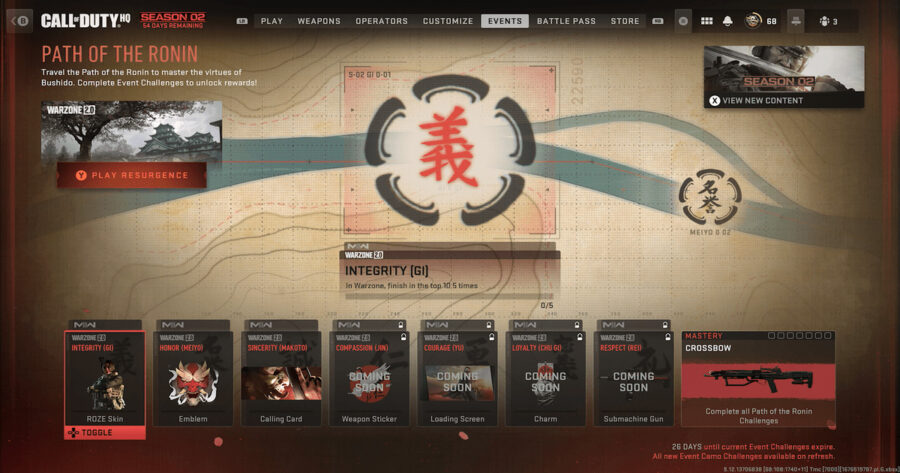 Here is a full list of all Path of the Ronin Challenges in Warzone 2.0:
Integrity (GI) – In Warzone, Finish in the top 10 five times

Honor (Meiyo) – Restore Honor 5 times in Resurgence Matches

Sincerity (Makoto) – Complete 5 Bounty Contracts

Compassion (Jin) – Revive 20 teammates in Warzone matches

Courage (Yu) – Complete 3 Search and Seizure Contracts

Loyalty (Chu Gi) – Complete 3 downloads during the Data Heist public event

Respect (Rei) – Perform 3 executions on enemy players in Warzone matches
How to Complete Path of the Ronin Modern Warfare 2 Challenges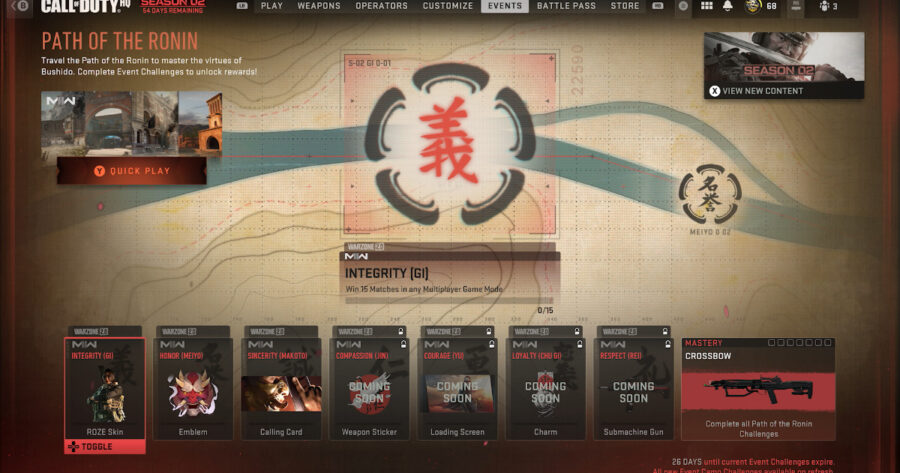 Here is a full list of all Path of the Ronin Challenges in Modern Warfare 2:
Integrity (GI) – Win 15 matches in any multiplayer game mode

Honor (Meiyo) – Get 100 Objective Defense kills

Sincerity (Makoto) – Get 50 Operator kills using Battle Rage

Compassion (Jin) – Get 100 Operator Assists

Courage (Yu) – Get 3 Operator Kills without dying 25 times

Loyalty (Chu Gi) – Get 50 Operator Revenge Kills

Respect (Rei) – Get 25 Melee Operator Kills