Customizing and fine-tuning your settings in Call of Duty: Modern Warfare 3 is imperative to your success. This especially goes for players on controller and aim assist settings, which give you a big advantage against other players across console and PC. Aim assist has different options available in CoD MW3 that all operate differently.
Each Call of Duty game can handle aim assist a bit differently, so what settings should you pick? Here's what you need to know about the aim assist options in MW3.
How to Change Aim Assist Settings (Modern Warfare 3)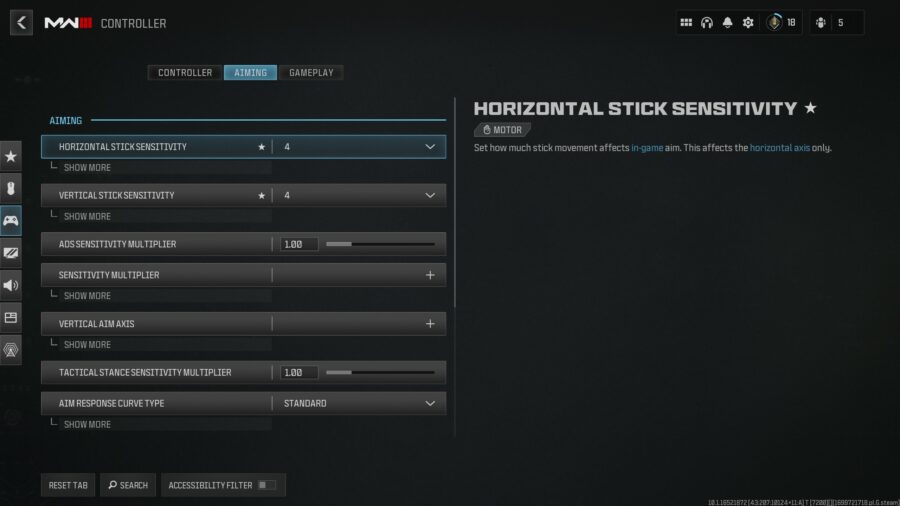 To access these settings, you need to first head into the main multiplayer menu of MW3. From here, select settings, then the Controller subtype. In this menu, you want to go to the Aiming tab, where you will find the aim assist settings.
There are three different tabs within the controller menu, so you need to ensure you are in the Aiming tab to find the aim assist settings.
Best Aim Assist Settings for CoD MW3
MW3 has four different aim assist options for you to choose from. These are Default, Precision, Focusing, and Black Ops. So, which is best and why?
Default: Traditional aim slowdown near target used in Modern Warfare games.
Precision: Strong aim slowdown that only kicks in when aiming closer to target. Best for accurate players.
Focusing: Strong aim slowdown that also kicks in when narrowly missing target. Best for players new to analog aiming.
Black Ops: Traditional aim slowdown near target used in Black Ops games.
The Black Ops aim assist setting option seems to have the best aim assist in general. So, for that reason, we do recommend using this option. However, both Focusing and Precision are good options as well for those who have specific wants with the AA system. Additionally, the Default option could be your pick if you've preferred how aim assist operated in Modern Warfare and Modern Warfare 2.
Check out our MW3 third-person guide if you want a unique experience during multiplayer.