The Simpsons has been on the air for more than three decades, and while most ardent fans will agree the show isn't as good as it was at its peak, the last decade has seen some of the creative spark that made the show a household name in the '90s return to create some truly great episodes. Here are the top 10 episodes of The Simpsons from the last 10 years that you in particular, a self-avowed "die hard" fan, won't be able to tell if we made up or not, because you've just been rewatching seasons three through nine on Disney Plus and haven't bothered to check out anything the show produced after 1998.
#1. Brick Like Me
This is the LEGO episode of The Simpsons that was released on the heels of the massively successful The LEGO Movie that also served as a sort-of tie in to the Simpsons LEGO playsets that hit stores around the same time. This episode was covered pretty heavily in the press, so you probably at least heard about it, so consider this a gimme to boost your confidence. They're gonna get harder!
#2. Marge Vs. The Monoculture
When the Kwik-E-Mart is taken over and rebranded by the massive convenience store chain 9-Eleven, a fed-up Marge helps Apu reopen a boutique version of his store to combat the corporate homogenization of Springfield. Meanwhile, Homer falls in love with the fast, fresh sandwiches 9-Eleven makes in-store, and he tries to sabotage Marge's plan to force them out of town. This just SOUNDS like a modern episode, right? Stay tuned!
#3. Every Dog Has Another Day
A think piece blog post written by Comic Book Guy slamming the current state of Itchy & Scratchy also re-evaluates Poochie, the surfing dog with an attitude voiced by Homer who was famously hated by everyone and died on the way back to his home planet. This resurgence in popularity leads to the announcement of a prequel series, only Homer is being replaced as Poochie's voice by – you guessed it – guest star Chris Pratt. You know how people online like to bitch about Pratt voicing animated characters being uninspired casting, so this has a real meta appeal. Seems legit!
#4. Barthood
This tribute/parody of Richard Linklater's years-in-the-making Boyhood is one of those modern Simpsons continuity-breaking episodes that sands the rougher edges off a character, in this case Bart, in order to squeeze them into a particular format. Once upon a time the show would bend the parody to fit its own bizarre point of view, but look, this was deep into the 2010s, what were you expecting?
#5. Vote For Barto
Timed to coincide with Fox's short-lived Napoleon Dynamite cartoon revival, this episode finds Lisa befriending Napoleon Dynamite himself (voiced again by Jon Heder) as she manages Bart's campaign for student body president. Also, Homer befriends Napoleon's braggadocious Uncle Rico (Jon Gries) as they both try to throw a football across Springfield Gorge. They've done this sort of cross promotion before, but did they REALLY do this one? Are you willing to hunt through Disney Plus to find out? (Just keep scrolling if not.)
#6. Marge Becomes A Robot
After a fall down the stairs caused by Santa's Little Helper leaves Marge in a full body cast, Lisa approaches Professor Frink about building a mech suit for her mother since Homer nearly burns down the house trying to cook breakfast with Marge sidelined. But the new CyberMarge uses her newfound power to fight crime instead of cleaning the house. Was this one real, or is this description borne from a tossed off joke mentioned in a single episode? Your season four quoting-ass has no goddamn clue.
#7. Specs And The City
Mr. Burns gifts his employees some high-tech glasses based on Google Glass, those dumb "smart" glasses all the most insufferable tech bros were wearing in the early '10s. Turns out Burns was using them to spy on his employees and Homer used his to find out secrets about Marge, but you're still thinking about that time Homer found Henry Kissinger's glasses in the power plant toilet, aren't you?
#8. Choo-Choo Choose Life
Ned Flanders lobbies Mayor Quimby to outlaw abortion in Springfield. Quimby acquiesces, thinking that if he were to advocate for abortion it would expose his extramarital affair. As a result, Quimby's pregnant, college-aged mistress (guest voice Kiernan Shipka) is forced to have Quimby's baby. After she's kicked out of her dorm, she moves in with the Simpsons, where Bart can't wait for the arrival of the "bastard" child. Would this even be a funny episode, or would the politics render it a preachy slog? Go watch it and see for yourself, it's right there on your smart TV…or is it?
#9. Spider-Pig: Homercoming
Plopper, Homer's pet pig introduced in The Simpsons Movie, books a commercial after getting loose at a Springfield Isotopes game and being spotted on the JumboTron. Homer becomes an overbearing stage-father to Plopper, who runs away from a movie he was set to costar in with guest voice Pamela Anderson. You saw The Simpsons Movie at least once, right? Have you watched in in the more than a decade and a half since it came out? Yeah, that's right, 2007. George W. Bush was President. Don't you feel old as shit?
#10. Simpsorama
The Planet Express crew from Futurama travels back in time to present-day Springfield and encounters the Simpson family in an attempt to keep them from destroying the future. Oh, and they yet again take the piss out of 'Jurassic Bark,' one of the best Futurama episodes, by mocking the sentimentality that made it so endearing. And Bender gets left in the past for 1,000 years. It sounds fine, right? Especially for two shows so far past their prime? They probably made this for sure, don't you think?
How did you do? Scroll past this picture of Jimmy Carter, history's greatest monster, to find out!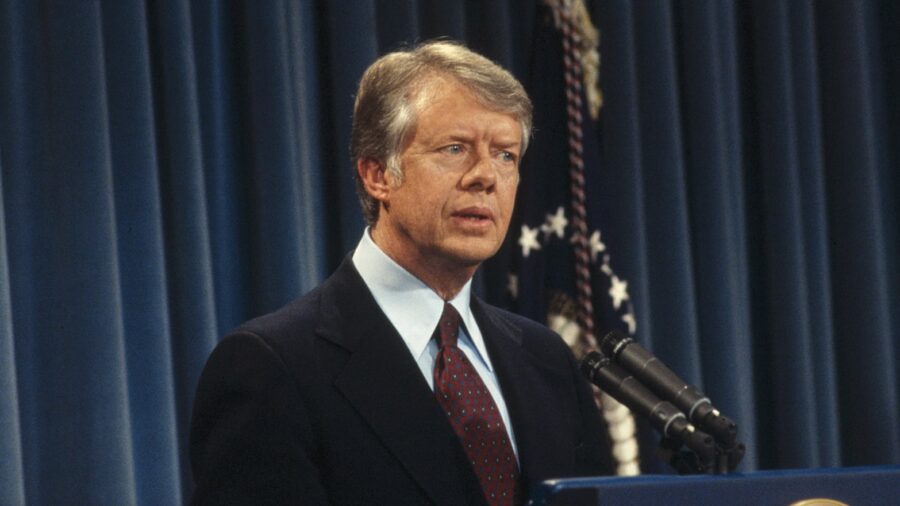 ANSWER KEY:
Real: 1, 4, 7, 10
Fake: 2, 3, 5, 6, 8, 9