Red Dead Redemption 2 is a massive game, full of side quests, collectibles, and various activities such as hunting that allows you to craft a variety of gear.
This means you may eventually need to hunt and kill a single goddamn beaver in this gigantic world and I don't know where to find the little fucker.
Arthur Morgan, the West's toughest cowpoke, the fastest gun this side of the Mississippi, has been bested by an aquatic mammal. Apparently I am roleplaying Elmer Fudd now.
So here are three tips on how to catch a beaver! I should say from the outset that none of them work, I'm about to crest 80 hours, my thumbs reduced to bloody stumps as I cross the entire map over and over again, my life reduced to a scenic digital hellscape.
1 – CHECK IN THE FOREST
That's where beavers live! I have known this since I was a child.
Well guess what, asshole, I don't see a single beaver anywhere! Oh look, another rabbit. Neato! I'm dicked up with rabbits. It's basically Watership Down in this bitch. But every single beaver in this game seems to have gotten the memo that the Terror of the West, Arthur Morgan, is on the hunt to eliminate their brood. Must be some sort of genius beaver messaging network! Wonder which Rockstar Employee missed the birth of their child to put that system into place.  
2 – LOOK NEAR THE WATER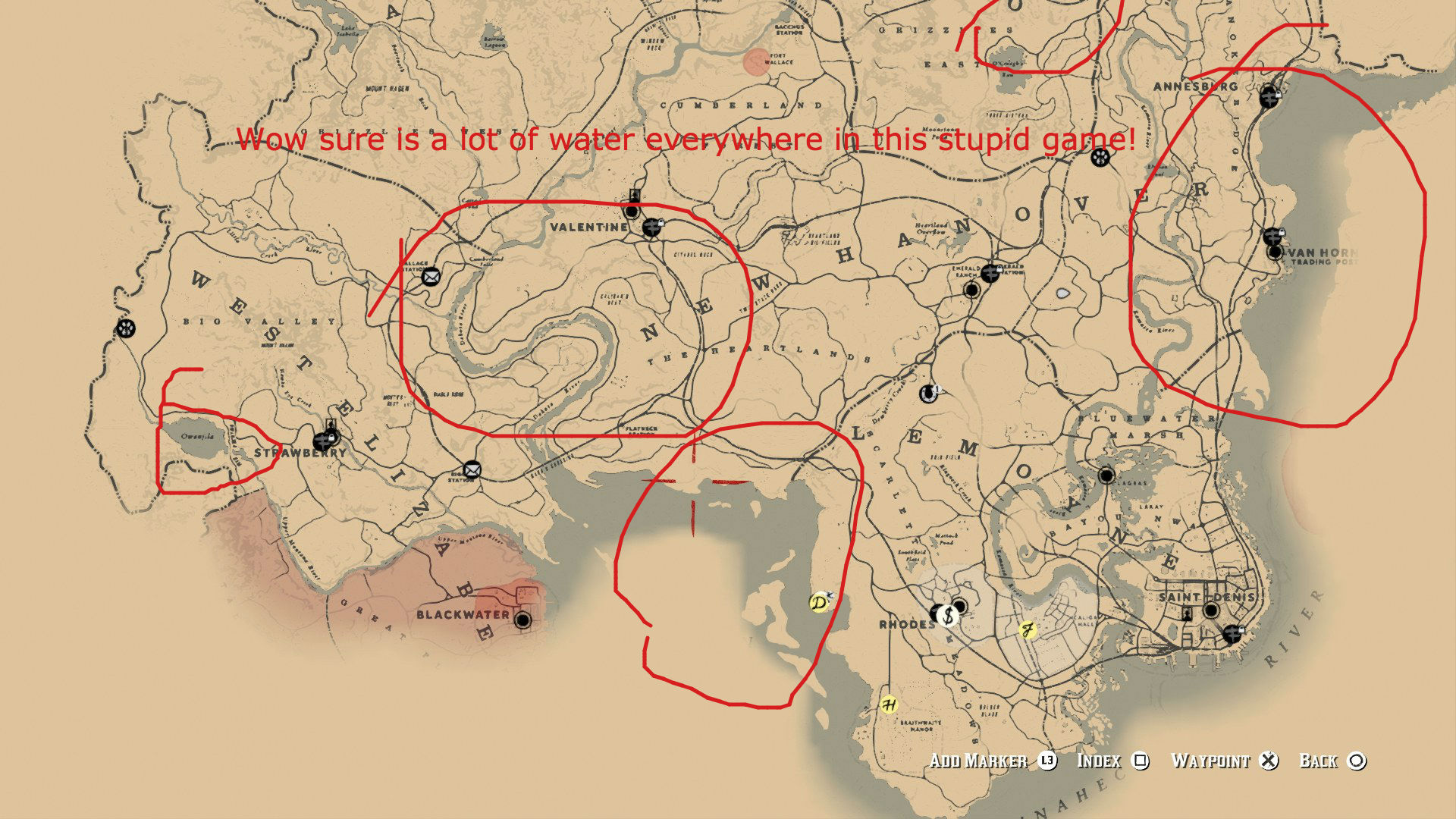 I also know beavers live near water! Are they all swimming? Maybe I should just have Arthur swim in a circle until a beaver mistakes his thick tree-trunk cowpoke legs for sweet, juicy logs. I welcome you to build a dam from my bones, beavers. I will sacrifice my virtual cowboy at the altar of the Platinum Trophy if it means getting your precious pelt.
3- I GUESS CHECK THE CITY?
Why not? Apparently the beavers in Red Dead Redemption 2 have no regard for the laws of nature. Maybe you'll find a dapper beaver gentleman strolling along main street. Maybe he'll be wearing a little beaver-skin top hat. Wouldn't that be morbid and capitalist! Maybe that's some of the biting commentary on the decay of the West I've heard so much about. I wouldn't know. I haven't done a story mission in days. I have been searching for digital beavers for the last forty hours of my life.
We've launched a brand new podcast network. Check out the newest episode of the Hard Drive podcast where we watch and discuss every episode of 1989's The Super Mario Bros. Super Show!
Photo via YouTube.