OAK HILL, Tenn. — Hit TV show Game Of Thrones will officially surpass the plot of Nashville-area resident Drew Cale's nightly self-pleasuring daydreams with the premiere of season 7 today.
"I have absolutely no idea what is going to happen next," Cale stated, clutching a journal entitled Game of Thrones Sex Wishlist. "When I last left them, Daenerys was on the Iron Throne in a Slave Leia outfit; which seems non-canonical unless you've read my fan fiction."
Additionally, almost all the male characters had been killed off by White Walkers aside from Tyrion Lannister and a mysterious figure known as Drewdon Snow, another supposed illegitimate son of Ned Stark and a fishmonger from Harrenhal.
"The only thing we've been told about Drewdon is that he is, like, really hung," stated the show's producer, David Benioff, "But we have a good idea where to take the character so that viewers are both surprised yet satisfied when his arc ends with him being spanked by Arya while Jaqen watches."
Read More From Hard Drive, The Only Ethical Gaming Journalism Site on The Internet:
HBO will not confirm if this season will revisit previous locales like the Braavos bathhouse orgies or beloved characters such as "The Twins from The Twins". However, the sense of wonder that Game of Thrones frequently offers appears to be on display in the new season as handwritten notes on a leaked script read, "Wouldn't it be cool if Drewdon had a dragon too and they, like, did it on the dragon's back while flying?"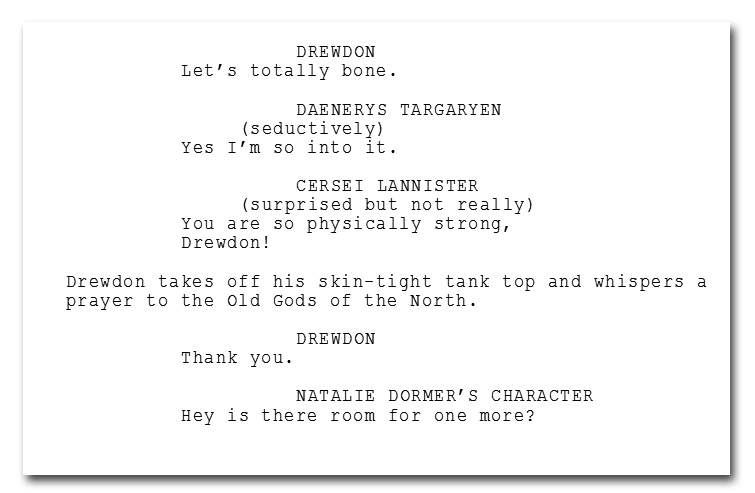 "Oh and I forgot all about the subplot where the entire cast of G.L.O.W. gets shipwrecked on the Iron Islands," stated Cale excitedly. "I'm really curious about what is going to happen there. Maybe they don't have shelter… and they all have to huddle together to stay warm… but their clothes are all wet… hey man could you give me five minutes to rub—er, write—this scene out?"
Rumors are also swirling about who might be cast in the new female character called Jessicaery from the land of Accounts-Payable.
Like us on Facebook and keep up with all the latest Hard Drive news.