As a part of the Persona anniversary celebration, Atlus is finally launching Persona 3 Portable on modern platforms! There has been a massive demand for this title to make its way to current hardware for years, as it was previously locked away exclusively on the PSP. Now, it's finally here, and one of the key things you'll need to navigate the game are the Persona 3 Portable classroom & exam answers.
For newcomers to the game or even the series, navigating through P3P for the first time can be a challenge. This is especially true when you find yourself with questions in class. As with each game in the Persona series, you are a student who attends class and has a school life.
Naturally, playing through this day-to-day life means you are going to be called upon to answer questions by teachers at the school. Most of these questions you will be left clueless with, but don't fret! We've got you covered with both the Persona 3 Portable classroom answers and exam answers.
All Persona 3 Portable Classroom Answers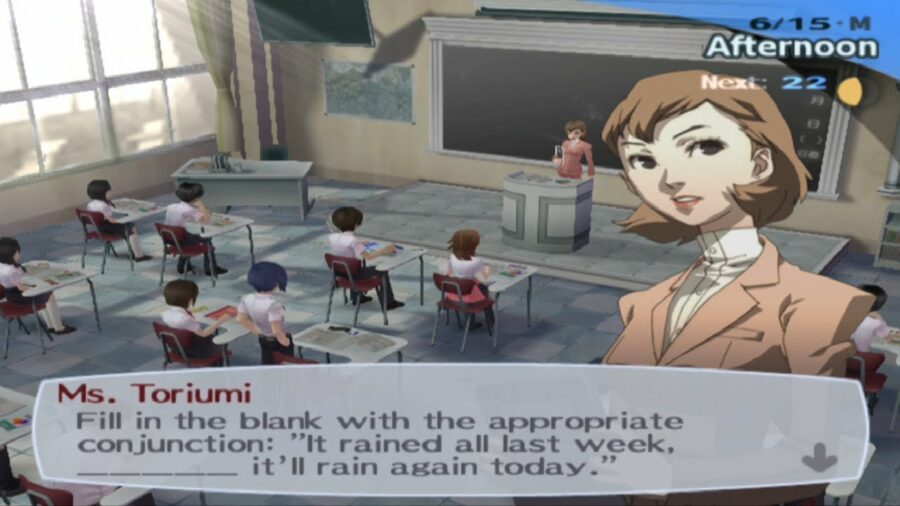 April Classroom Answers
April 8 – Utsubo Kubota [2nd Option]
April 18 – Mud Huts [1st Option]
April 27 – 6000 Years Ago [2nd Option]
May
May 6 – Soft Water [2nd Option]
May 13 – 1700 km/hr [3rd Option]
May 15 – Bread [1st Option]
June Class Answers
June 15 – "And…" [2nd Option]
June 17 – Shamanism [3rd Option]
June 22 – Jellyfish [3rd Option]
June 25 – Dowsing [1st Option]
June 29 – It Can Go Either Way [3rd Option]
July
July 3 – The Global Heritage Pavilion [2nd Option]
July 8 – "I failed, It's over now." [2nd Option]
July 9 – Kondan Einen Shizaihou [2nd Option]
July 10 – Kabbalah [3rd Option]
July 11 – Imperial Prince [2nd Option]
Persona 3 Portable Classroom Answers: September
September 1 – Superconductivity [1st Option]
September 10 – Gochisou-sama [3rd Option]
September 11 – The Hermetica [3rd Option]
September 14 – Can't let other produce [2nd Option]
September 26 – The Tetractys [3rd Option]
October – All P3P Classroom Answers
October 7 – To excite the audience [1st Option]
October 19 – Fourteen [2nd Option]
October 22 – By fermenting them [2nd Option]
October 23 – Madam Blavatsky [2nd Option]
October 26 – Wristwatch [3rd Option]
October 29 – Lactase [3rd Option]
November Class Answers
November 7 – Winter mornings are pleasant [1st Option]
November 12 – The Upanishads [1st Option]
November 30 – They did both [3rd Option]
December Classroom Answers (P3P)
December 7 – Ozone [1st Option]
December 11 – Cacti [1st Option]
December 21 – Kido [2nd Option]
December 22 – Euphoria [1st Option]
Persona 3 Class Answers (January)
January 8 – It's wrong. [2nd Option]
January 18 – Circe [2nd Option]
All Persona 3 Portable Exam Answers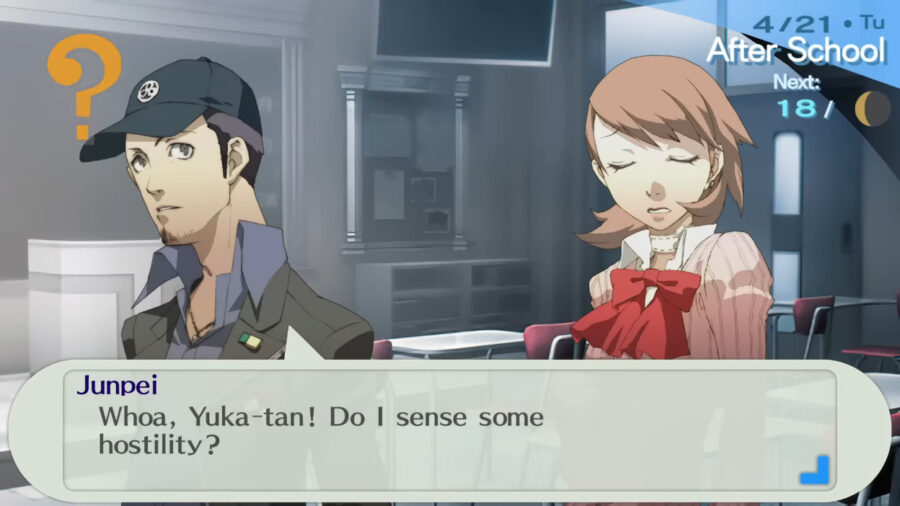 Exam 1: May 18 – May 23
How would you translate "pan" in English? – Bread [4th Option]
How fast does the Earth rotate near the equator? – Faster than sound [1st Option]
What's the name for water high in calcium and magnesium? – Hard Water [1st Option]
Where is the Kitora Tomb located? – Nara [3rd Option]
Persona 3 Portable Exam Answers – Exam 2: July 14 – July 17
What form of natural magic was used to find water sources? – Dowsing [2nd Option]
Some Europeans call this creature "devilfish" and refuse to eat it – Octopus [2nd Option]
Who established the Kamakura shogunate? – Minamoto No Yoritomo [2nd Option]
Which is an example of a comma splice? – I went, I learned [1st Option]
Exam 3: October 13 – October 16
What is the number one source of stress for women? – Husbands [1st Option]
Who founded numerology? – Moses [1st Option]
What is superconductivity? – Zero electrical resistance [2nd Option]
The Ohnin War was one of the two incidents that triggered the Sengoku era. Which was the other? – Coup of Meiou [3rd Option]
Exam 4: December 14 – December 18 (Persona 3 Portable Exam Answers)
What year did the Battle of Dan-no-ura begin? – 1185 [3rd Option]
Which element is found in ozone? – Oxygen [4th Option]
Which rule relates to Lorentz Force? – Left-hand rule [1st Option]
Translate the following: "Fuyu wa tsutomete." – Winter mornings are pleasant [3rd Option]
Which plurals is formed correctly? – Cacti [4th Option]