Mortal Kombat 1 is the newest entry in the Mortal Kombat series, and pre order for all of the game's editions will open soon. However, as with many modern game pre-orders, there's quite a few editions to navigate through, each with their own features and benefits, at a price. Here's everything you need to know about Mortal Kombat 1 pre orders, including when & where you can pre-order, and what each edition contains.
Mortal Kombat 1 Pre-Order: When Can You Pre-Order?
Mortal Kombat 1 pre orders will open on May 19 at 10 AM PDT (update: it now seems pre-orders will open at the close of the Kommunity Chat with NetherRealm). There's no news on exactly where these pre-orders will be open. However, it seems safe to assume that pre-orders will open at this time across all major retailers, both physical and digital for all of Mortal Kombat 1's target platforms: PlayStation 5, Xbox Series X|S, Nintendo Switch, and PC (via Steam and Epic Games Store).
Mortal Kombat 1: Which Edition Should You Get?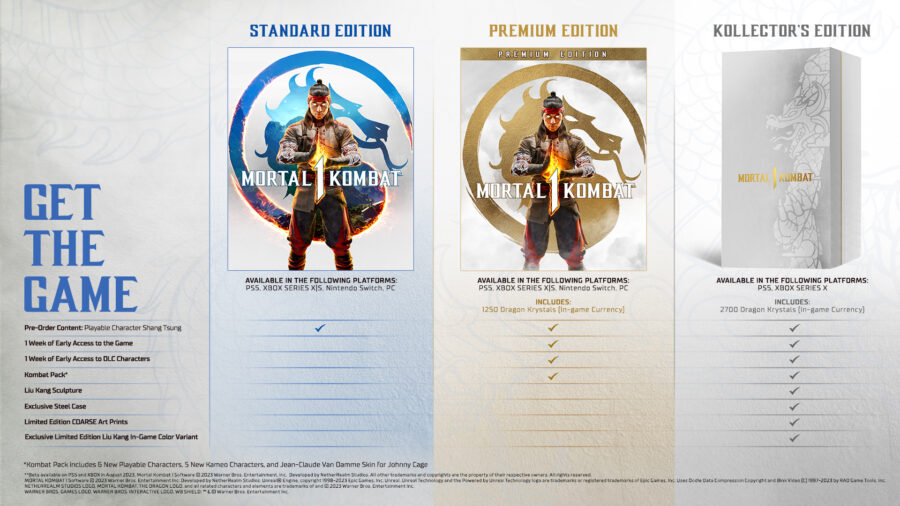 Mortal Kombat 1 is releasing with three different available editions for players to choose from. Each has their own benefits, and certain restrictions on platform, which are available on the game's FAQ page. These are the editions that players can choose from.
Standard Edition
The standard edition of MK1 will retail for $69.99, and will be available physically and digitally across all of the aforementioned platforms. The only bonus with this edition pre-order is the playable character Shang Tsung.
Premium Edition
The premium edition will also be available to all platforms physically and digitally, but will retail for $109.99. This version includes the aforementioned playable character Shang Tsung, and the following bonuses:
Kombat Pack

Jean-Claude Van Damme Johnny Cage Skin
Six new playable characters
Five new Kameo Fighters

Early access on September 14 (five days ahead of standard release)
1,250 Dragon Krystals
Mortal Kombat 1 Kollector's Edition
The Mortal Kombat 1 Kollector's Edition pre order is a bit more restrictive, as it's only available physically for Xbox Series X|S and PlayStation 5, and will retail for $249.99. Luckily for digital-leaning players, the content in this edition is mostly physical:
All Premium Edition content
16.5 inch Liu Kang sculpture designed by COARSE

In-game skin inspired by the design

Three exclusive art prints
Steel case
1,450 Dragon Krystals in addition to Premium Edition Krystals (2,700 total)
That's all we know about Mortal Kombat 1 pre-orders. Get your perfect edition and be prepared when both classic and unexpected guest characters clash when the game releases on September 19.