Hi-Fi Rush was announced at the Xbox Developer_Direct event and immediately shadow dropped on Xbox, Windows, and Game Pass on January 25th, 2023. Developed by Tango Gameworks, the developers behind The Evil Within franchise, Hi-Fi Rush is a refreshing and colorful break from the horror/creepiness that the studio is known for. But aside from the vibrant world Hi-Fi Rush features a stacked cast known throughout video games. Here is a breakdown of the entire cast of Hi-Fi Rush voice actors.
Hi-Fi Rush Voice Actors – Complete Cast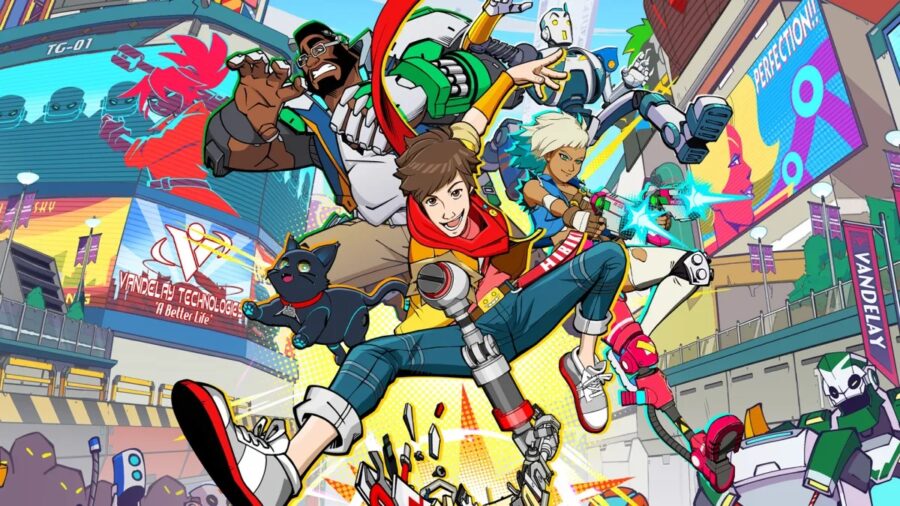 Director John Johanas confirmed via his Twitter the complete voice cast for the game:
Robbie Daymond – Chai
Erica Lindbeck – Peppermint
Sunil Malhotra – CNMN
Gabe Kunda – Macaron
Sarah Elmaleh – Korsica
Camilla Arfwedson – Mimosa
Misty Lee – Rekka
Todd Haberkorn – Zanzo
Roger Craig Smith – Kale

Vandelay

David Fayne – Roquefort
Robbie Daymond – Chai
Chai is the main protagonist and aspiring rockstar, who the players control throughout this musically-inspired adventure.
Voice actor Robbie Daymond is best known in the video game world as the English voice of Goro Akechi/Crow from Persona 5 Royal and River Ward from Cyberpunk 2077. Anime fans may also recognize him from some of his roles in uber-popular shows like Sailor Moon and Attack on Titan.
Erica Lindbeck – Peppermint
Peppermint is Chai's first and closest ally, as well as the character doling out sweet upgrades throughout the game.
The bulk of Erica Lindbeck's work can be across many acclaimed games, including 2018's Spider-Man as Black Cat, and the English versions of Ceclia and Futaba Sakura from the Fire Emblem (most recently in Fire Emblem Engage) and Persona franchises respectively. Also, Erica's voice can be chosen as one of the voices (Player Voice 2) for the main protagonist of 2022's Saints Row reboot.
Sunil Malhotra – CNMN
CNMN, pronounced cinnamon, is a robot constructed by Macaron. This robot is blunt, as its purpose seems to be analyzing individuals and performing "personality tests". It has no issues with calling out Peppermint's hot-headedness, nor Chai's naiveté.
CNMN is voiced by Sunil Malhotra, whose voice should be instantly recognizable to Xbox fans. Arguably, Sunil's largest role in gaming is his voice acting for Jun, the sniper for Noble Team in Halo: Reach. Outside of the Xbox exclusive sphere, he was also the voice of Kung Lao in Mortal Kombat 11.
Gabe Kunda – Macaron
Macaron is another one of Chai's allies and a former member of the Vandelay company. Despite his large size difference to mostly anything else in the game, Macaron would rather use his brain to solve problems and opts for non-violence whenever possible.
Gabe Kunda is perhaps best known for his role as KAY/o in Riot Games' tactical multiplayer fps, Valorant. Additionally, he is listed for English dubs of minor/side characters in many popular series like Fisher Tiger in One Piece and Rock Lock in My Hero Academia among other animated roles.
Sarah Elmaleh – Korsica
Korsica is the leader of Vandelay's Security team; however, she is quick to turn on the company and join Chai's team. She is pragmatic and looks to get the job done right, the first time.
Sarah Elmaleh's credits include voicing the Despondent Pyre in Halo Infinite. She has also voiced a number of additional voices roles in God of War Ragnarok and The Last of Us franchise.
Camilla Arfwedson – Mimosa
Mimosa is the leader of the Marketing team and has a bone to pick with Chai. Mimosa has methodically planned the perfect launch for Vandelay and Chai's meddling, plus the fact that he is a defect, could completely ruin her scheme.
Mimosa is voiced by Camilla Arfwedson, who has mostly featured in minor and one-off roles on The Lincoln Lawyer and MacGyver tv series. Her credits also include a number of direct to tv movies, making Hi-Fi Rush her first video game role.
Misty Lee – Rekka
Rekka is the leader of Production at Vandelay and one of the first bosses of the game. Her character is built around the stereotypical over-the-type attitude and archetype of professional wrestlers. She even wears a golden belt engraved with the word "BOSS", obviously inspired by titles you would see in WWE.
Misty Lee has an extensive list of roles in video game voice acting, spanning almost 20 years. This includes credits in the original release of World of Warcraft in 2004. More recently, Misty has featured in several highly-acclaimed titles including as Sigrun in God of War Ragnarok and as Trudi in Ratchet and Clank: Rift Apart.
Todd Haberkorn – Zanzo
Zanzo is the loony leader of Vandelay's Research and Development department. His experiments and creations are over the top and often impractical, not to mention over-budget. Some features of the characters design, as well as, its name seem to reference Hanzo and Genji from Overwatch.
Todd Haberkorn has appeared in minor roles across a number of anime series, performing English dubs for JoJo's Bizarre Adventure, Bleach, Full Metal Alchemist, and more. Gamers are more likely to recognize him as Razor in Genshin Impact or the Gambit aficionado The Drifter in Destiny 2, as well as a number of other voices in Bugsnax, Ghost of Tsushima, the Sackboy franchise, and the list goes on.
Roger Craig Smith – Kale Vandelay
Kale Vandelay is the Head of the Vandelay company and is the main antagonist of the game. His early interactions with Chai don't give off the maniacal villain you may expect, but rather shows a corporate boss willing to do anything for profits.
Probably the most well-known casting on this entire list, Roger Craig Smith is a voice actor who voices the main villain of Hi-Fi Rush. It would probably be easier to list the games Roger hasn't had a role in, but here is a small snippet of his career so far: Ezio in the Assassin's Creed franchise, Batman in the Batman Arkham franchise, iconic video game character Sonic the Hedgehog, and many many more. And this doesn't even get into his many animated roles, including Claggor in Arcane and certain animated iterations of Captain America.
David Fane – Roquefort
Roquefort is the Head of Finance at Vandelay. Throughout the game, he can be seen bumping heads with the other leaders of Vandelay, especially Zanzo, whose spending is a bit out of control.
David Fane voices Roquefort in what is his first video game casting, despite having a career in television since the early 90s. David has appeared in a number of tv series and tv movies, including award winning series The Strip. He is also currently cast in a role for Taika Waititi's, Next Goal Wins, which is expected to release in mid-2023.