Call of Duty Modern Warfare 2 and Warzone 2.0's highly anticipated Season One has been released and with it comes a new MW2 and Warzone 2 Battle Pass with plenty of rewards for players to earn. This Battle Pass introduces a number of new features not seen before in Call of Duty and other games featuring seasonal battle passes. Here is everything you need to know about COD Modern Warfare 2 and Warzone 2.0's Season One Battle Pass.
Call of Duty MW2 Battle Pass: Basic Information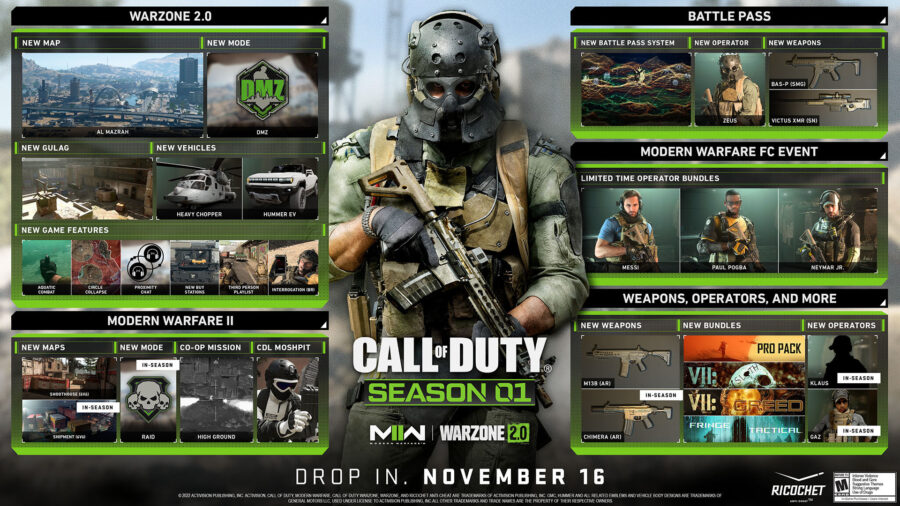 Season One's Battle Pass began on November 16th, 2022 with 105 rewards to unlock. As of the writing of this article, no end date has been announced. As always, there is a free and premium version of the Battle Pass. The free version features 20 unlockable rewards, while the rest are locked behind the premium version. The premium version costs 1,100 COD Points and offers exclusive rewards, including the new Operator, Zeus. A Battle Pass Bundle is also available for 2,400 COD Points, including not just the new Operator, but also 20 Battle Tokens. PlayStation players get an additional 5 Battle Tokens with their purchase of the Battle Pass Bundle.
Warzone 2 & MW2 Battle Pass: What Are Sectors?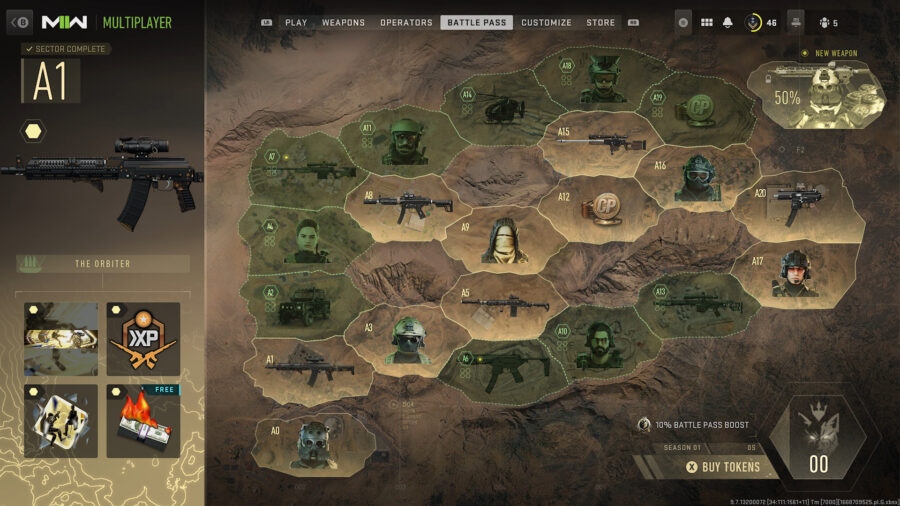 Call of Duty Modern Warfare 2 and Warzone 2.0 have innovated on the Battle Pass formula adding a new way to unlock rewards and an overall more free-flowing system. Season One's Battle Pass is broken into Sectors that are shown in a map style format. Each Sector includes 4 rewards with a 5th High Value Target reward that can't be unlocked until the previous four are unlocked from that Sector. The Sectors are connected to each other on the map, and unlocking all of the rewards in a Sector opens any Sectors that are immediately connected. Very quickly players will open multiple Sectors at once and will be able to pick and choose what they want to unlock and when. You'll also be able to plan ahead to a specific reward by only unlocking rewards in Sectors that connect or lead to the reward they really want. This is a level of freedom we haven't seen from Battle Passes in any game before.
Call of Duty MW2: How to Unlock Battle Pass Rewards Using Battle Tokens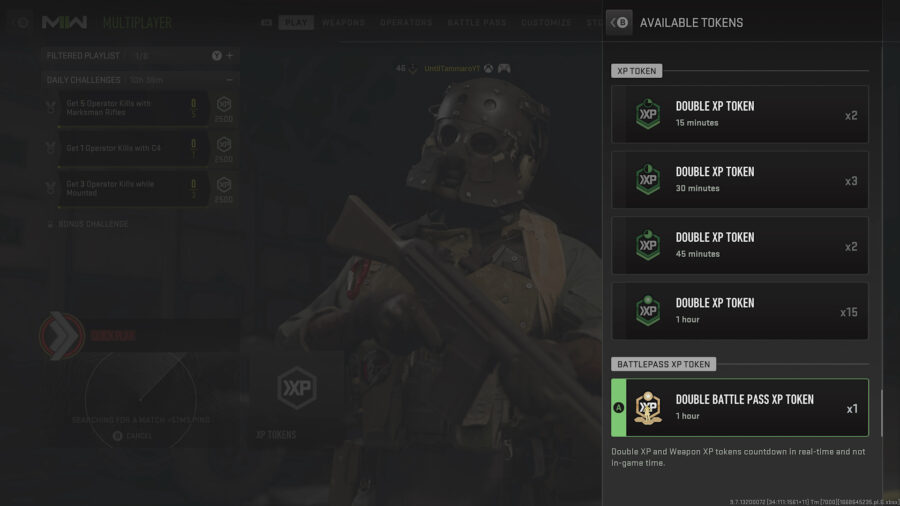 Since Call of Duty Modern Warfare 2 and Warzone 2.0's Battle Pass is no longer linear, rewards are not unlocked simply by gaining XP. Instead, Battle Tokens are used to unlock rewards. There are a variety of ways to gain Battle Tokens quickly. But, the most basic explanation is that Battle Tokens are unlocked by gaining XP; however, Battle Token XP is gained at a fraction of the XP you earn in game. The exact conversion isn't currently known, but just prepare yourself for a bit of a grind.
Battle Pass Reward Showcase
Below is a list of every reward available in COD Modern Warfare 2 and Warzone 2.0's Battle Pass.
Sector A0 (Included in the Battle Pass Premium Version only)
Chronophobia – Gun Screen

Articulate Response – .50 GS Weapon Blueprint

Myth Maker – Vel 46 Weapon Blueprint

10% Battle Pass XP Boost

Zeus – Operator
Sector A1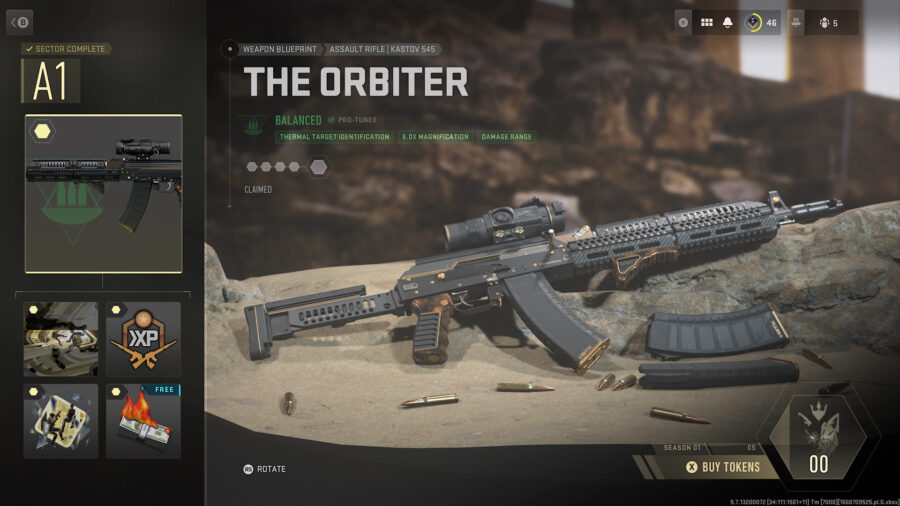 Paying Rent – Charm (Unlockable in the Free version of the Battle Pass)

Hired Sniper – Emblem

1 Hour Double Weapon XP Token

Aerial Entrance – Calling Card

The Orbiter – Kastov 545 Weapon Blueprint
Sector A2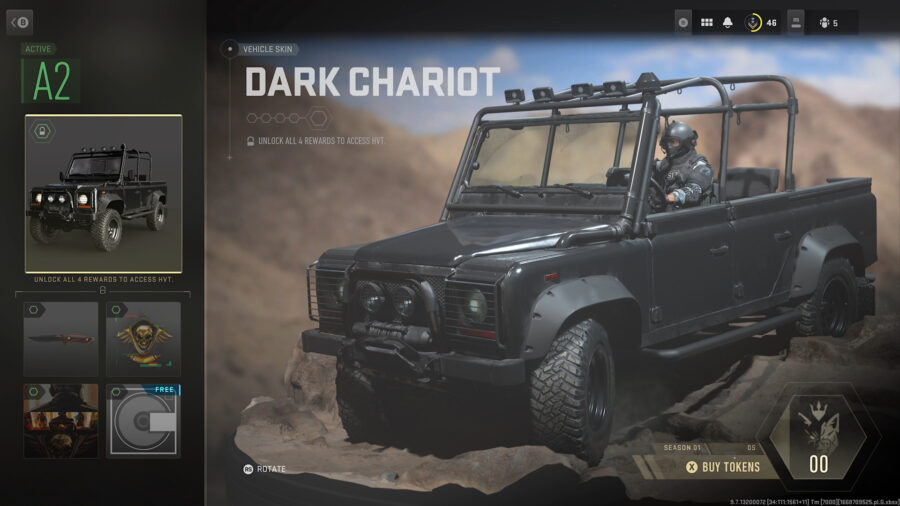 Let's Ride – War Track (Unlockable in the Free version of the Battle Pass)

Gathered Gents – Calling Card

Scaling Assassin – Emblem

Letter Opener – Combat Knife Weapon Blueprint

Dark Chariot – Vehicle Skin
Sector A3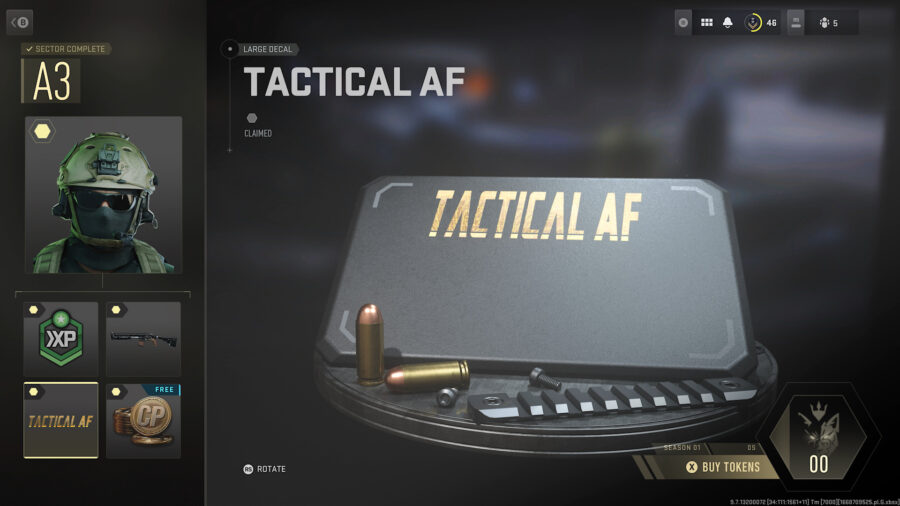 100 Cod Points (Unlockable in the Free version of the Battle Pass)

Tactical AF – Large Decal

Bellicose – Bryson 890 Weapon Blueprint

1 Hour Double XP Token

Barrage – Ranger I Operator Skin
Sector A4
Wavemaker – Vehicle Skin

Damysus – X13 Auto Weapon Blueprint (Unlockable in the Free version of the Battle Pass)

30 Minutes Double XP Token

100 COD Points

Deluge – Calisto Operator Skin
Sector A5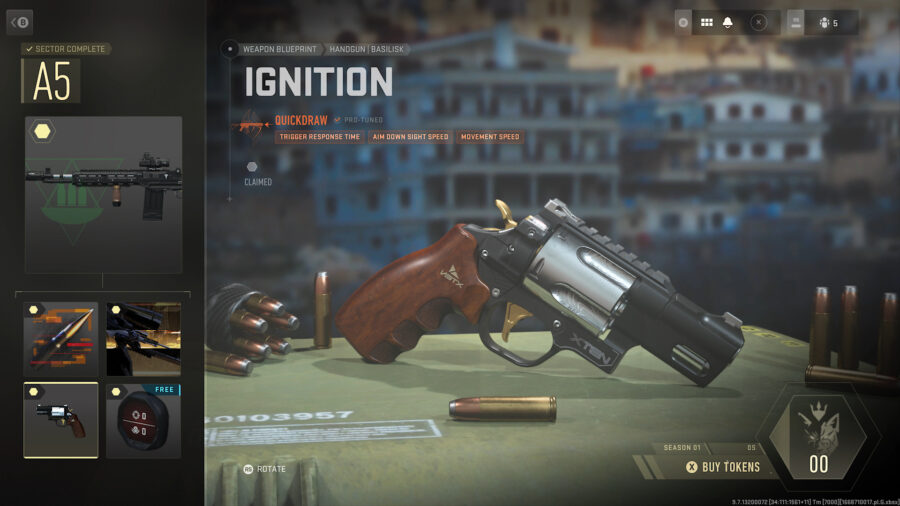 Endless Black – Gun Screen (Unlockable in the Free version of the Battle Pass)

Ignition – Basilisk Weapon Blueprint

Hired Sniper – Calling Card

Back To Back – Emblem

Hostile Takeover – EBR 14 Weapon Blueprint
Sector A6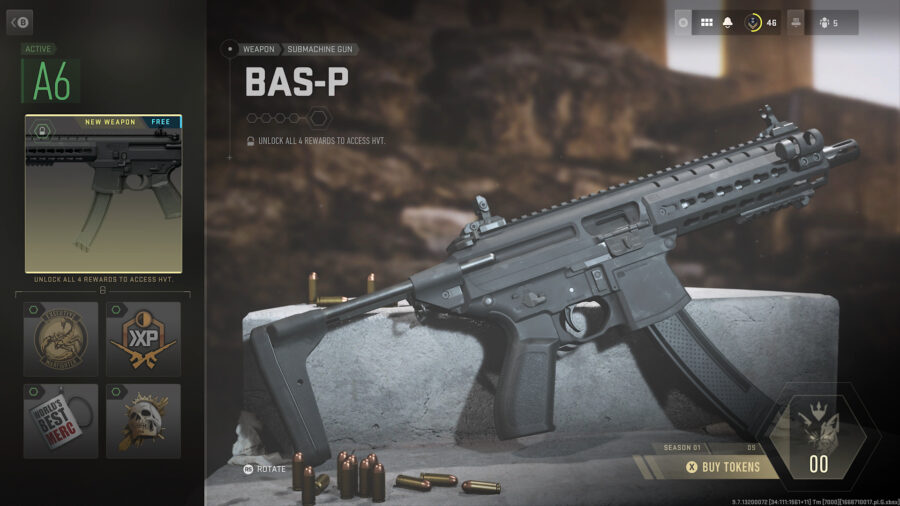 King's Skull – Large Decal

World's Best Merc – Charm

30 Minutes Double Weapon XP Token

Scorpion – Weapon Sticker

Bas P – New Submachine Gun (Unlockable in the Free version of the Battle Pass)
Sector A7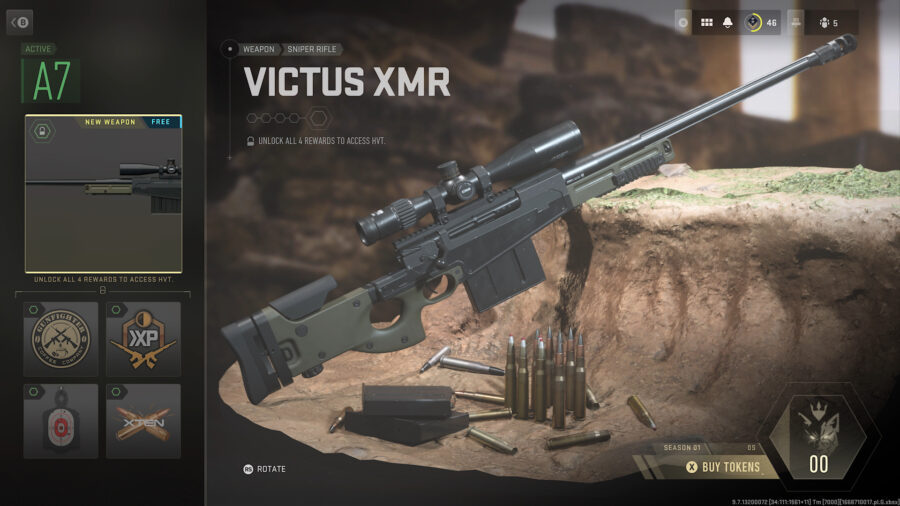 XTEN – Large Decal

Shooting Target – Charm

30 Minutes Double Weapon XP Token

Gunfighter Coffee Company – Weapon Sticker

Victus XMR – New Sniper Rifle (Unlockable in the Free version of the Battle Pass)
Sector A8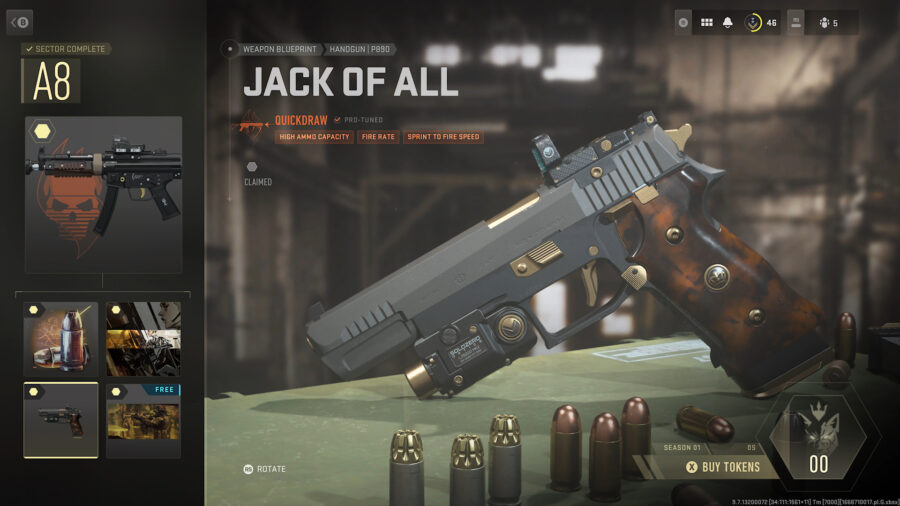 Down the Barrel – Loading Screen (Unlockable in the Free version of the Battle Pass)

Jack Of All – P890 Weapon Blueprint

Scaling Assassin – Calling Card

Time To Strike – Emblem

Espionage – Lachmann Sub Weapon Blueprint
Sector A9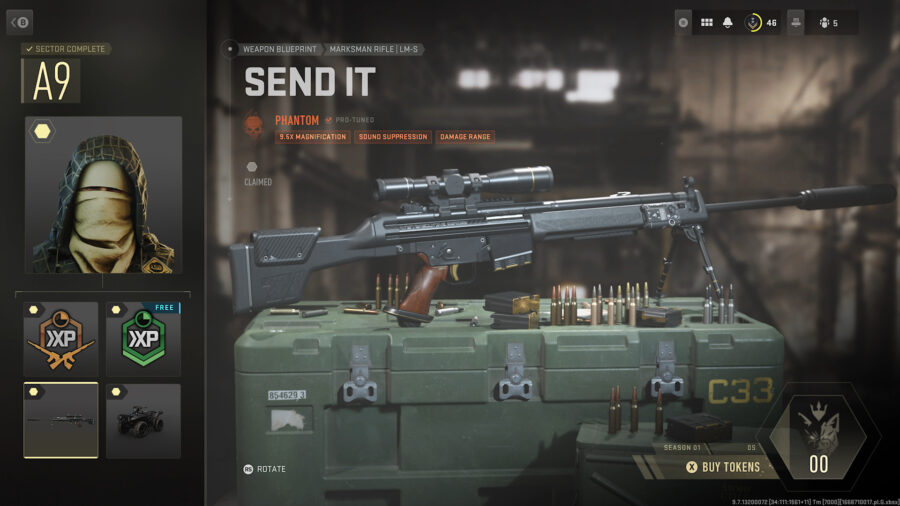 Obsidian Rider – Vehicle Skin

Send It – LM S Weapon Blueprint

15 Minutes Double XP Token (Unlockable in the Free version of the Battle Pass)

15 Minutes Double Weapon XP Token

The Unseen – Kortac Group I Operator Skin
Sector A10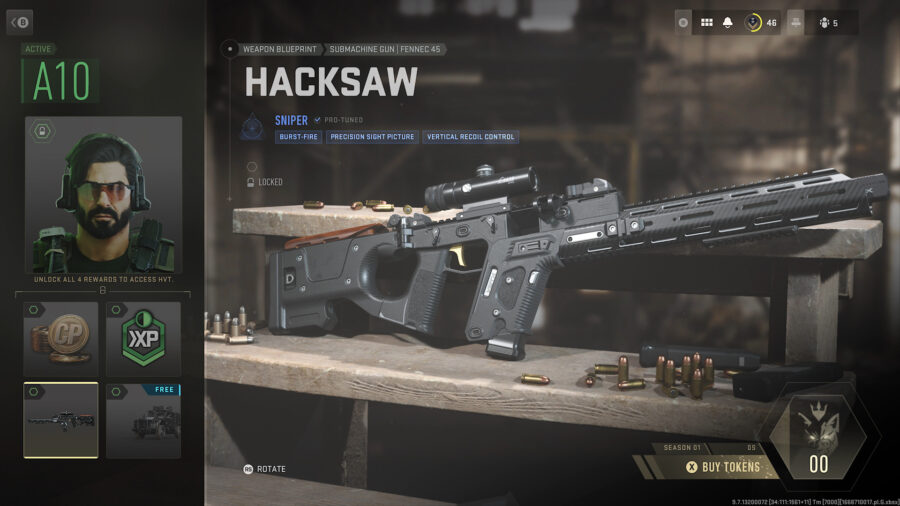 Offsite – Vehicle Skin (Unlockable in the Free version of the Battle Pass)

Hacksaw – Fennec 45 Weapon Blueprint

30 Minutes Double XP Token

100 COD Points

Low Drag – Reyes Operator Skin
Sector A11 – Call of Duty MW2/Warzone 2 Battle Pass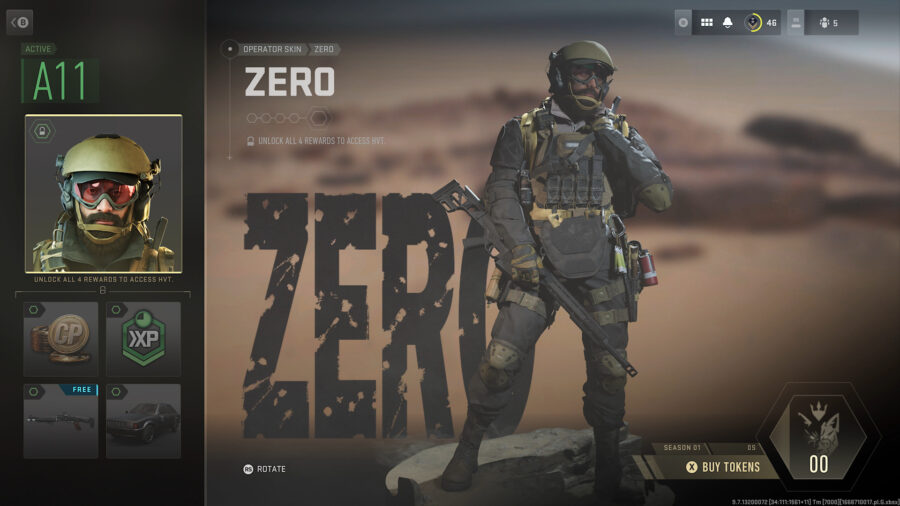 Company Lease – Vehicle Skin

Vigilant – Expedite 12 Weapon Blueprint (Unlockable in the Free version of the Battle Pass)

45 Minutes Double XP Token

100 COD Points

Zero – Zero Operator Skin
Sector A12
Hostile Takeover – Vehicle Skin

Terminal Velocity – Vaznev 9K Weapon Blueprint

30 Minutes Double XP Token (Unlockable in the Free version of the Battle Pass)

100 COD Points

100 COD Points
Sector A13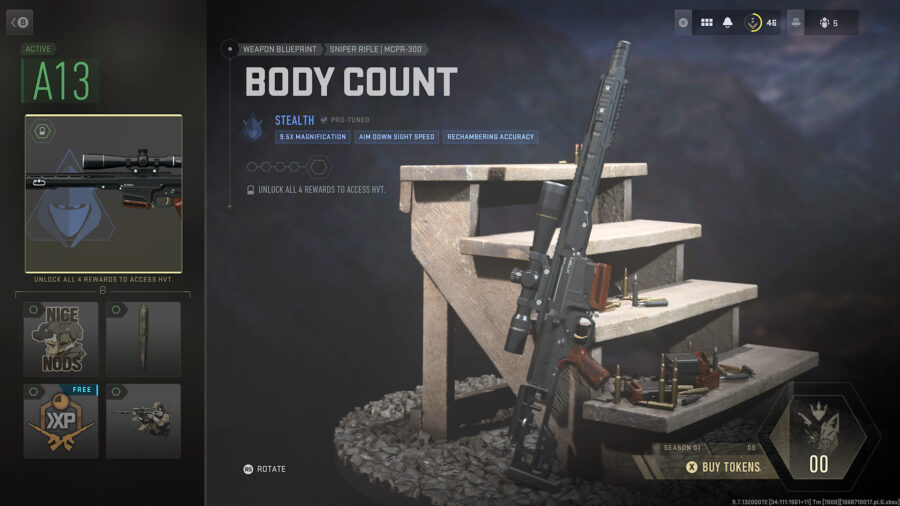 Warfighter – Large Decal

45 Minutes Double Weapon XP Token (Unlockable in the Free version of the Battle Pass)

.50 Cal – Charm

Nice Nods – Weapon Sticker

Body Count – MCPR 300 Weapon Blueprint
Sector A14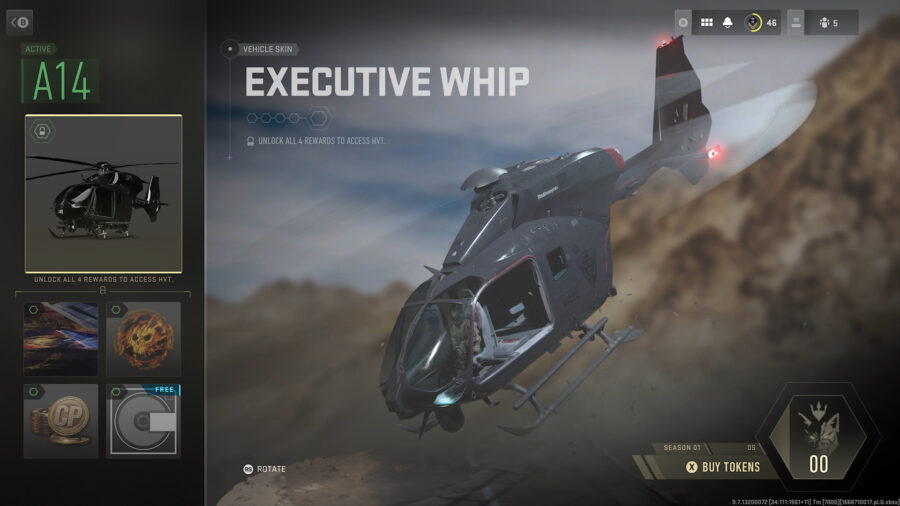 Homefront – War Track (Unlockable in the Free version of the Battle Pass)

100 COD Points

Sole Survivor – Emblem

Plane Sight – Calling Card

Executive Whip – Vehicle Skin
Sector A15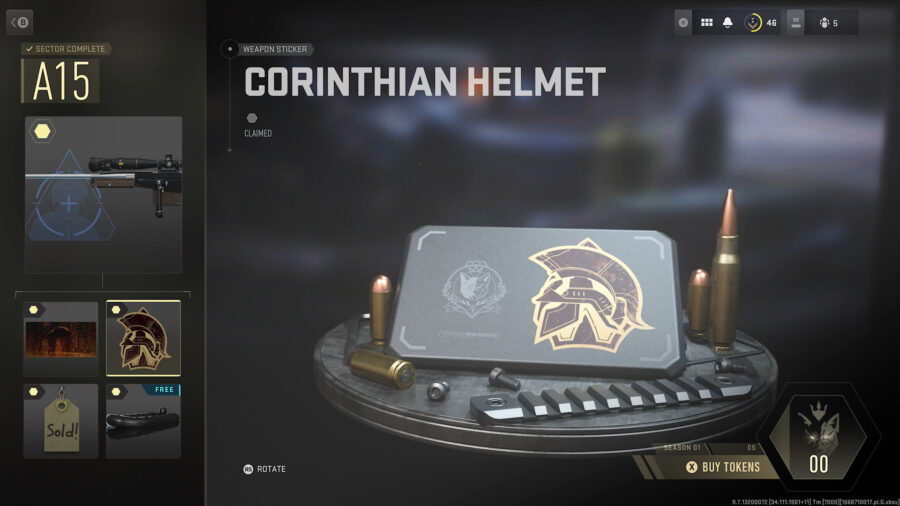 River Shadow – Vehicle Skin (Unlockable in the Free version of the Battle Pass)

Sold! – Charm

Corinthian Helmet – Weapon Sticker

Legs Day – Loading Screen

Basileus – Victus XMR Weapon Blueprint
Sector A16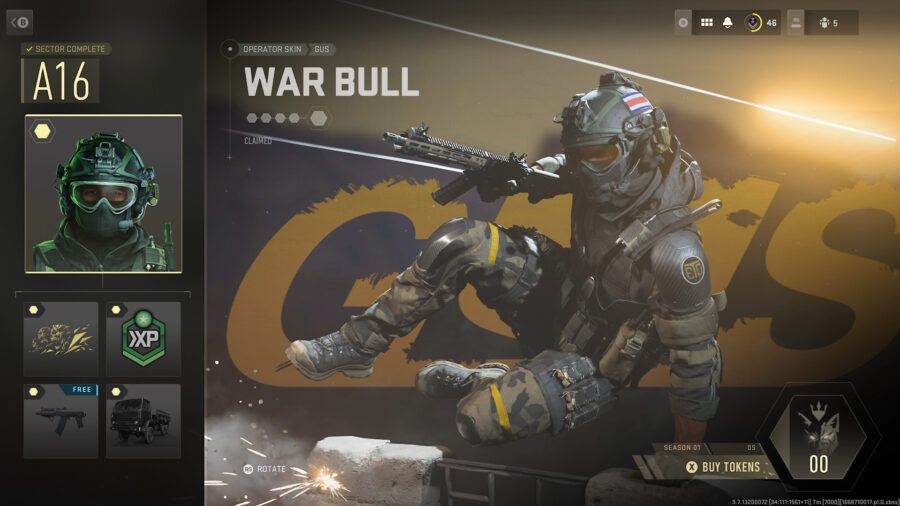 War Haul – Vehicle Skin

Chiron – Kastov 74u Weapon Blueprint (Unlockable in the Free version of the Battle Pass)

1 Hour Double XP Token

Fractured – Large Decal

War Bull – Gus Operator Skin
Sector A17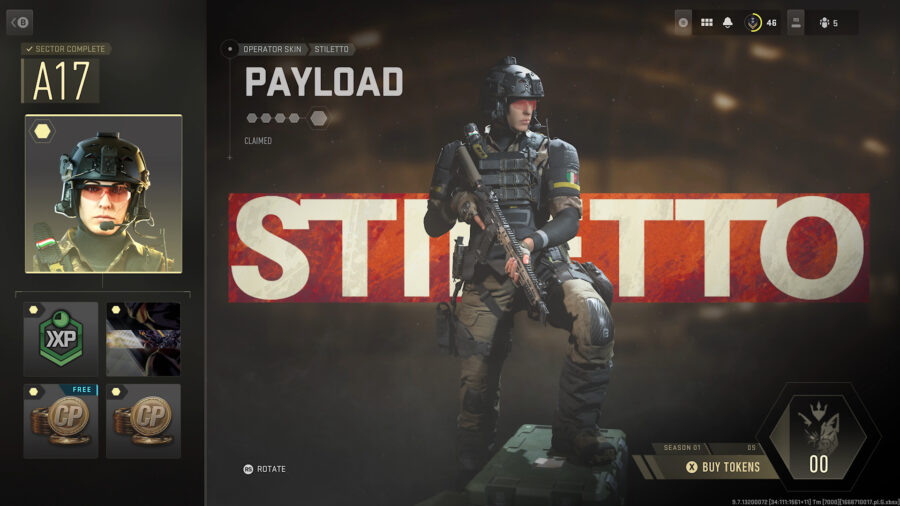 100 COD Points (Unlockable in the Free version of the Battle Pass)

100 COD Points 

Corner Cover – Calling Card

45 Minutes Double XP Token

Payload – Stiletto Operator Skin
Sector A18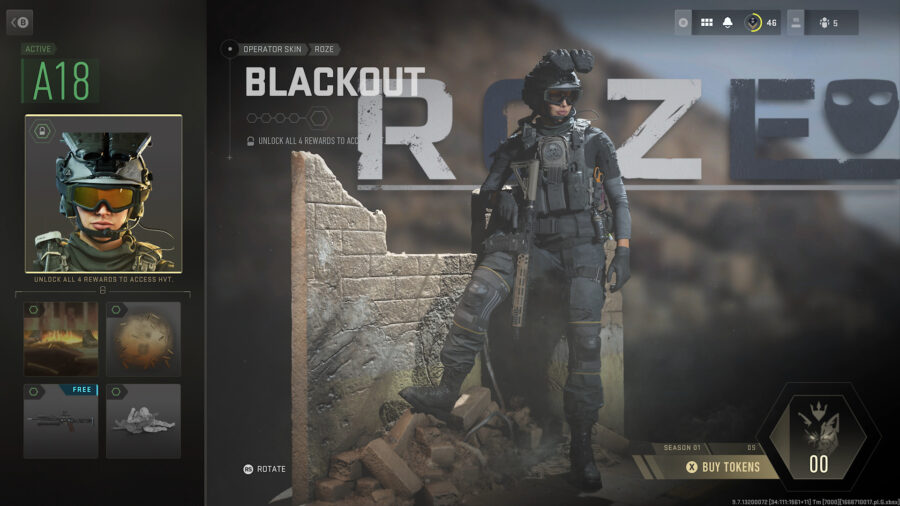 Sweet Dreams – Operator Finishing Move

Closer – Minibak Weapon Blueprint (Unlockable in the Free version of the Battle Pass)

Gathered Gents – Emblem

Sole Survivor – Calling Card

Blackout – Roze Operator Skin
Sector A19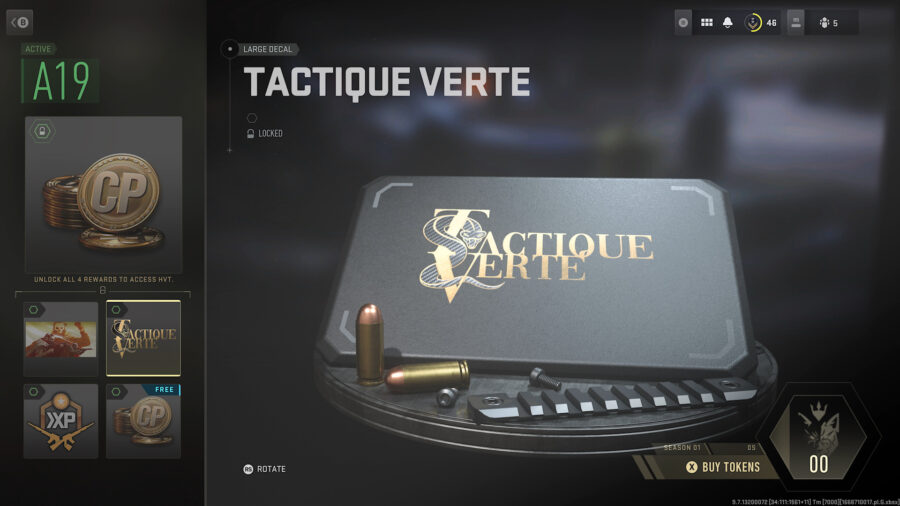 100 COD Points (Unlockable in the Free version of the Battle Pass)

100 COD Points (Premium Battle Pass Only)

1 Hour Double Weapon XP Token

Tactique Verte – Large Decal

Weapons Up – Loading Screen
Sector A20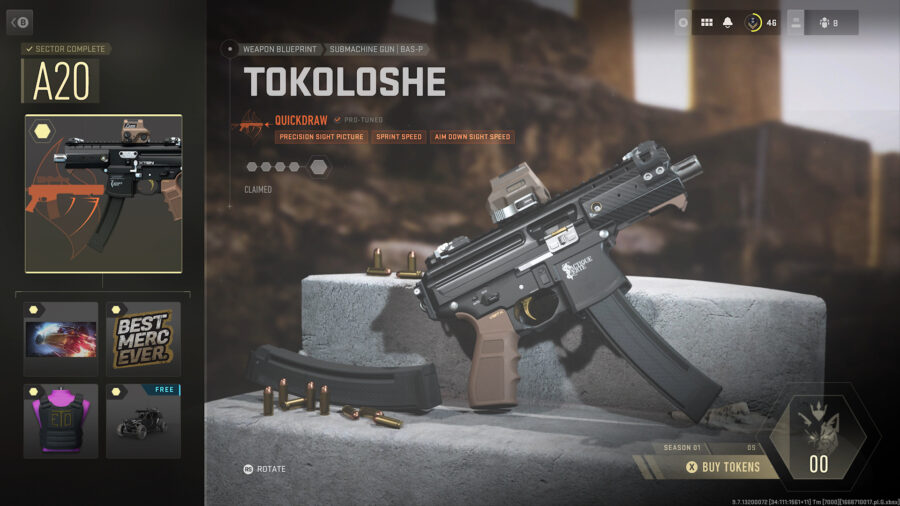 Dark Horse – Vehicle Skin (Unlockable in the Free version of the Battle Pass)

ETO – Charm

Best Merc Ever – Weapon Sticker

Catching Air – Loading Screen

Tokoloshe – Bas P Weapon Blueprint
Sector A21 (Unlocked after completing every other Sector)
300 COD Points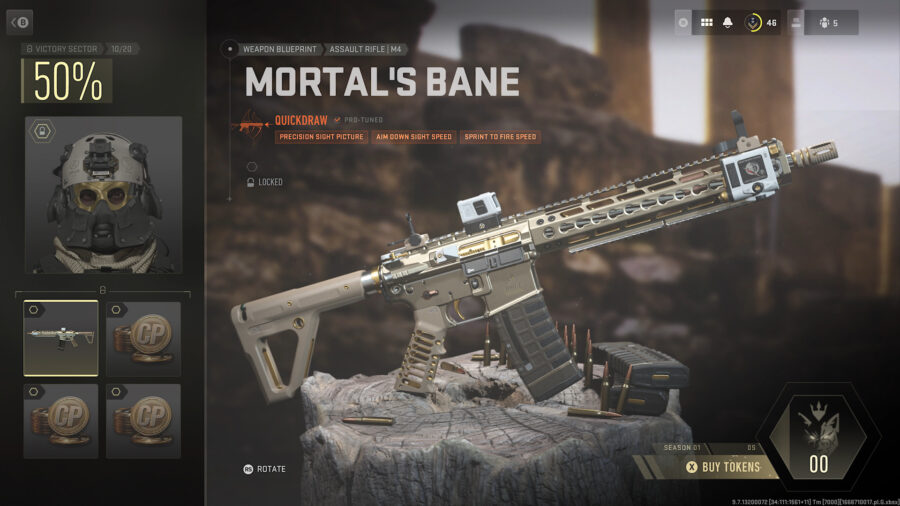 Mortal's Bane – M4 Weapon Blueprint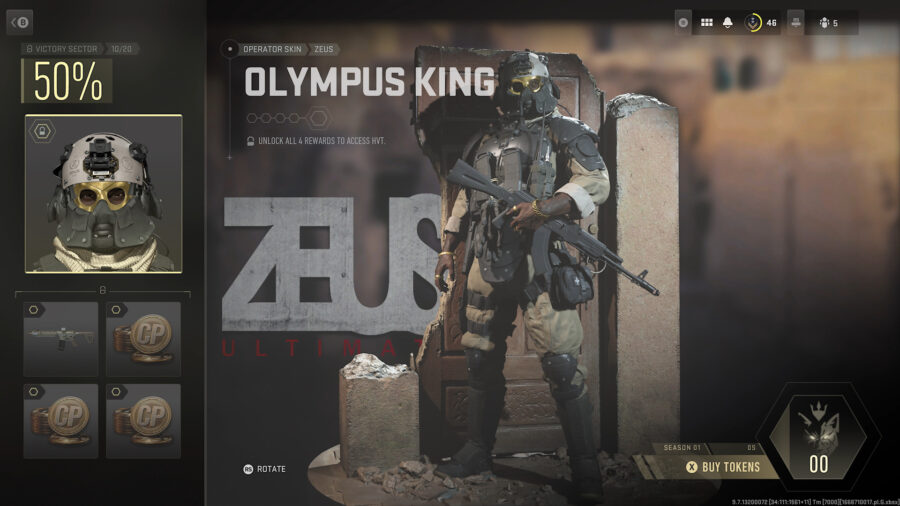 Olympus King – Zeus Operator Skin