MyTeam is one of the most popular modes in the NBA 2K franchise, with players always vying for the best cards to get ahead of friends and rivals alike. One of the best ways to gain new cards and currency is through single-player NBA 2K23's weekly MyTeam challenges. These update weekly, but the first week of the game brings the most new challenges to the game. Luckily, we have everything you need to know to take these challenges on for yourself and earn some great rewards to jump start your team.
NBA 2K23: MyTeam Skills Challenges (Fundamentals)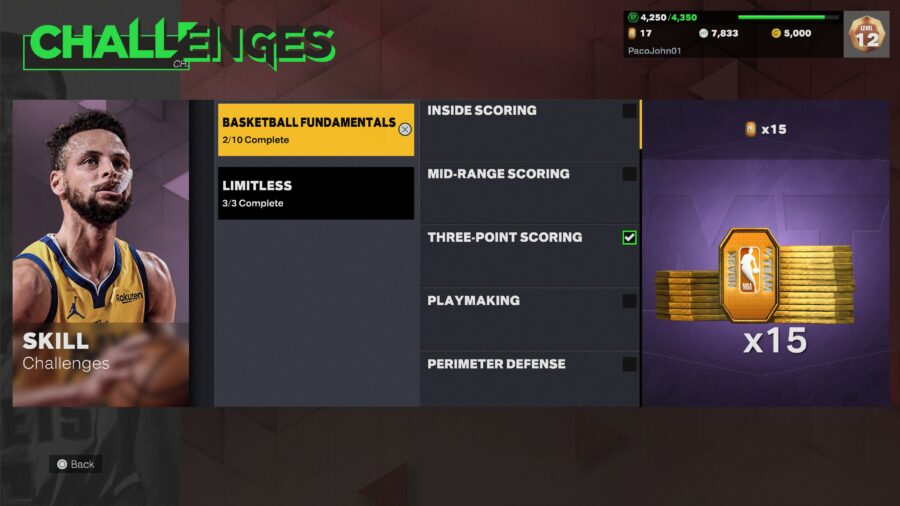 At launch, there are two categories of these skills challenges. The first of these are the "Basketball Fundamentals." These are a set of 10 challenges, with different requirements for finishing than simply winning the game. These are meant to examine players success in different areas. So, players just play until meeting a required metric in different fundamental areas. They are each rewarded by a three-card pack containing shoe boosts and badges to augment each fundamental area. These are fairly simple challenges, and are definitely recommended for those who have never played an NBA 2K game, or even experienced players who want to get used to new mechanics in a low-stress challenge. Otherwise, the rewards are a bit underwhelming. Here are all ten Basketball Fundamentals challenges, and the requirements for completion:
Inside Scoring: Score 5 baskets off post moves with a single player.
Mid-Range Scoring: Score 5 made jump shots with a single player.
Three-Point Scoring: Make 5 three-pointers as a team.
Playmaking: Dish out 5 assists as a single player.
Perimeter Defense: Record 2 steals as a team.
Post Defense: Block 3 shots as a single player.
Rebounding: Get 8 rebounds as a single player.
Free Throw: Make 4 free throws as a team.
Athleticism: Slam 5 dunks as a team.
Basketball IQ: Win a game without turning the ball over. Sounds difficult, but the game's quarters are each one minute long. Makes it much easier to keep possession!
NBA 2K23: MyTeam Skills Challenges (Limitless)
The other section of the Skills Challenges is themed around the first major collection for 2K23's MyTeam: Limitless. These are much tougher than the Fundamentals, with Amethyst and Diamond players galore that will pose a challenge for players. However, the award for finishing these challenges is a Limitless Award Pack, which contains the same possible contents as a standard pack. Here are the three Limitless Challenges to complete before earning the Award pack:
Limitless Triple Threat: A Triple Threat game against three Amethyst Limitless players. First team to 21 points wins.
Limitless Threes!: The same as the first challenge. This time, though, against Diamond players instead of Amethyst. You also need to make 5 three-pointers as a player en route to this victory.
Limitless: A standard five-on-five game against a lineup of the best players in the Limitless collection, headlined by Diamond Steph Curry and Diamond Dominque Wilkins. However, it isn't necessary to win the game. Simply score 30 points and you've completed the challenge.
NBA 2K's Pick-Up Challenge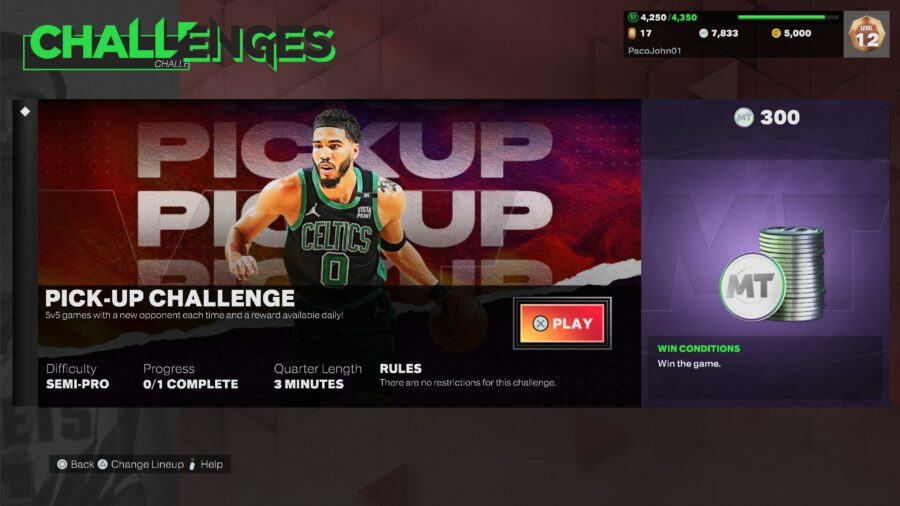 Another category of challenge is the pick-up challenge. This is a standard, 5-on-5 game on semi-pro difficulty. There's a new reward to earn each day. It can be good for a quick way to earn some MT, but your time is almost always better spent in other challenges or even a totally different MyTeam mode.
NBA 2K23 MyTeam Challenges: Spotlight Challenge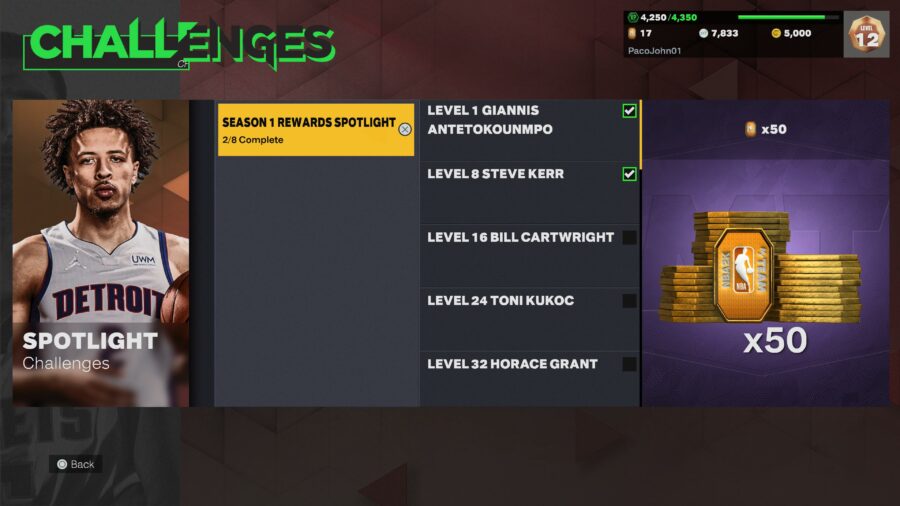 Making up the bulk of the currently available challenges are the Spotlight Challenges. These challenges each highlight one of the award players earned by leveling up in Season 1 of MyTeam. These challenges increase in challenge as they go. In addition, most will require you to use the player in the spotlight. Because of this, these challenges will be available all throughout Season 1. Take your time making your way through them and earning rewards. Complete all of these challenges to earn 50 tokens, with plenty of other great rewards along the way.
Activity Challenge – NBA 2K23 Week 1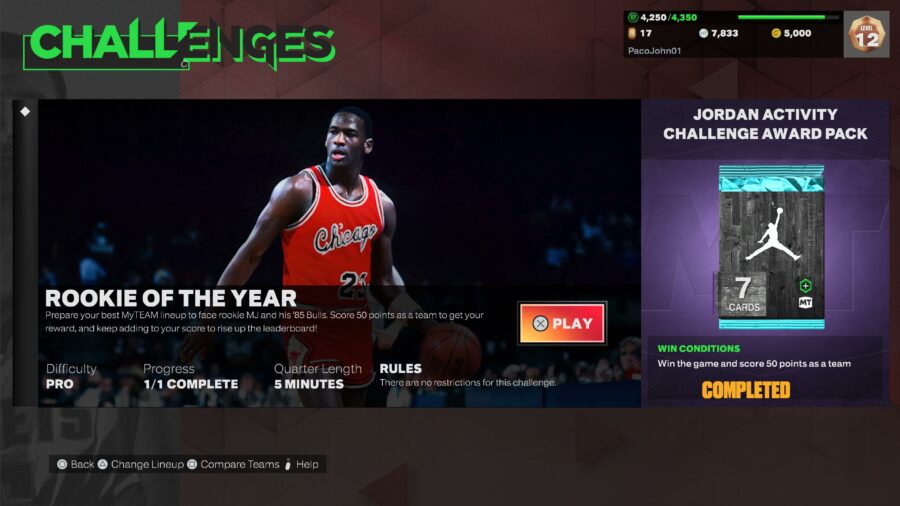 This week's Spotlight Challenge pits your MyTeam against the Chicago Bulls team from Michael Jordan's rookie season. Luckily, this is pre-Scottie Pippen in Chicago, so you shouldn't have much trouble disposing of this team. The only real threat is Michael himself, who is a 91 overall in this challenge. Double team him and getting the win shouldn't be a problem.
The other goal you have is to score more than 50 points. Depending on if you get a head start with promotional packs from pre-ordering or special editions, this facet of the challenge can be a bit harder. The best way to score in this challenge will be to get the ball in the paint and back down the defense. Jordan can put up a bit of a fight on the perimeter, but most of the interior defense you'll encounter are pushovers.
As a reward for completing this challenge, you'll get a Jordan Activity Challenge Award Pack. This pack contains helpful consumables, like shoe boosts that can be up to diamond. With these boosts being the reward, it's definitely worth it to do this challenge
Weekly NBA 2K23 Challenges: Signature Challenge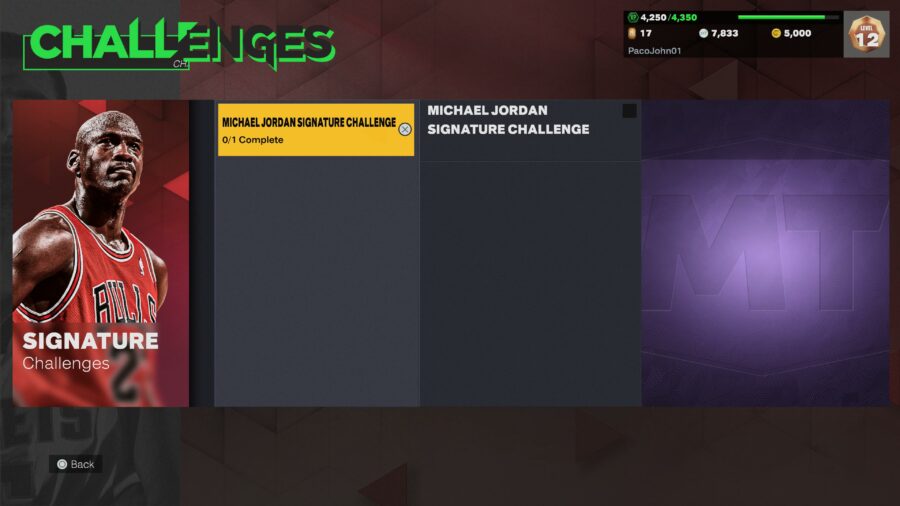 Another MyTeam challenge centered around Michael Jordan, this one has a much harder opposition. A 96 overall team made of Jordan's all-time starting five, legends like Magic Johnson and Hakeem Olajuwon will be your opponents. Especially early on in MyTeam, this team can pose a huge challenge.
If you have high overall Free Agent cards, whether from season agenda or the 2K23 pre-order bonuses, this is the time to use them. A rim protector like David Robinson will help your chances exponentially. Many of Jordan's teammates rely on scoring in the paint. Keeping the interior strong will be your best chance to combat the onslaught from these Hall of Famers. Inversely, this is your best advantage. The starting five are the only members of the squad. Get them worn down in the first half, then use their low energy to push your own advantage in the paint. Complete this tough challenge and earn the Michael Jordan Signature Challenge Pack, with a Diamond Jordan Shoe, consumables, and a Hall of Fame Badge. After completing all of these challenges, you should have a formidable team ready to take on your friends or any online rivals!