Fire Emblem Engage has introduced plenty of new mechanics in this iteration of the Strategy RPG series, but a returning Amiibo feature previously seen in Three Houses can net the player some pretty special rewards. Unlocking Amiibo support in Engage is pretty simple, it requires the player to play through Chapter 5 of the story, where the Amiibo Gazebo will be unlocked for use. 
You can actually find the gazebo earlier once The Somniel's map is initially opened up to you in Chapter 3, but the function isn't there yet at that point – in classic RPG slow-burn fashion, the game will force you to get to grips with the initial tutorial business first.
Fire Emblem Engage: Amiibo Gazebo Location and How to Scan Amiibo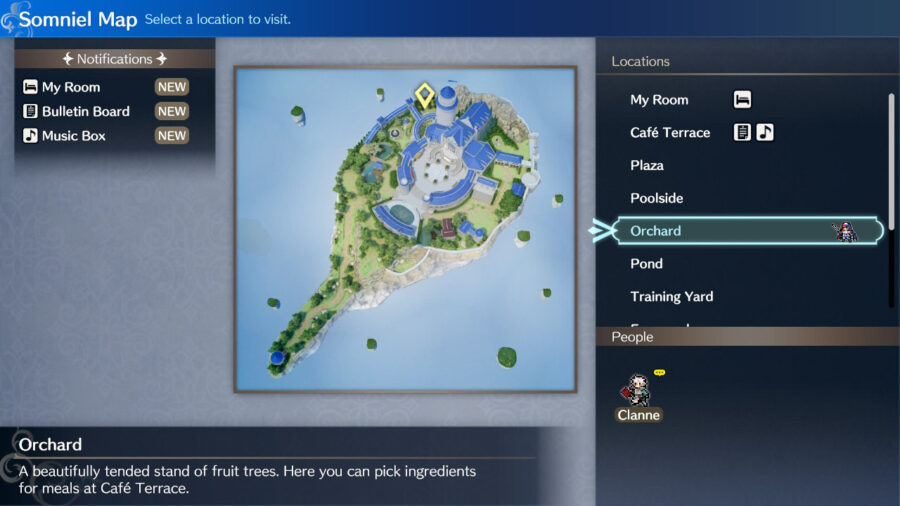 First off, open your map of The Somniel by pressing the X button, this will show you a list of locations you can fast travel to, then choose the 'Orchard' fast travel option. Once there, turn left and walk under the arch, the back of the gazebo will be right in front of you, it's hard to miss. 
To use the Amiibo function, approach the pedestal and interact with it, and the Scan option will appear. Once chosen, you can then place any Amiibo you have in your collection over your joycon to scan it, make sure to hold it for a few seconds to ensure it's read properly. If you use a Fire Emblem Amiibo, you'll be rewarded with special outfits and music specifically associated with that Fire Emblem title. Should you scan a non-FE Amiibo, you'll be given random bonus items and materials. 
You can only scan five Amiibo at a time in one 24-hour period, so make sure to scan the ones you're most interested in first, as you'll have to wait to rescan. 
For more Fire Emblem Engage content, make sure to check if there's a New Game Plus!